Download 43 free review response templates for negative and positive reviews
Get the templates
Search engine optimization (SEO) and reputation management are essential parts of any successful digital marketing strategy.
You probably already have, at the very least, a basic idea of what SEO and reputation management involve. But let's start with a couple of simple definitions:
SEO is the process of increasing the quality and quantity of website traffic, increasing visibility of a website or a web page to users of a search engine, and improving organic search engine results.

Reputation management is the practice of attempting to shape public perception of a business or organization by influencing information about that entity, primarily online.
What is SEO Reputation Management?
Search engine optimization helps you improve your rankings in search engine results and target quality traffic. Reputation management converts this traffic (turning searchers into visitors, then visitors into customers) by highlighting positive information about your business.
Search engine reputation management connects the two practices so that searchers (potential customers) can easily find your business online and are compelled to choose you over the competition.
Let's dig deeper and get a better sense of what kinds of search engine results can impact your reputation.
Search engine results that will destroy your online reputation
If your business is hoping to attract potential customers who are searching online for the kind of products and services you offer, it's critical that you are able to establish and sustain a positive online business reputation.
Unfortunately, not everything that appears online about your business can be shiny and sparkly. Inevitably, there will be aspects of your online reputation that are out of your control.
Just "Google" your business name, and you'll quickly understand that there are situations wherein negative content about your business has been posted online, and that it appears on search engine results pages (SERPs) for everyone to see.
Here are 3 search engines results that can derail your marketing efforts and destroy your online business reputation… plus some bits of advice on how you can manage them.
1. Negative reviews and low ratings
Thanks to the popularity and success of online review sites like Yelp, TripAdvisor, Facebook, and Google, a negative review can quickly spell doom for any business owner.
Consider this: 88 percent of consumers today read online reviews to determine whether a business is good or not. So, in a way, a low rating or a negative review can be equivalent to a person outside your shop door standing and holding a sign that reads, "Don't go in."
What makes reviews particularly powerful is that they typically appear on search engine results pages.
What you can do: You can minimize the impact of negative reviews by implementing a review management strategy and proactively listening and responding to what your customers have to say.
With a well-crafted, professional, and polite review response, you can quickly change the conversation, improve your image, and demonstrate to review readers that your business greatly values customer feedback.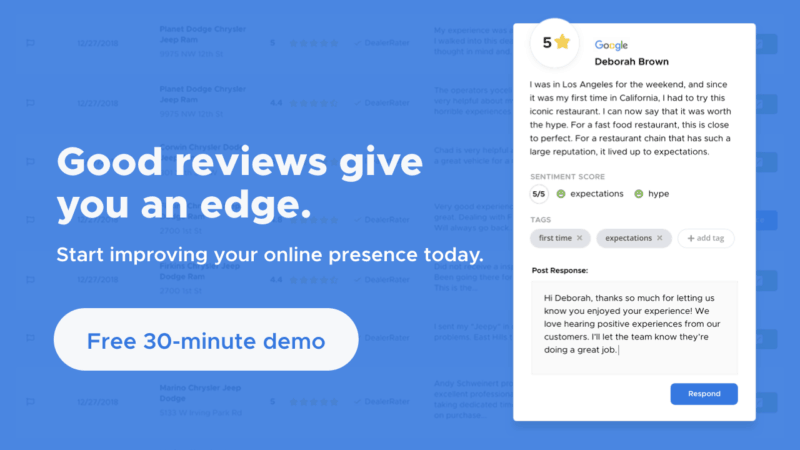 2. Wrong local data
One of the things that frustrate consumers the most is searching online for business information then getting results that prove to be completely useless.
It could be a wrong business address, a wrong telephone number, an old, outdated menu, a missing directory listing, or a dead link that was supposed to lead to the business website.
According to a research, approximately 43 percent of businesses in the US have at least one incorrect or missing address on various local directory sites.
In total, about $10.3 billion worth of potential annual local business sales are lost because of wrong, missing, or incomplete local data.
What you can do: As a business owner, you can combat the costs and consequences of wrong local data by making sure all the information that appears online about your business is accurate and up-to-date.
Start by updating your website and managing all the business info published there. Then claim and manage your Google My Business listing. Also make sure you claim your business on other social networks, online review sites, and local listings.
Guarantee that the data you provide in these places is correct. Double-check to see if you have the right business address, business category, phone numbers, URLs, names, operation hours, and map location.
3. Slanderous or defamatory comments, blog posts, social mentions, and website pages
It could be an angry ex-employee talking. Or a frustrated customer whose problem was left unresolved. Or a competitor trying to blemish your business reputation.
Whatever: a slanderous post about your business can do big damage to your image, sales, and performance. You certainly don't want these types of content to appear whenever potential customers "Google" your business.
What you can do: You may not be able to quickly delete these defamatory comments on the Internet, but there are ways around it.
First, contact the publisher to see if you could request for a removal of the content. (It's always worth a try.) Then find a system that allows you to track and listen to online conversations about your business. In cases where a response is necessary, respond.
It's also important that you're able to regularly generate content of your own – like company news and announcements, product updates, photos and videos, special promos and deals, customer testimonials, and happy employee stories – and publish these wherever you could, like your website, blog, social networks, and review site profiles.
Search engines will soon crawl all the fresh stuff you've cranked out, and slowly but surely, it will help push away those negative search engine results.
SEO benefits of reputation management
So: what are the SEO benefits of reputation management?
It may be plain to see how online reputation management efforts can affect the ways consumers perceive your company or brand. But reputation management can do wonders for your SEO strategy, too, helping you achieve greater visibility in search engine results, drive more traffic, and improve your conversions.
Let's talk about some popular SEO reputation management concepts that can supercharge your performance.
SEO Reputation Management: Benefits
A good reputation generates more branded searches. So you've been collecting a lot of 5-star reviews, both solicited and unprompted. And the social media influencers you've worked hard to build relationships with have finally become true brand advocates. Plus: your community outreach and engagement efforts have vastly improved consumer perception of your brand.
With such a positive reputation, you can expect to see branded searches grow. And that's a powerful thing.
After all, if consumers are searching online for your product or brand by name, they're more likely to convert, and they'd also be deeper within the sales funnel. In fact, according to Google, branded search terms have over 2 times higher conversion rates than non-branded keywords.
Responding to reviews? Google will be reading, too. Responding to reviews, both positive and negative, can boost your company's reputation.
It shows the reviewer that their customer experience is of utmost importance, and it demonstrates to readers (your potential customers) that you care about and are always listening closely to feedback.
Review response has SEO benefits, too. A Google My Business Help page suggests that both reviews and review responses may factor into your business' search visibility, and even increase the likelihood that a potential customer will visit your location.
This isn't to mention the fact that responses to publicly displayed reviews also make up fresh content that is going to be crawled by search engines.
It is not uncommon for smart reputation managers to incorporate into their review responses any keywords they want to use for SEO purposes.
Example:

"Thank you again for bringing your friends and family with you to our

farm-to-table Houston restaurant.

Thanks even more for celebrating your birthday with us. Our team loved sharing this special occasion with you! We are so glad to hear that the food and service matched your expectations."
Star ratings add some shine to your search results. Check out these search results for "Indian restaurants NY."
As you can see, the top-rated businesses relevant to the aforementioned search term are featured in the local "Google Maps pack" or "3-pack." This pack appears before the rest of the organic search results.
Users see this first. And they're more likely to click on any of the three featured businesses than on the other businesses that follow.
Now, there's a wide range of factors that determine how Google determines which businesses appear in this pack. Among the factors? Your online reviews and rating scores.
If you apply best practices in online review management as part of your reputation strategy, you're giving yourself a chance to be part of the Google Maps pack. Reputation managers that are able to maintain strong ratings and garner many positive reviews across the Web give themselves a better chance to win this prime search engine real estate.
Getting listed in local directories and building citations = stronger local search presence. An increasing number of consumers are using search engines to find, discover, learn more about, and get directions to local businesses.  
Therefore, search engines like Google have evolved to reward those businesses who have strong local search signals and whose online footprint reflects strongly where they're located.
(After all, if a user is looking for good sushi, Google doesn't want to display results for Japanese restaurants that are three states away from that user.)
If your reputation management strategy includes efforts to strengthen those local signals, and to get listed in as many local directories as possible, or to build high-quality citations across the Web, then you're in a great position to improve your ranking in local search results.