Did a customer recently "Yelp" you?
Successful companies and business owners know the importance of carefully navigating the (sometimes treacherous) waters of online reviews and customer feedback.
They're savvy. They monitor all the social media and review sites where customers are talking. They respond professionally and politely, without losing their cool. They leverage feedback in order to get actionable insights on the customer experience. And they act in ways that protect, instead of damage, their brand reputation.
On the other end of the spectrum, there are some individuals who shouldn't be trusted with the password to their Yelp or TripAdvisor business account, who don't think before they hit "Reply," and who should definitely think twice about how they respond online to customers.
How Not to Respond to Reviews
We at ReviewTrackers combed through online reviews across sites like Yelp, Google, Facebook, and TripAdvisor, sorting through various management responses scattered throughout. When it comes to responding to reviews and managing customer feedback, here's a list of examples of what not to do.
Maybe don't ask your critics to buy a pair?
Here's what happened: food blogger James Isherwood (not related to Christopher) didn't enjoy his starter at Hibiscus, a well-known restaurant run by celebrity chef Claude Bosi. So he wrote about his dining experience in a TripAdvisor review with a 3-star rating.
This struck a chord with Bosi, who then launched a foul-mouthed tirade on Twitter in which he admitted feeling "stabbed in the back" and asked his critic to buy a pair.
Looks like the chef couldn't handle the heat.
Our advice? Apologize then move on. But in cases where you really feel like you ought to defend your product or service, do so with dignity, and without resorting to name-calling. (Calling a customer the C word is hardly edifying.) Be personal, but don't get personal.
"What do you expect? Think about what you paid."
The Georgian House in Glasgow is "grotty and dirty," according to TripAdvisor review writer Frenk11. The owner of the small hotel couldn't care less, responding to the guest with such a lack of sympathy that future guests are unlikely to find confidence in the business.
When responding to customer feedback, make it a goal to show the reviewer and potential customers that your business cares (regardless of the amount of money they spend at your establishment). Just to be clear, "what do you expect?" is just the kind of comment that achieves the exact opposite.
Did you know? 50 percent of customers expect to hear back from businesses within 7 days of leaving a review. Read about our research study here.
No, you're not supposed to be content that the customer didn't have a good experience.
A Yelper named Karl K. complained about the Italian hoagie at Park Italian Gourmet in New York, saying that the meat was on the skimpy side, the bread was dry, that the sandwich overall lacked "complexity."
This set off owner Francesco Macri, who responded colorfully to Karl's 2-star Yelp review and put down his customer with a condescending lesson in Italian sandwich ingredients.
The line "There is an overall douch-baggery to your review that makes me unsympathetic, and ultimately content that you didn't have a good experience" makes for fun reading.
But we wouldn't advise you to try that one out. In fact, just avoid saying anything on the Internet (or anywhere) when angry.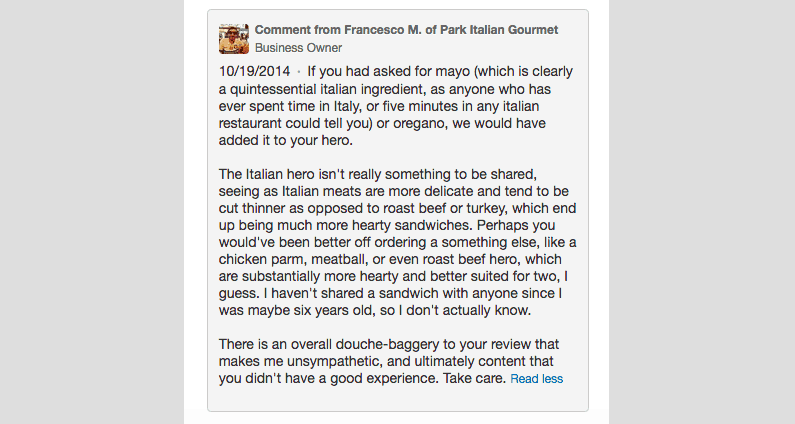 It's probably not a good idea to set your customer up with a fake dating profile.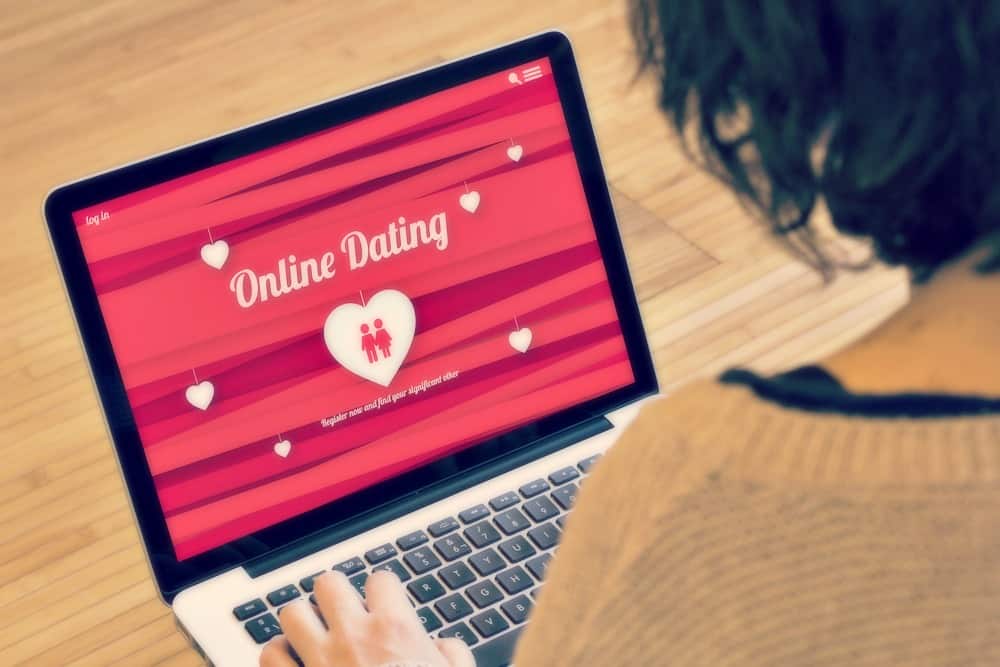 Poor Elyana Katz just wanted her pasta without olives. But that's what she got at the Mambo Nuevo Latino restaurant in Ottawa. She decided to write a negative online review after a not-so-pleasant dining experience, whereupon the owner of Mambo, Marisol Simoes, decided to retaliate — by launching a two-year online smear campaign against Katz.
Simoes created a racy dating profile in Katz's name; it described her as a transgender woman who was interested in "couples, threesomes, and group sex. I am a handful in many ways and a tiger in the bedroom." She also sent lewd e-mails to 75 of Katz's employers with a message that said similar things to the dating profile.
Simoes was sentenced to 90 days in jail for criminal defamation.
Keep your response short and sweet, not long-winded and weird.
Your responses, along with the actual review to which you're responding, can enhance the visibility of your brand and generate fresh content that search engines will reward with higher search results.
This doesn't mean you should follow the example of Alex Scrivenor, owner of Crags Hotel in Scotland, who wrote a long-winded and ultimately very weird response to a 2-star TripAdvisor review.
"With reference to your comments about my lavatory," he wrote, "I have researched this issue and find that you are mistaken! I am concerned by your simile. I hope you don't really think that I have powered my toilet with a supercharged V12 Rolls-Royce engine! I am all for disposing of waste but that would be going a little far!"
Continuing to refer to the guest's comment about the toilet, another part of Scrivenor's response read, "I think that you maybe confusing Spitfires with something else. Spitfires, you will recall, were the saviours of our nation! And still to this day when you hear the roar of the Merlin engine overhead, you know that all is right with the world. In fact I would go so far as to say that most of our British guests would feel reassured if every time they spent a penny, its departure was greeted by the sounds and images associated with our brave warriors hurtling across the south downs accompanied by sounds of 633 squadron.
"However, we have to be sensitive and whilst I am sure our British guests would enjoy this patriotic experience, we also have a lot of visitors from the continent who may not feel so stirred by it! In order to seek clarity, I suggest you go to YouTube and type in 'Spitfire Sounds'; there are a number of videos that show MK19 Spitfires in action. I think you will agree that they do not sound like my toilet."
Here's Scrivenor's full response, which he signed off with a nod to Fawlty Towers hotelier Basil:
According to research, 78 percent of consumers will believe that a business cares more about them if they see management respond to their online reviews. But this stat doesn't apply if your responses end up being like the crazy examples above (obviously).
If you're looking for inspiration and best practices, check out these 8 amazing examples of businesses responding to reviews and customer feedback. Or you can supercharge your review response strategy by downloading these free review response templates (in Excel format) so you can get back to your customers ASAP.