See customer feedback from over 100 review sites in one place
Request a demo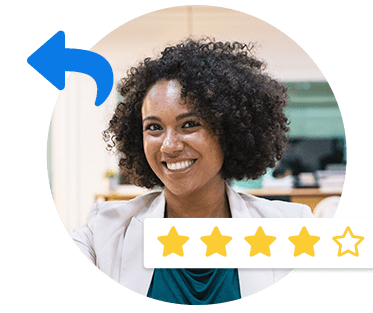 Online review sites are a stimulus in the rise of online customer feedback. This rise is beneficial for all types and sizes of companies. But not everyone thinks of online reviews as an essential component of business success, due in part to a few preconceived notions or ideas they have about online reviews.
What notions and ideas, you ask?
Well, there are multiple reasons why businesses ignore online reviews or struggle to accept them as part of the current consumer culture. Here are some of their biggest pain points:
You Don't Have Enough Time
Time: it's so important. It's gold. Yet we never have enough of it. We are always at work, always moving. That's probably why there's an abundance of productivity applications to help us manage our time.
Heck, you barely have time to eat lunch. To try and manage thousands of online reviews across multiple review sites for multiple business locations seems virtually impossible.
That's why it's important to have a system like ReviewTrackers in place, so you can efficiently monitor your reviews and customer feedback, and know when a review gets posted without having to spend hours looking through all the review sites you care about.
Negative Reviews Hurt
You get a negative review and wonder, "Why?"
Everyone takes criticisms differently. Some business owners who feel unfairly treated by their customers even go so far as to file lawsuits against those who leave them with negative reviews, just like the shades and blinds company that sued a customer for writing an unpleasant review on Yelp.
Last December, the U.S. Senate passed a bill called the Consumer Review Freedom Act. If and when the bill becomes a law, consumers have the freedom to write negative reviews without penalty or punishment.
The passing of the bill shows that online review sites and other similar customer feedback channels are meant to serve as a platform for generating and sharing consumer opinion.
Our advice is to read and analyze the kind of feedback you're getting, and extract insights from your review data: actionable customer intelligence. Even bad reviews can be good for your business. By embracing and proactively managing customer feedback, you'll be able to measure and understand the customer experience and find ways to resolve issues, respond to reviews, and win over even the harshest critics.
Read MORE: Get More Out of Customer Feedback Using Text Analytics and Sentiment Analysis
It Takes (More) Time to Respond
A recent study by Cornell showed the kind of impact review responses can have on brand reputation and revenue. Generally speaking, responding to reviews leads to improved sales and revenue, while failure to respond can be costly.
But it takes time to write those responses. (You have to run a business, after all.) And it's not easy to figure out whom among those who left reviews you should respond to first.
In any event, have a process in place for responding to reviews, both positive and negative, in 7 days or less. If detractors and unhappy customers share their feedback online, make it your priority to acknowledge their reviews and resolve any issues they might have raised. The way you respond is one of the factors customers take into consideration when they are deciding whether or not they want to do business with you.
Yelp Has a Complicated Relationship with SMBs
Yelp, more than any other review site, has always had a complicated relationship with small businesses. It has been accused of wielding the threat of negative reviews to convince small- and medium-sized businesses to buy advertising. Others say Yelp's review filter publishes too many fake reviews and hides "the one good review" they ever had. Others still are just plain annoyed by Yelpers and review divas.
But take away the fog of lawsuits and complicated relationships surrounding Yelp and it becomes a place where customers can freely express their opinions and give you honest feedback. The site is structured to empower the voice of the customer (according to Yelp CEO Jeremy Stoppelman, reviews are submitted from mobile phones to Yelp every two seconds) and, at the same time, serve as a platform for companies to capture the voice of the customer and build a strong brand reputation.
Need Yelp help? Check out our massive guide to Yelp for Business.
These are among the biggest pain points companies have with online reviews. While we won't deny the possibility that you'll encounter the odd customer who leaves feedback that's more irksome than useful, it's still critical for every company to manage online reviews. We're in the Age of the Customer, after all, and organizations that listen to and embrace customer feedback are the ones most poised to succeed.