Download 43 free review response templates for negative and positive reviews
Get the templates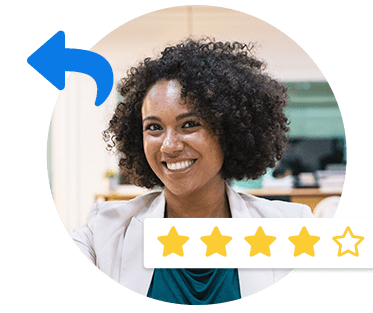 According to Search Engine Land, 92 percent of consumers read online reviews for local businesses.
This upward trend shows the value of customers and how their experiences can greatly affect your online presence.
Research also tells us that 72 percent of consumers say that positive reviews make them trust a local business more. It's similar to a personal recommendation.
Therefore, it's up to your team to create quality relationships with buyers. These connections will build trust and offer key insights on how to improve service.
However, some companies practice shady tricks to bolster their brands. And that's a problem. It's such a major issue that potential customers will alienate your brand and try a competitor.
So, is your company walking the tightrope of online reviews? Find out.
Here are five reasons your online reviews repel potential customers:
1. You Don't Respond to Negative Reviews
Customer feedback is built on the consumer's experience with your brand.
Whether it's a normal reflection of how you run your business is not up for discussion. It's all about how the customer felt after interacting with your company.
So, don't be alarmed when a negative review appears on Yelp. Instead of ignoring the customer's complaints, try something different: respond to the reviews.
Terry Powell, founder of AdviCoach, recommends the following:
"To gain back trust after a scathing review, make sure you say something as soon as possible. A quick response shows that the business has nothing to hide. It's important to note, however, that the messaging needs to be thoughtful and accurate, since the audience may already be aggressive and you don't want to fuel an already existing fire."
The best response is simple and encourages the customer to contact you directly.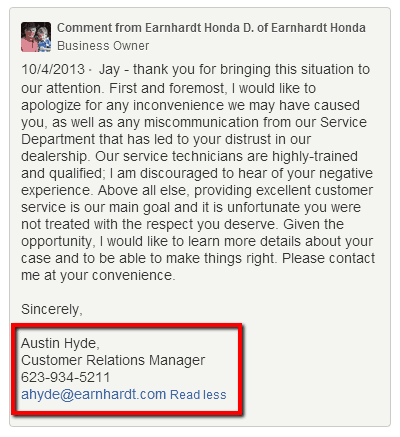 Don't disregard your customer's comments. Quality customer services starts with a response.
2. You Encourage Fake Reviews
Tsk tsk. Being dishonest with your potential customers is a surefire way to lose them before they walk into the door.
No one likes a liar. And in business, it ruins your reputation and makes people think twice before engaging with your brand.
Customers can spot fake reviews from a mile away. It's visible when your Facebook rating remains 5-stars with all the comments saying: "Awesome service!"
This is a red flag to customers that you're attempting to deceive them. Meaning, you want to steal their money.
So, don't buy online reviews. Fake reviews are disingenuous and will cause your business more harm than good.
In the UK, businesses that "post fake reviews on websites to boost their ratings could face fines" as the government regulates these misleading business practices.
Be honest. It really is the best policy.
3. You Don't Reward the Review Process
Reward your customers for providing feedback.
Now, this is different from begging for reviews or telling every customer to write you a perfect review.
And rewards don't always mean discounts, free product samples, or cool prizes. A simple thank you works well, too.
I received a thank you card (with stickers) from Sprout Social for participating in their Twitter chats.
Show your customers your brand cares. A little appreciation goes a long way.
Important note: If you're requesting customers to review your business, it's probably best not to incentivize.
4. You Don't Actually Improve Upon the Feedback
You received lots of feedback from your customers. Great!
But what do you do with it?
When reading online reviews, spot comments that indicate how your company can improve its services. Do you need better customer service reps? Or maybe more parking spaces?
Don't let good criticism go to waste. Develop a plan to improve the overall customer experience.
Identify the most crucial customer touchpoints and then make the adjustments. Some improvements may need more money and time. So, add those to your business's long-term strategy.
Also, announce how you plan to improve. Create and post a short message to your customers.
5. You Don't Leverage Reviews as Social Proof
Online reviews are a badge of honor, especially if they reflect a positive image on your brand. That's why your team should display them proudly.
A review strengthens your credibility with future customers. It shows shoppers that your business offers great products and can be trusted in the marketplace.
Transparency has its benefits. By sharing feedback, customers will feel more confident about making a purchase and may even refer a friend.
Use online reviews as social proof. Take this advice from Chris Brisson, Co-Founder of Call Loop:
"You can easily leverage and repurpose these great reviews into video testimonials, case studies and success stories for your product. These are probably the easiest initial testimonial to get. Take them to the next level by emailing, calling and reaching out to these people. Give a gift for the deeper testimonial. Then feature these case studies in a white paper or on your site to further your trust."
Attract More Customers
Online reviews can either drive new business or repel it. Your team holds the power to leverage feedback to earn more sales.
Start by responding to negative customer feedback. Avoid the unethical practice of buying fake reviews. And use reviews as a way to show social proof on your website.
Tackle online reviews. Attract more customers.