Download 43 free review response templates for negative and positive reviews
Get the templates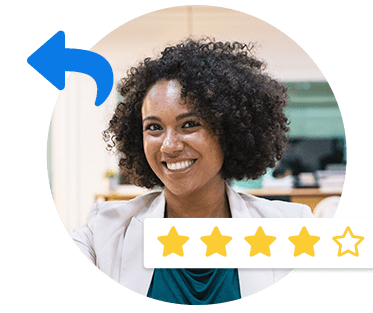 When we talk about online reviews, the main sites that come to mind are Yelp, Google+ Local, and industry-specific sites like TripAdvisor or OpenTable.
Recently, we ran a small poll asking business owners if they had a Yahoo Local profile, and, if so, when was the last time they had engaged with customers through this review site?
It was not surprising to discover that only a small percentage of those polled had any level of engagement with Yahoo Local. If you are among the majority and you, too, have deprioritized or even forgotten about Yahoo Local, then we want to encourage you to reconsider, in light of recent changes that may just make this third-party review site more attractive than ever before.
(Check out: How to Claim Your Yahoo Local Listings)
Yahoo Becomes the Default Search Engine for Firefox
Late last year, Firefox halted their partnership with Google as their default search engine and replaced it with Yahoo. This move was not a surprise at all, considering that Google and Firefox have had a contentious relationship since the launch of the Chrome browser, which became a direct competitor for Firefox.
Now that a few months have passed, marketing firms and those that study Internet traffic patterns and origination points are starting to see a shift that could represent incremental business in the neighborhood of 5 to 10 percent.
With Firefox in control of approximately 16 percent of the search market, it absolutely makes sense to invest a little time and effort in ensuring your business has Yahoo search domination.
Yahoo Gives Preference to Yahoo Local Activity in Their Ranking Order
Now that we know the numbers, let's explore what is taking place when potential customers conduct a search using Firefox, defaulted to Yahoo search engine.
In direct contrast to search results in Google, which often, if not always, prioritizes Google+ Local listings, Yahoo search engine gives priority first to Yahoo Local and secondarily to your Yelp results. So, businesses that have failed to engage through Yahoo local and have a weak Yelp profile stand little to no chance of showing up in the first page of search.
Run a Market Analysis Before You Move Forward
In the past, we have encouraged businesses to work toward having a consistent presence across all third-party review sites in order to maximize the opportunities for incremental leads. Yahoo Local should be a part of this effort.
But before you start counting on incremental leads through engagement using Yahoo Local, spend a little time taking a look at the level of competitiveness for your specific segment and keywords. Knowing how high of a barrier you need to overcome, as far as review count is concerned, will help you in deciding how to move forward, and when you can expect to start showing up with the leaders in ranking.
Because Yahoo is not as popular as other search engines, there is a good chance that you will jump into a situation with minimal competition, where a few simple moves (such as updating your Yahoo Local profile) will give your business additional opportunities for visibility.
Some Segments Likely to Gain More Traction Than Others
Conduct a search on Yahoo for the most important keywords associated with lead generation for your business, and take a look at the results.
If your results show mainly internal sites instead of Yelp and Yahoo listings, then you stand a significant chance of moving to the top by simply activating your Yahoo Local profile. If not, you may want to explore marketing tools that allow you to generate leads and attract new customers.
(BONUS: Check out our free Yelp for business guide).
Setting Up Your Yahoo Local Profile
To get the most of your Yahoo Local profile, make sure your description is keyword-rich. A keyword-rich description is helpful within Yahoo, and also increases the responsiveness of your Yahoo result on other search engines like Google.
In addition to keyword-rich, customer-focused, accurate content, make sure you include high-quality images and verify the accuracy of information such as your address, phone number, email, and hours of operation.
Engage with Your Yahoo Local Reviewers
Yahoo Local does not have a clear policy regarding review requests. Consider encouraging your customers to write honest reviews about your business, and point them to Yahoo Local as one of the venues among many where they can voice their honest opinion.
Once you have garnered some reviews, take the time to engage with your reviewers by replying to their reviews with responses that are personable, useful, and solution-driven, in the case of negative feedback.
Engaging with your reviewers is great from a marketing perspective. It allows potential customers to see that you truly care about your patrons. Engagement is also beneficial from an SEO perspective, allowing you to become more relevant in terms of content density, and giving you opportunities to include trending keywords for your industry or segment within each response.
When it comes to review responses, speed matters. Replying ASAP tells your customers that you care, and tells others that you are on top of things.