Local business listings appear in search results when people search for your business online. Not only do they display your business information; they also play a vital role in determining your brand reputation, search engine rankings, and revenue.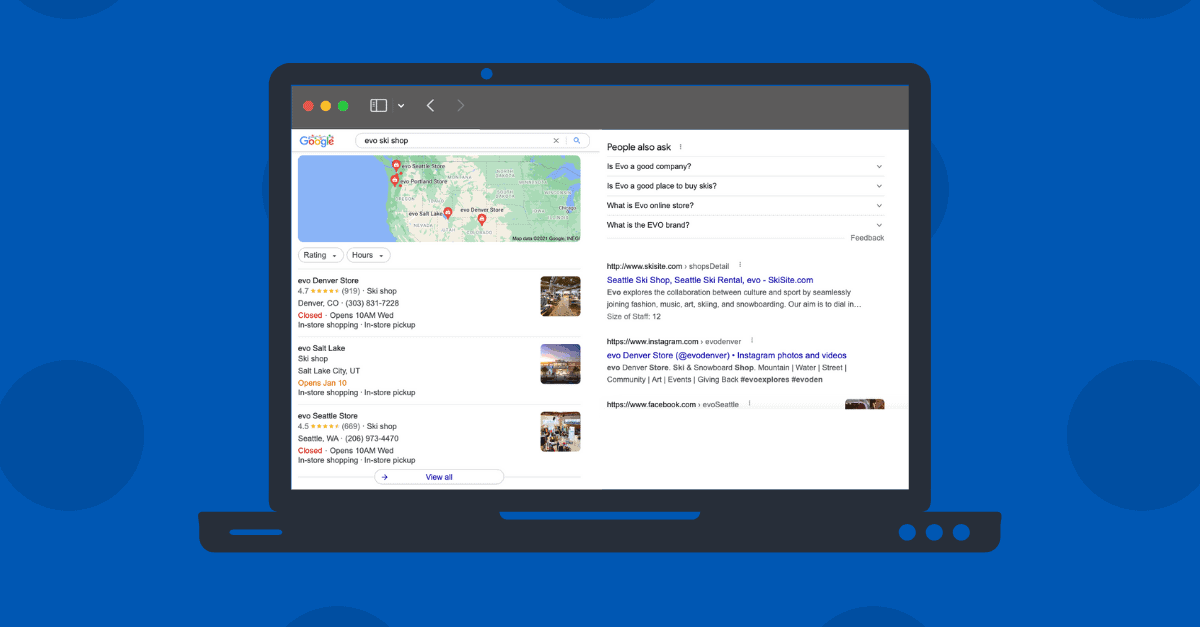 It can be challenging for marketers to get started on a local listing management strategy. It takes a lot of work to create effective local listings that accurately reflect your brand as well as drive customers to your business locations. 
This involves a good amount of research, data entry, verification procedures, and manually logging in and out of websites — which you have to repeat every time your business information changes: say, you moved your business address or your store hours changed.
There is also an ever-increasing number of online directories, yellow pages, and social media and business review sites on which to get listed. To stay efficient, you must have an understanding of which ones matter most to your brand. 
What are Local Business Listings?
Local business listings are pages on directory sites with your business's information, such as your business's name, phone number, and address. When people search for your brand or business name online — or when they search for a product or service you provide — your local listings are (ideally) displayed in their search results.
Benefits of Having High-Quality Local Listings
Local listings serve as powerful marketing assets that can do wonders for your brand. They can do the same job as traditional advertising and marketing, but where offline or print efforts may fall short — specifically: getting your business found online — a sound local listing management strategy can make the most impact.
On the other end of the spectrum, incomplete and inconsistent listings, as well as listings with bad or outdated data, can confuse and misdirect consumers and impact your traffic and revenue performance.
A Local Business Listing Plants Your Business Flag
You should not ignore any data published about your company on the Internet. You must manage this data on an ongoing basis as well as supply your own.
By creating and claiming your listings, you gain a greater level of control over what's being said about your business — and therefore how it's being perceived by searchers. 
You Can Respond to Conversations
By claiming ownership of specific pages on online channels where your brand is present, you can more easily listen and respond to existing and potential customers. 
On most directories where you have claimed listings, you'll be able to present yourself as a representative of your company, answer questions and queries, and learn how to respond to negative reviews as well as positive feedback.
Local Listings Impact Your SEO
It's no longer enough to simply have a website in order to gain visibility in search. Most of the time, when consumers search for your business (or a product or service you're offering), the search engine will display results from multiple websites and pages outside of your own.
This is why Google and other search engines take local listings into account when determining rankings. Google, for example, compiles information in local listings from a wide range of sources:
Content from a business' official website and core digital properties

Licensed data from third parties

User-generated content (such as addresses, phone numbers, photos, and

online reviews

contributed by users)

Information based on Google's interactions with a local business
Local listings should therefore be an integral part of your search engine optimization (SEO) efforts. Making an effort to publish and distribute correct information about your business across the web is the type of activity that search engines will reward with higher rankings and greater visibility in search results. 
Build Buzz and Drive Sales
Do you have some exciting news or special deals to share? A new product to launch? Build buzz around your brand by sharing updates across your local listings on top business directories and social media and review websites. 
Most of these sites will let you post your own branded content once you've claimed your listings, so be sure you take full advantage. Some directories even allow companies to drive direct sales and bookings through their platform (Yelp and Tripadvisor, for example). This tactic is a cost-effective way to increase brand awareness, drive sales, and generate organic word of mouth.
How to Create a Local Business Listing
Before working on optimizing or creating new listings, spend time checking where and how you are currently listed across the web. Double-check their accuracy and completeness; correct any mistakes that you see. 
Once you have completed this process, follow the steps below: 
Focus on the Directories that Matter
As you begin listing your business online, aim to achieve better accuracy on a selection of directories that matter the most. 
Your team doesn't have to spend hundreds of hours trying to get listed on every single directory, business review site, and social media platform. Instead, create a business directory list that's unique to your market and your business. Include only the top directories that are trusted by your consumers and hold more market share than smaller, less common listing sites. 
According to local SEO statistics, roughly 75% of new business is influenced by only a handful of business review sites and directories: Google, Facebook, Yelp, Tripadvisor, Apple Maps, and Bing Maps. Make sure your bases are covered on these sites.
Pro tip: When conducting local listing management, be sure to also prioritize directories that rank at the top of the results for "near me" search terms. How do you find out which ones these are? 
You can start by performing a "near me" search that matches what your business is about. For example, the top results displayed for an "Italian restaurant near me" search on Google are from sites like Tripadvisor, Yelp, and Foursquare.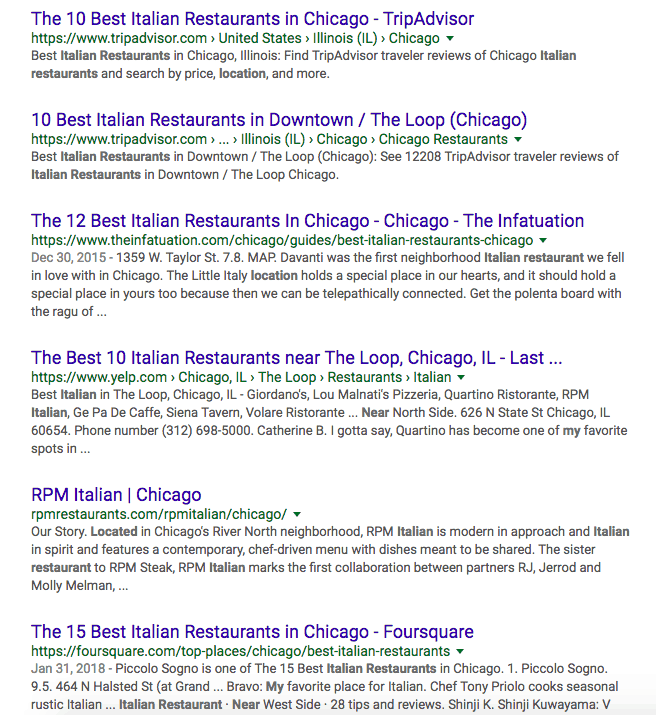 Ensure NAP Consistency
NAP stands for your business Name, Address, and Phone Number: three key pieces of business information that search engines like Google take heavily into account when compiling information from local listings and determining local SEO rankings. 
Listings with well-managed NAP profiles are likely to rank well in search engine results. If you're managing a company with multiple business locations or stores, each location and store should have its own unique NAP.
Remember: consistency is key. Variations in entering your NAP information could prevent you from getting optimal results from your local business listings strategy. achieving your ideal SEO results. 
For example, don't write down "S. Oakhill St." as a business location address when previously you listed down "South Oakhill Street." Also, avoid having multiple or different phone numbers for one business location.
If your business locations moved to a new address or changed contact information, make sure that these changes are reflected across all the digital properties where you are listed.
ReviewTrackers, an InMoment company and online reputation management software platform, now enables enterprise customers to more easily manage and update key information (such as NAP) on their place cards in Apple Maps, while providing a seamless brand experience throughout the Apple ecosystem, including Siri, Wallet, Safari, and other Apple apps. With ReviewTrackers' new Apple Business Connect integration, your organization can access the tools you need to connect with customers more directly, as well as to take more control over the way billions of people see and engage with your products and services every day.
Provide as Much Business Information as You Can
Enhance your business's visibility within these business directories by expanding beyond the basic NAP information. Many business directories often provide additional fields including:
Business Hours:

Provide accurate hours to assist users in planning their visits. If your hours often change, especially during the holiday season, be sure to update your business hours to reflect these changes.

Website URL:

This is a great opportunity to drive traffic to your website and allow users to engage with your brand even further while boosting SEO and strengthening your online presence. 

Categories

: Choosing relevant categories can improve your business's display changes and help users understand your offerings. 

Description

: Crafting a compelling business description and a great way to entice users to visit your establishment. 

Social Profiles:

Sharing your social media links can help users discover the latest updates such as events and promotions, and opens the door to foster ongoing connections.

Images:

Displaying images has been proven to boost click-through rate. Be sure to upload high-quality images that make a lasting impression.
Take full advantage of any additional fields in the directory to spotlight your business effectively.
Use a Local Search Rank Checker
One way to monitor your local listings' performance is to use a local search rank checker. Such a tool helps teams track and improve the local search performance of their listings without necessarily having to develop any technical SEO expertise.
Get Great Reviews
Customer reviews are a major contributing factor in the quality of your local business listings. Even Google has stated that reviews are one of the major ranking algorithms for local search.
Beyond their impact on local listings, reviews also let potential customers know more about your company's offerings. Simply put: online reviews are an important trust factor that people look into before making a purchase decision.
As part of your local listings strategy, establish a workflow for asking for reviews from customers. A steady stream of new reviews improves your search engine visibility and amplifies your listings' local SEO signals. It's also critical that your team learns how to respond to negative reviews as well as positive feedback.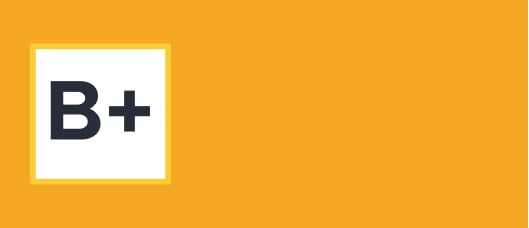 Find out your brand's online reputation score
Take the guesswork out of your strategy. Instantly generate your brand's online Reputation Scorecard, complete with review highlights, ratings, keyword trends and more.