As your brand continues to expand with new locations in other towns, states, or even countries, the need for local digital marketing and local listing management becomes even more important. Even though you have a specific voice and aesthetic associated with your brand, you'll need to find a way to cater to different local audiences.
Fortunately, there are a few things that you can start doing to establish yourself as a notable member of the local community while still retaining your brand's unique voice.
Claim local listings
Reach out/join local groups through social media
Create a local SEO strategy
Local Digital Marketing Step 1: Claim Local Listings
A digital presence starts with online listings on multiple business review sites like Google, Yelp, Facebook, and Tripadvisor. This is an absolutely crucial step in the process: according to a report by Forrester, 80% of multi-location marketers admit that location information on third-party sites has a major impact on their brand's reputation.
This means that when you start creating your listings, make sure the information you add is correct and up-to-date. Wrong or outdated information is an easy barrier to entry and leads to poor customer experiences even before people walk through the door.
If you're managing a brand with multiple business locations, investing in local listing management can help you automate the process of claiming your business listings and updating your information across multiple digital properties.
On top of an expanded online footprint, local listings can house online reviews, which are vital to attracting local attention. 60% of marketers agree that what customers see on social media and business review sites influences their decision to visit a store and make a purchase.
If that wasn't enough, here's more customer reviews data to support the power of listings and online reviews:
97% of people make a purchase after visiting Yelp
76% of reviews are now either on Google or Facebook
92.4% of consumers use online reviews to guide most of their ordinary purchasing decisions
When you do get reviews, you should also learn how to respond to negative reviews and positive feedback. It shows you care what people have to say and increases trust between the two groups through continuous engagement.
Review responses are vital to the local digital marketing process. 79% of marketers see the ability to set up and manage service-level agreements for review responses as the most valuable feature to have when optimizing localized marketing efforts.
Local Digital Marketing Step 2: Engage via Social Media
Review responses aren't the only way to engage with consumers. Social media is another valuable asset in your local digital marketing toolkit. Consider the stats below:
86% of customers increasingly look for local business information on large search and social properties
40% of digital consumers use social networks to research new brands or products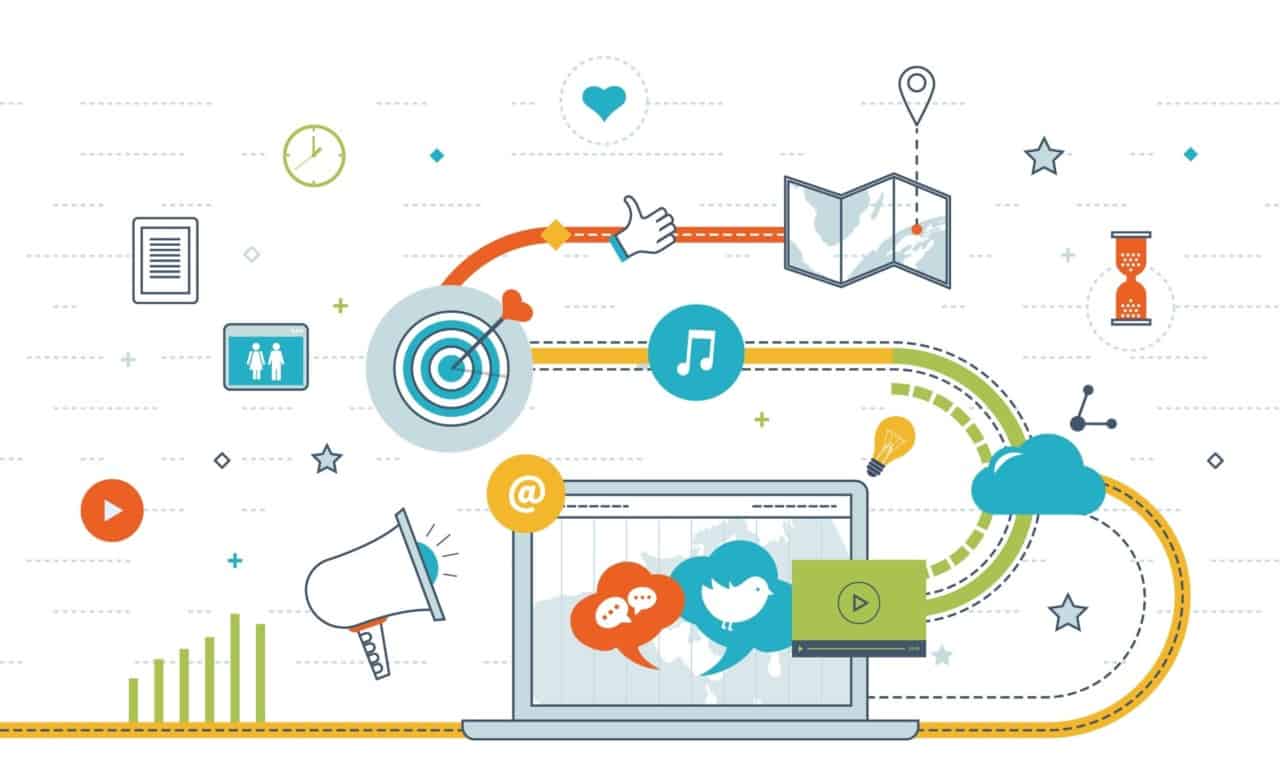 It's not enough to just post deals or announcements. Use tried-and-true community management best practices to effectively engage on a local level. Learn to "read the room" and use the right messaging and graphics to tell a story or educate the customer. Even if you're using brand guidelines, it's important to be human in your posts to better relate to people and increase overall engagement.
This is harder when it comes to managing different accounts for multiple locations, but the process is made easier when using comprehensive resources like Hootsuite reputation management software, which lets you create content for multiple brands at once.
Local Digital Marketing Step 3: Execute a Local SEO Strategy
With local listings and social media accounts squared away, you can round off your local digital marketing strategy with some local SEO efforts.
Having your listings set up correctly already contributes to this step. In addition, combining reviews and SEO together can help you rank higher when it comes to local search results. However, you can still do more to ensure a higher spot online when people are looking for businesses similar to yours.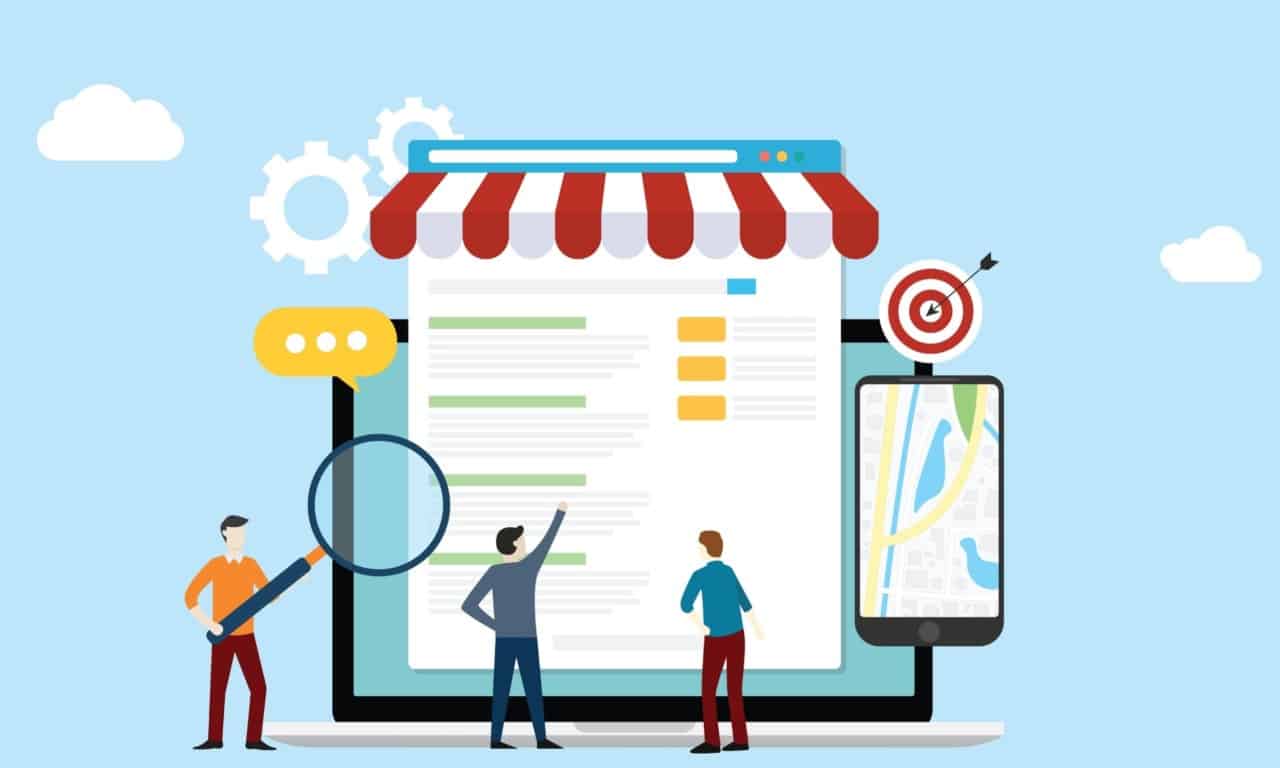 Ensuring an optimized website helps search engines find the right signals that further establish online trust. In addition, continuing to create content in the form of blog posts can get you noticed. Google likes fresh content, but it also tells consumers that you're a thought leader in your field. That extra layer of knowledge can be a major differentiator between you and the competition.
Conclusion
There are many cogs that keep a local digital marketing strategy going, but it doesn't take much to get it started. Here's the thing: there are great reputation management software solutions available that make every step of the process easy.
When done correctly, you'll have more loyal customers that will help you spread brand influence with their friends and to new places where you can set up more locations.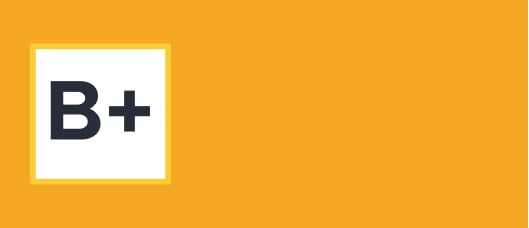 Find out your brand's online reputation score
Take the guesswork out of your strategy. Instantly generate your brand's online Reputation Scorecard, complete with review highlights, ratings, keyword trends and more.