Managing a brand with local presence in multiple locations? Location pages should be part of your brand's multi-location strategy.
According to industry research, 39% of multi-location businesses in North America do not have a list of local stores on their website. Almost half (48%) do not provide local landing pages or location pages for each physical store. 
As your company leans into digital, it's essential to leverage location pages as a tool for maximum exposure and impact. These pages help your brand stand out online, as well as influence high-intent buyers closer to the point of purchase. 
What is a Location Page?
You can think of location pages as silos or micro-sites that contain optimized content about each of your business locations. These pages are all linked to your main website. Sometimes, they are called your city landing pages or service area pages, encompassing all your locations' key information for customers and search engines. 
For example, your website is www.brandwebsite.com. Your location pages can have the URL: www.brandwebsite.com/city (www.brandwebsite.com/atlanta or www.brandwebsite.com/chicago). 
Creating these pages lets you map out locations in which you are targeting new customers, then build out unique, discoverable landing pages for each area. Here's an example of how location pages might appear on your brand website:
When done right, location pages can be a powerful local SEO (local search engine optimization) driver and high-ROI customer acquisition strategy, boosting your local search signals to improve your local search performance.
Understanding Location Pages for SEO
Organic local SEO is a low-cost, high-ROI marketing tactic that will help your brand gain visibility in the eyes of potential new customers. 

Optimizing your brand presence for relevant local searches (including

"near me" local searches

) can raise brand awareness and attract potential new customers to your business locations. With sound

local SEO management

, you can even try to rank for specific geographical areas that you're targeting.

Location pages (along with local listing management

) offer an often untapped opportunity for brands to improve local SEO performance.
Optimizing Location Pages for SEO
Location pages are a great tool for improving brand awareness and search engine visibility, particularly for companies with multiple business locations.
What should these pages contain?
To start with, they must contain the business location's NAP information: business Name, Address, and Phone number. 
Having correct NAP for all your pages as well as local listings is crucial for local SEO. Search engines like Google scan these pages when searching for information about your brand and business locations. This data is then stored and used to determine local search rankings. Missing or incorrect NAP can lead to confusion for your potential customers and a bad user experience. 
Apart from NAP data, you can add location-specific content for visitors and high-intent buyers as they look for useful information about your business from a nearby location. Your location pages should aid the customer experience so that these buyers are not left with unanswered questions. 
Let's take a look at the example below. The location pages of retail brand evo include important information such as:
Location / store description

Product and service offerings

News, deals, and promotions

Operating hours

Call-to-action buttons (book an appointment)

Parking information

Embedded Google Map of the business location, along with directions

Website review widget

(evo is using

Amplify by ReviewTrackers

)
Make Sure the Content is Unique
The trickiest part about creating location pages is ensuring that the content of each page is unique. This is because unique content is hard to come by when every store or location does or sells the same thing.
When writing copy for each page, focus on providing information that is specific to the location or store that the page is about. 
Try not to be too general with content that reads like, "All of our stores are open 7 days a week, and our staff are known for exceptional customer service and passion for (product or service)."
Your goal should be to provide as much unique information as possible. "The evo Seattle store is at 3500 Stone Way, Seattle, WA 98103. It is conveniently located between Fremont and Wallingford, in the Fremont Collective, also home to two great local restaurants, Joule and The Whale Wins. For more info on upcoming Seattle store events, sales, and services, follow @evoSeattle on Instagram, or our local store page on Facebook."
Don't Forget to Add Photos
When designing your location pages, make sure you save some space for high-quality photos. Photos (as well as videos) are an excellent way to incorporate unique content into your website and optimize your location pages. 
Images also show search engines that your page is engaging and offers valuable, unique content to searchers. Photos also help break up text and make content easier to understand, making it more likely to be read and shared. 
Take a look at the example set by retail brand evo. The company's location pages feature interior and exterior photos of each business location.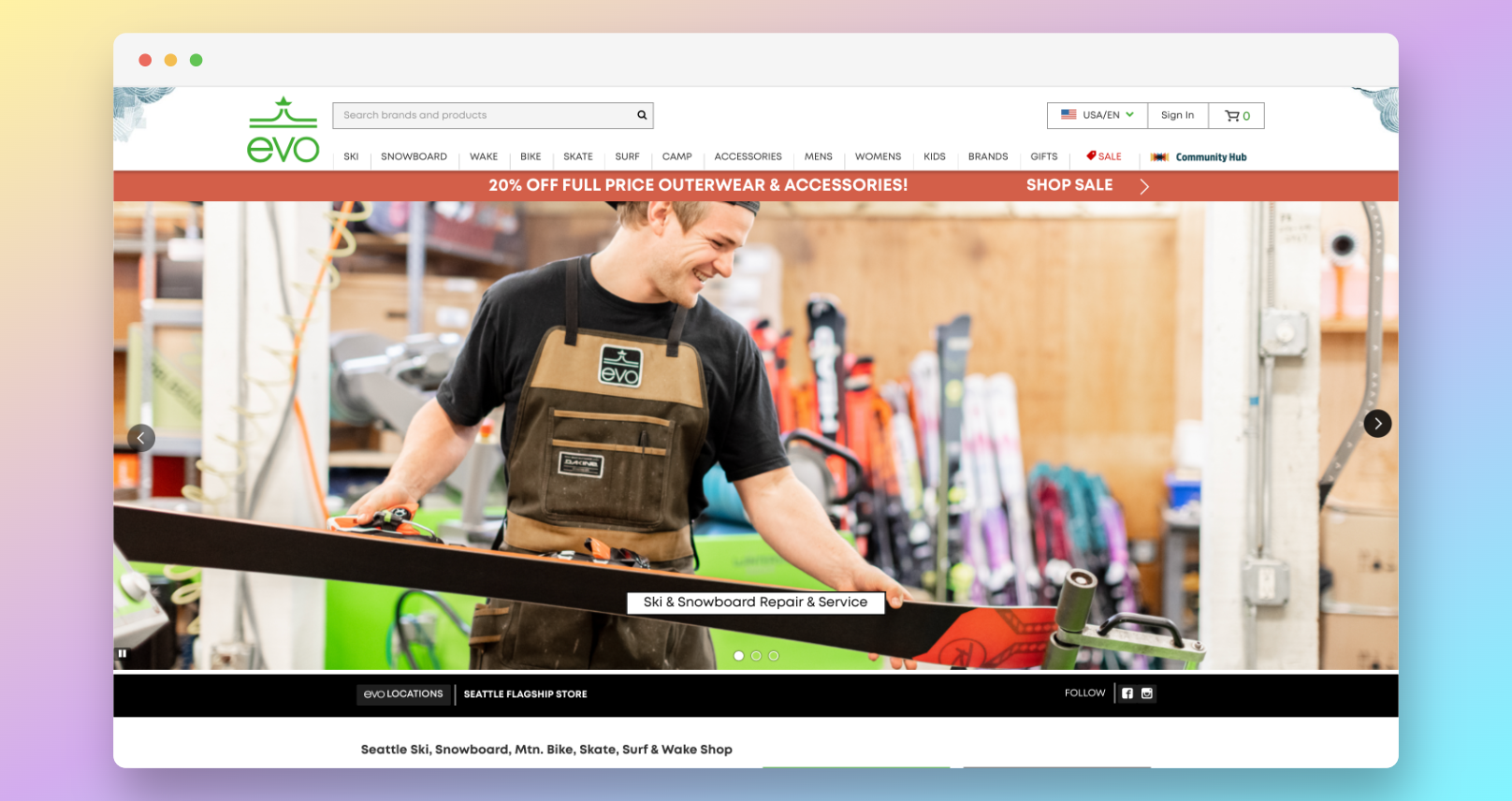 Final Thoughts
Location pages should be part of every marketer's multi-location strategy. Creating these pages require time, effort, and lots of creativity, but they can provide plenty of value for potential customers, giving them zero excuse to choose a competing business. Follow the best practices above to ensure that your pages are optimized for local SEO, creating a more helpful user experience for your visitors and improving your brand visibility in local search results.