Download 43 free review response templates for negative and positive reviews
Get the templates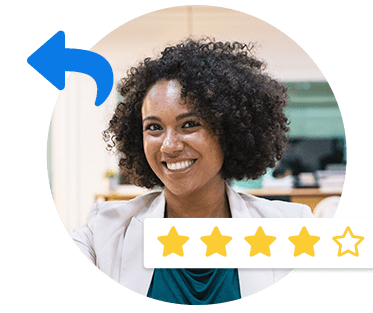 We're pretty excited about ReviewTrackers taking part in this year's National Retail Federation's Annual Convention and Expo (#NRF14) – or Retail's "Big Show" – to be held January 11-14 at the Jacob K. Javitz Convention Center. It's probably going to be the biggest and best one yet, with an expected crowd of more than 27,500 attendees and 520 exhibiting companies.
Not only does #NRF14 offer an incredible chance to showcase what ReviewTrackers can do; the event program, which follows the theme "Elevated Perspective," also creates an opportunity for all attendees to listen to visionary speakers and their success stories, examine new trends in the retail industry, discover new retail solutions and technologies, and expand one's network to include industry execs and new business partners.
We're also excited about the side events and parties happening alongside the Big Show. That's right: throughout the week, there are a few events that we – and you – won't want to miss. Here's a quick guide on where(else) to go during #NRF14:
BIG Show Photo Contest
January 11 – 16, 2014
http://bigshow14.nrf.com/big-show-photo-contest
If you're registered to attend #NRF14, you might as well snap some cool photos of anything BIG-Show-related, upload them to your Instagram account, and add the tag #nrf14. Top three photos win a $100 gift card. Here's the complete list of rules and restrictions.
Shopatron's NRFL Tailgate Party
January 12, 2014
3:00 PM to 7:00 PM
The Lounge at Southern Hospitality, 645 9th Avenue
http://pages.shopatron.com/NRFL-Registration.html
Join the Shopatron team for the NFL Divisional Playoffs – and kick off Retail's BIG Show while you're at it. Modell's Sporting Goods' Alyssa Young and Shopatron CEO and Founder Ed Stevens will also be there. The Tailgate Party will be held at the Lounge in Southern Hospitality on 9th Avenue. RSVP required.
Social Retail Week Opening Party
January 13, 2014
Flor de Sol, Meatpacking District, 100 10th Avenue
Social Retail Week is happening alongside Retail's BIG Show. Help kick it off and network with upcoming retail brands at the free happy hour networking party at Flor de Sol in Manhattan. (Social Retail Week is a bootstrapped, non-profit, private sector initiative by Brooklyn-based journalist Peter Verkooijen.)
SAP LIVE
January 13, 2014
The Standard, High Line
SAP is hosting an exclusive entertainment and networking reception at the top of the Standard, High Line, in New York City. Rob Floyd, President and founder of RxLiquidChef.com, will be there as the resident mixologist. Open to retailers and sponsoring partners. Registration required; RSVP by clicking here.
SuperSaturday Analyst Day
January 11, 2014
9:00 AM to 4:00 PM
PwC Auditorium
http://www.retailroi.org/supersaturday
Join top C-level execs and analysts in retail for this IT conference at the PwC Auditorium in New York. Topics this year include mobile, social media, and the convergence of marketing and technology in retail. Interested to become a vendor sponsor? All proceeds go toward helping the Retail Orphan Initiative. Registration required. E-mail [email protected] or call 615-591-2955.
Profitect / ReviewTrackers Booth
January 13: 9:00 AM to 6:30 PM
January 14: 9:00 AM to 5:00 PM
Booth No. 3275
Attending Retail's BIG Show? Don't forget to connect with the ReviewTrackers team and stop by Booth No. 3275. We have some exciting news to share, and you'll also get the chance to find out more about our online review management and reputation monitoring solution.