45 percent of customers say they're more likely to visit businesses that respond to their reviews
Online Reviews Survey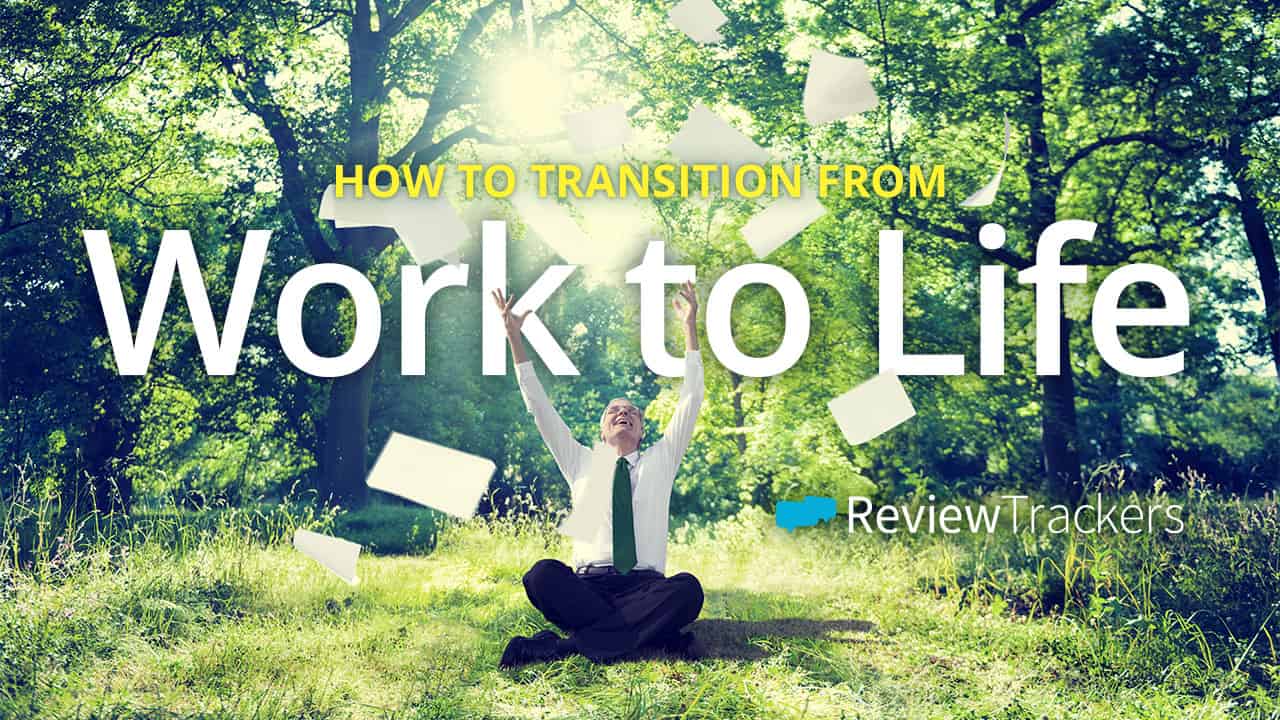 You're an executive or an individual with a demanding job. You don't have enough time for your personal life. You have way too many e-mails to read, and you think about work when you go home at night.
As an individual with this type of position, how can you possibly free your mind from work, when work never really goes away in today's technology-driven society? This is an issue, right? The question is: do you want more leisure time?
Marilyn Puder-York, PhD, a psychologist, executive coach, and author of The Office Survival Guide, provides advice for those seeking ways to create a better work-life ratio. She says that a good work-life ratio depends on who you are as a person.
"Everybody is different," she says. "It's not necessarily important in terms of what your career or specialty is. Everyone is different neurologically and everybody is different psychologically."
With that in mind, here's a list of tips to help you transition from work to life, no matter who you are.
Go Outside
There's no better way to de-stress than to go outside.
According to research published in the Journal of Environmental Psychology, simply looking at green space can improve your focus and productivity.
"Sustained attention is crucial in daily life and underlies successful cognitive functioning," the researchers write.
You'll also be happier overall by making the time to go outside. Recent research found that people who live near nature experience less anxiety and depression.
Detox from Technology
"As much as you can, with some discipline, set your technology aside," says Puder-York. "It's important to be able to control yourself when you're home and planning dinner either on your own or with family."
What's interesting is that, according to Puder-York, the transition from work to life should take place when you arrive at home — and not on your commute or drive back.
She advises people to put the technology away at home so that one can actually take a deep breath, eat dinner slowly, and communicate with their loved ones.
"And even if you're living alone and you go out to dinner, it's maybe not a bad idea to read a magazine or do something that takes your body and your mind away from being in a reactive mode."
For some people — such as doctors — it may not be possible to put away the phone at night. That's why Puder-York says it's important for people, especially those in jobs that demand their attention 24/7, to come up with a way to detox while still knowing if and when there's an emergency.
For example, Puder-York suggests, a doctor can ask their boss — or ask the employee who is in charge of alerts when an emergency takes place — to call them not once, but twice. That way, the doctor will know she can ignore the call if it rings just one time.
Control the Addiction
We have an addiction to being reactive to work texts, e-mails, and phone calls.
"It's not only the addiction to technology; it's an addiction to work, period," Puder-York says, "not a disease but habit formation for particular high achievers who define themselves on the basis of work success."
You should not react to information if you don't need to. While she says it's not bad, Puder-York advises people to control their addiction when in transition from work to home.
Why do we work as much as we do?
To put work and life into perspective, American men have more down time today and work less than ever recorded, according to the Atlantic. In 1930, the average workweek amounted to 47 hours. In 1970, the average workweek decreased to 39 hours. Workweek hours today have stayed right around there: just below 40 hours.
Ryan Avent, the Economist's senior economics editor, has an interesting take on work and life. He writes that both a husband and wife are likely to work 60 hours a week and hire people to take care of their children and housework. He says it may even be beneficial, rather than unhealthy, that we take our jobs home with us.
"Workers in cognitively demanding fields, thinking their way through tricky challenges, have always done so at odd hours," he writes. 
So maybe, just maybe, the real issue when it comes to work and life is not that we don't know how to turn our minds off of work; it's that we don't want to.