Download 43 free review response templates for negative and positive reviews
Get the templates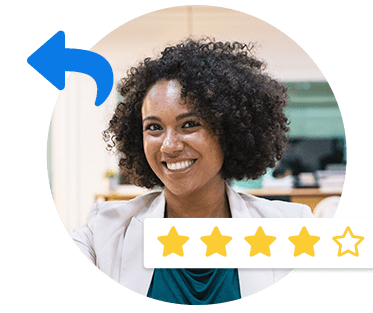 We learned a lot at music, film, and innovation festival South by Southwest (SXSW) in past years.
We learned that Paperboy has some of the best breakfast in Austin. We learned that sometimes it takes a few minutes (more than five) to figure out how to get into an Airbnb. We learned that it's possible to win at least 54 free t-shirts if you try hard enough.
The most important thing we learned, though? How to work as a team.
"It's so much fun to see how well the team works together but also very separately," says Emily Carl, events manager at ReviewTrackers. "We all have our particular goals this year and events we need to attend. Everyone will have their own responsibilities. There's a lot of moving parts and our individual roles are constantly changing."
The Customer Social
From previous years (starting in 2013), we have come a long way in our involvement at SXSW. We've come such a long way, in fact, that this year we are hosting our own event: The Customer Social, which will take place on Saturday, March 11 at Moonshine Grill, 303 Red River Road. 
The event will showcase how tech companies help brands understand and improve the customer experience at every point of the customer journey. Participating companies include IBM and U.S. Bank. The event is co-presented by Emma, Converseon, PowerReviews and Conversocial.
"This year, we are more focused on bringing people into something that we are doing," says Mandy Yoh, our head of communications. "This event is a way for other tech companies and brands to be the best brand advocates for each other."
Emily Pamukov, vice president of marketing for ReviewTrackers, agrees. She says one of the lessons we learned is that partnering with other growth-stage companies will help show the significance of the customer experience – that it truly matters – as we amplify each other's voices.
The way we are approaching SXSW is different this year than last year because in 2016, we were focused on speaking at other organization's events, instead of creating our own. Chris Campbell, our CEO, spoke on behalf the Chicago Tech Community at the ChicagoMade Lounge. And Emily P. sat on a panel for Tomorrow Tour, a multi-city event series, which focused on the development of local entrepreneurship and tech communities.
"I see this year as a year to really put our company out there as the thought leaders in customer experience," Mandy says. "Alongside our fellow tech companies, we want to make sure brands know that customer experience is the new marketing."
Here at ReviewTrackers, we truly believe customer experience is the determining factor of business success. 
"Customers have so many choices now, so brands have to really focus on creating the best customer experience," adds Emily C. We're excited to share all the ways we can truly help companies, and we'll show how we help brands by telling the success stories of our own clients."
"I see this year as a year to really put our brand in as a staple in the customer experience space," adds Mandy.
Our media production manager Ben Rifken will help spread that message visually – the message that customer experience is the new marketing – by focusing on capturing The Customer Social event and telling the story of the customer journey.
"It's my job to compile that into an engaging and informative video," he says. "In addition to capturing all of the panels, I'll be sitting down to interview brands and vendors to learn more about their approach to every step of the customer journey."
New Connections
Chris, our CEO, and Kevin, our CFO, have represented ReviewTrackers at SXSW in past years to develop new relationships and spread the word about our award-winning customer feedback software.
For Chris, SXSW is an interesting event because it's where creative individuals from across the globe connect and celebrate the coming together of industries. It's an event where you can talk with someone over a drink after learning about the future of food at the Future of Food pavilion.
Chris says, "Our goal this year is to develop new partnerships, find new potential employees, and make great connections."