45 percent of customers say they're more likely to visit businesses that respond to their reviews
Online Reviews Survey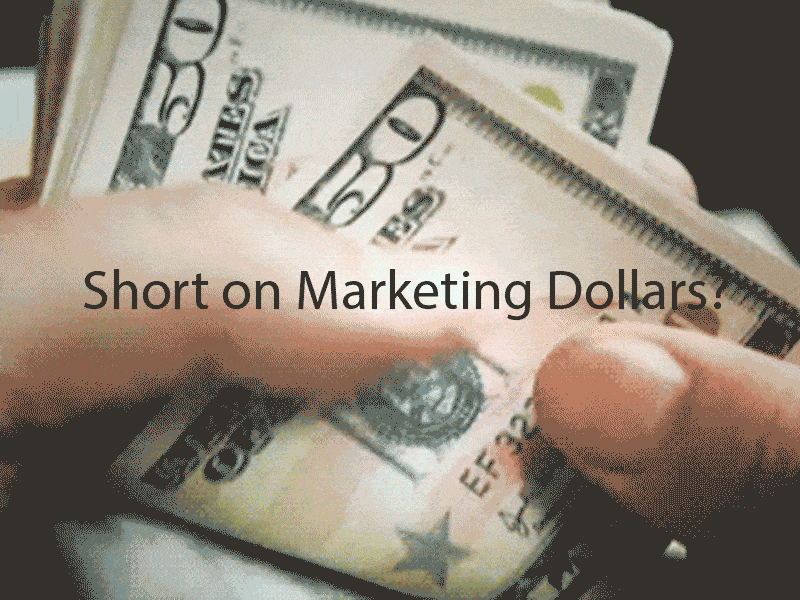 According to the U.S. Small Business Administration's guidelines for small to medium businesses, enterprises generating less than five million dollars per year should plan to allocate from 7 to 8 percent of their gross revenue for marketing and promotional spend.
These numbers, however, are just a general guideline. Many marketing consultants suggest that small businesses start small, with a one to two percent spend, and increase their marketing spend as budget and margins permit, or in response to a highly competitive business climate. In fact, in highly competitive niches, it is not unusual to see spends as high as 20 percent.
But what if you are going through a dry spell and you are struggling to meet operational expenses, making marketing spending a really low priority? If you are currently looking at this scenario or something similar, do not despair. With a little creativity, a guerrilla marketing approach, and the willingness to engage with customers by using existing online tools, you can improve your brand reach and secure new business leads at little or no cost.
Keeping in mind that review sites become exponentially effective when you provide superior customer experiences, the very first step toward using review sites as a free springboard to reach new consumers in your segment is to make sure your ship is in tip-top shape.
If your current customers are happy and they are talking about it, then you only need a few enhancements to be off and running with a low- or no-cost reputation-based marketing strategy. Let's take a look at five things you can do to improve customer engagement and point more shoppers to your business by properly managing your online reputation.
Be Strategic and Intentional When Selecting Your Marketing Battlefields
When you are a small business, time is of the essence. Every minute you spend in marketing outreach is crucial to the success or failure of your strategy. Please don't go in a thousand directions, seeking to be everything to everyone.
The most successful guerrilla marketing strategists are hyper-focused, and they cautiously select their marketing channels after carefully considering all the facts. Pick the third-party review websites that are most relevant to your niche and most popular in your market.
Keep in mind that the results of your efforts through review site engagement will be influenced by many factors, including your popularity for your sorting group as well as the quality, quantity, and frequency of your reviews. Effectiveness in lead generation can vary widely, and numbers quoted by marketing professionals or those pitching a paid service are highly representational.
Once you have identified the review sites best fitted for your business, work on carefully optimizing your profile through the incorporation of conversion-oriented text, high-quality multimedia, and basic facts that facilitate engagement, such as pricing, hours of operation, and business policies.
At the beginning of your marketing efforts, access the third-party review site's business interface (if the website offers a free option for business similar to Yelp's), and notate your metrics in order to track and compare your performance going forward. By knowing your starting point, you will be able to better understand if you need to tweak or halt your campaign to make it more effective.
Use Multimedia to Increase Brand Awareness, Rapport, and Familiarity
Many small businesses make the mistake of not maximizing their multimedia opportunities on popular review sites. Load a variety of images that best represent your products and services, as well as a high-quality image of your logo. By including an image of your logo and tagline, if you have one, you are reinforcing your branding and making sure future customers can recognize you on the spot once they decide to patronage your business.
On your media stream, include interior and exterior high-quality photos of your facility and, if appropriate, include professional photos of your staff that best represent the way they serve current customers and how they can help potential customers. When it comes to images, you must be intentional about conveying friendliness and professionalism. A picture, if done well, will help you build rapport and set the stage for a visit, where a first-time customer has a strong sense of familiarity with your offering and your staff
This type of engagement is almost always available for free to businesses and can significantly influence the number of click-throughs from third-party review sites to your own website. Many small businesses report as much as 35 percent of their new leads originating from review sites as a result of engaging and informative business profiles.
Take a look at how bad photos and videos might just be killing your business.
Segue Into an Invite on Positive Review Responses
Already getting a good number of positive or excellent reviews? Great. Use the opportunity to encourage repeat business and build customer loyalty. If a reviewer, for example, takes the opportunity to speak about the great quality of the cocktails offered at your restaurant, then why not include in your response a subtle invitation to happy hour that includes the schedule and introduces the reviewer to your new line of cocktails?
READ ALSO: Meet Taylor Swift: Pop Singer and Reputation Management Rockstar
This type of response is not only very personable and reflects a commitment to individualized customer experiences, but it is also useful for other individuals reading the reviews in order to prompt first-time engagement with your venue. Give it a try. You will not be disappointed with the results. 
Upload Storytelling Videos
If the review sites of your choice allow for videos, then take time and invest effort in the creation of engaging storytelling videos that give future customers a glimpse into the best that your business has to offer. This is of particular importance if your industry benefits from a large number of remote or travel-related leads, where shoppers are likely to be trying your business for the first and last time, and having a highly positive experience is of significant importance since there are no opportunities to make it over.
Track Your Leads and Assign Cash Value
While you may not be using cash to further bolster your online reputation management strategy, it would be wise for you to track leads originating from popular review sites and assign a cash value to each lead. This data will equip you to make appropriate marketing allocations when things get better and your business has a little extra flexibility when it comes to allocating marketing dollars.
Reputation-based marketing is on the rise, and it absolutely makes sense to make it an integral part of your marketing approach. Leaders across all industries are already doing it. Don't be left behind.