Download 43 free review response templates for negative and positive reviews
Get the templates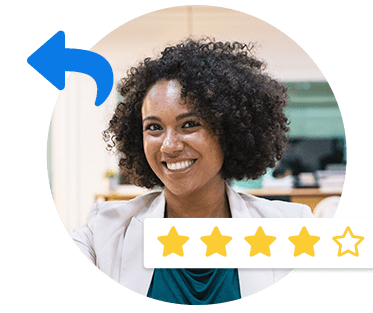 You may have noticed that your customers are increasingly using their mobile phones while they're checking your store out. And you're wondering: what are they doing? Are they just texting mom? Are they watching the latest Bieber video on their mobile? Are they just scrolling through their personal Instagram feed?
A new study by the Pew Research Center shows that they may be doing much more than that. In fact, the data shows that owners of smartphones and feature phones are using their devices as a very active part of their shopping experience.
Check out the highlights of the Pew Research Center's In-Store Mobile Commerce Study:
While inside a store or local business, 46 percent of mobile phone users call a friend or family member for advice about a possible purchase.
28 percent of mobile users check and monitor online reviews of a product or service while inside a store location. These reviews then influence their decision whether or not to buy.
Among this 28 percent, smartphone owners aged 18 to 29 are more likely to consult reviews than the general population.
27 percent of mobile phone owners look up pricing to see if they can get a better price elsewhere than at the store they are in.

 
(Check out: "Consumers Consult Friends, Websites, and Online Reviews Before Visiting Local Businesses")
The study, based on the results of a survey last month of over 1,000 adults, highlights once again the need to add mobile marketing and online review monitoring to a business owner's marketing mix.
Sure, it's not actually surprising that people are asking their friends and family members for their opinion on what to buy or where to go. (Another recent study by Battery Ventures revealed that 55 percent of people trusted local business reviews from family and friends the most.) But the latest information from Pew brings to light the mobile dimension of consumers' purchase behavior.
So, if you're a retail store or local business owner, it's time to start paying more attention to how you appear in mobile search queries and online review sites. Here's a couple of tips:
Create a mobile version of your website. If you don't have one yet, do it right now. Add information mobile users are likely to look for (address, contact info, operating hours, pricing, menu, etc.), keep the content short and concise, keep images small, and lay out pages efficiently and vertically (to help with scrolling).
Monitor online reviews of your local business. With ReviewTrackers, you can keep a close eye on Yelp, Google, Foursquare, TripAdvisor, and other sites where your customers may be talking about you. Also, by doing so, you can more effectively manage your online reputation – and respond to key customer issues that affect your business performance.