Download 43 free review response templates for negative and positive reviews
Get the templates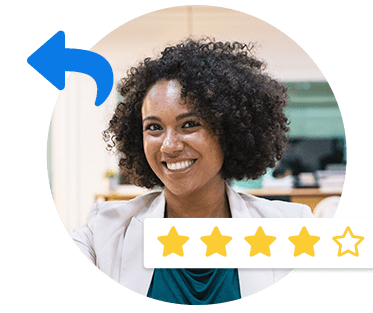 Imagine a work environment with leaders who support and encourage professional and personal growth and creativity.
This is the type of work environment where trying new things is encouraged and expected.
ReviewTrackers is this place. Our customer feedback software company provides continuing education resources for all team members to use for their development.
Here's a peak into continuing education at ReviewTrackers.
Follow What Interests You, It's Encouraged 
When you work at ReviewTrackers, it's encouraged — and almost expected — to follow what interests you.
Jesse Hinchcliffe, now project manager, began his career working as an intern. He then transitioned into a business solutions associate. Because Jesse has been in three positions in the company during the last two years, he is pushed out of his comfort zone every day.
"I have grown a lot personally just with people skills and leadership skills," he says. "It's really hard to build confidence in yourself when you are working in a position you are not familiar with."
See also: "ReviewTrackers: Different Roles, Same Goal"
In some situations, Jesse is managing projects with leaders reporting directly to him. At first, that was terrifying to him.
"It's like shooting yourself in your foot," Jesse says. "I came from an internship position and now I'm telling our vice presidents what to do. That lesson itself has helped me a lot outside of the company, too, because any situation where you can build your own confidence in life is helpful."
With the help of our COO and Jesse's direct manager, Kevin Kent, Jesse has become more confident in all of his decisions and in managing ReviewTrackers team members at the executive level.
Demo Days
Demo Days at ReviewTrackers include a series of presentations for 30 minutes every other Friday. Team members come together and learn about different projects going on in the departments within the company.
Emily Carl, customer and events marketing manager for ReviewTrackers, looks forward to Demo Days.
"Demo Days are a great opportunity to learn more about aspects of the business that I normally don't work with on a daily basis," Emily says. "It gives everyone on the team the opportunity to continue our knowledge of the product and what it's solving in the industry."
Open Lines of Communication
Andres Ramirez, sales development representative, says that he likes the direct and open line of communication with sales and leadership.
"One thing I really like about working here is that there is a very open line of communication with not only my direct manager," Andres says. "Not only do I feel comfortable talking to them any time about anything; they also make time for me to check in with them and make sure that I'm hitting my goals."
Andres says that there are facets of the job at which he could be better, so Andres and his leaders take the time to discuss ways he can improve in those one-on-one meetings.
"That's how people grow in both their personal and professional lives," he says.
One skill that Andres has the opportunity to develop at a growing company like ReviewTrackers is creativity.
"Initiative and creativity is very much encouraged within our framework because if there was a rigid system, there would be set ways to do everything," he says. "We are still figuring out what works best and what we need to work on and that allows creativity and ideas to come to flourish."
Lunch and Learns and Free Kindle Books
One of the ongoing educational initiatives are Lunch and Learn sessions. We have a speaker come in to the office while we eat lunch provided by the company.
Mandy Yoh, head of communications, likes the Lunch and Learns because we can learn about — well, anything, including beekeeping.
"I would have never thought I would learn about beekeeping," Mandy says.
Mandy also likes the Kindle book library provided by the company. Team members are provided with a free Kindle and can request any Kindle book to be downloaded.
"I think that the books provide an opportunity for you to pick the resources you are looking for — whether that's a fun book, a professional book, or non-fiction. Kindle as an educational resource provides a shared library community."
Want to join us? We're hiring.
You'll also like: