Download 43 free review response templates for negative and positive reviews
Get the templates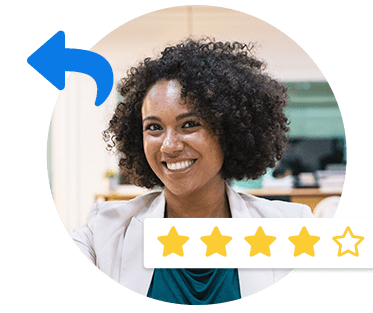 ReviewTrackers has always had the same mission: to help businesses understand customer feedback.
Ten million reviews later, this is the consistent vision we have for our software and the reason we've had so much success. We believe customer feedback is the only accurate measurement of the customer experience.
Trending Topics
Today, we're announcing Trending Topics. Using the most advanced natural language processing and machine learning techniques, our new feature can automatically reveal trends and patterns hidden in unstructured feedback. As a result, companies can easily identify underlying opportunities and issues with the customer experience — and make better business decisions backed by data.
Trending Topics is built as a new layer into our robust platform, so you'll be able to scale this sentiment data for any location of your business. The priority is to help our customers make better business decisions backed by data, quickly and efficiently. Without running a report or getting an email alert, you'll be able to see the words being used at the most granular level: an individual snapshot into the minds of your customers.
Ratings vs. Reviews
Actionable insights into the customer experience have been, and will always be, the goal of our platform. And while online reviews provide important customer data, there is a disconnect between ratings and reviews. Ratings are simply a quantitative measurement of the customer experience. Reviews are the main dish.
As a data-driven organization, we know reviews are qualitative. They are chock-full of important customer information such as the cause of the chosen star rating, the actions of the business location, and the customer's intentions.
Ratings are simply a quantitative measurement of the customer experience. Its purpose is to provide quick insight into the reviewer's recounting of an experience. You can see this manifest in the Net Promoter Score, which operates on a 0-10 scale.
Similarly, most ratings are based on a 5-star system. New research has provided insights and implications of a perfect 5-star rating for a business. The research says the average customer doesn't trust a 5-star rating. A 4.8 rating with a healthy mix of 4 and 5-star reviews gives the audience a warm, fuzzy feeling, and more willing to buy.
No one is perfect.
And really, that's the point of reviews. The language customers use when describing the business is the deciding factor of loyalty, not a measurement of the quality of the organization. A star rating is not meant to be a score of quality, but a reflection of the review that it contains. The value of the review is the Voice of the Customer, often speaking through third-party review websites and other enterprise feedback channels.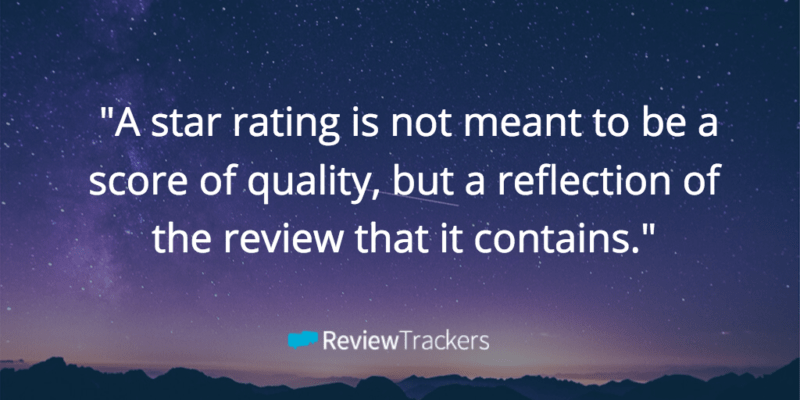 Our platform is full of useful features that provide valuable and, more importantly, actionable data. Our Ratings and Reviews tool allows multi-location businesses to drill down and really grasp their online reviews, obtaining valuable data for an entire region or by each review.
Our Feedback Request tool was built to inquire about the customer experiences at a specific business location, allowing customers to vent to the business directly about an issue they may have had. This tool helps close the loop and ensure the customer feedback is kept private and attended to. More importantly, this allows businesses to have frank conversations with their customers and take action on any issue that should arise.
Customer Experience Data
Thanks to social media and smartphones, customer sentiment is everywhere. Everyone is now sharing their opinion of a business with anyone who will listen, including the next customer in line. Websites like Google, Facebook, TripAdvisor and Yelp are endless streams of customer experience data. In fact, there is so much data that many businesses are left feeling overwhelmed. Calculating the ratings on your local Google Maps' three-pack used to be easy. Now there are hundred of niche websites to take into account.
Customers want to share; we're social creatures. It's what makes us human. The challenge for businesses is to learn how to listen more efficiently. Reviews contain valuable insights into the wins and losses of each business transaction, little snapshots that reveal more data than businesses will ever need.
Ratings are great, but reviews carry much more value than the rating.
That's why we want to show you this exciting new feature that is going to change the way we talk about online reviews.