45 percent of customers say they're more likely to visit businesses that respond to their reviews
Online Reviews Survey

Finding the Right Reputation Marketing Company
How consumers perceive your brand — and what your own customers publicly say about you — can have a big impact on your business reputation.
No matter the size or type of your business, you need to be able to manage online reviews, social media comments, customer feedback, and other types of user-generated content that might affect your reputation.
This is where a reputation marketing company can help.
A reputation marketing company aids in managing and influencing consumer perception of a brand or business.
Reputation marketing companies typically do this by utilizing technological tools and applying best practices in online review management, social media marketing, local listings management, and search engine optimization.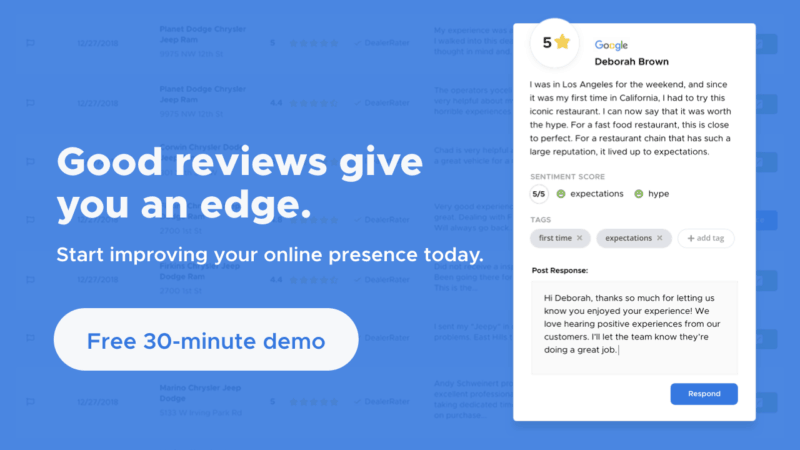 Why You Need a Reputation Marketing Company
Partnering with a reputation marketing company enables you to take control of what people say and read about your business.
Why is this necessary? Well, industry research suggests that the voice of the customer is more persuasive and influential than ever.
From the 2018 Online Reviews Survey:
Negative reviews drive away customers, with 94 percent saying an online review has convinced them to avoid a business.

Customers don't really trust businesses with lower than 4-star ratings. 80 percent of consumers say the star ratings they trust the most are 4.0, 4.5, and 5 stars.
Furthermore:
83 percent of shoppers discover new products every month through peer-to-peer reviews and social media, with reviews and recommendations being their foremost sources of information. (

Social Media Link

)

68 percent of consumers place more trust in reviews and customer feedback when they see both good and bad ones. But if a business seems too good to be true, 95 percent will suspect it has faked its own reputation or censored what unhappy customers might have said. (

Guardian

)
"Online review sites like Google, Yelp, Amazon, TripAdvisor, Angie's List, etc. have become beacons for consumers seeking to discover and evaluate companies, products and services," wrote Steve Olenski for Forbes. "And, for better or worse, consumers trust what other consumers like themselves have to say more than they trust you, your ad writers or even the experts."
What to Look For in Your Reputation Marketing Company
Repair the damage. Negative reviews and social media comments can quickly damage your brand reputation. However, with the help of the right reputation marketing company, you'll be able to mitigate specific issues and respond to critics in ways that protect your reputation.
Activate brand promoters. Sometimes, your happiest customers aren't the most vocal ones. A reputation marketing company can, through the use of software technology and best practices, help you capture feedback from brand promoters and empower them to share their experiences online — generating powerful social proof essential to inspiring shopper confidence and brand trustworthiness.
Prevent negative reviews. While you can't really suppress or censor negative feedback, you and your reputation marketing company can do something prevent negative reviews from happening. How? By putting a system in place for proactively reaching out to unhappy customers and engaging with them before they decide to leave a bad online review.
Optimize online presence. Your business is probably already listed on online review sites, social media platforms, and local business directories. What a reputation marketing company can do is manage your information on these digital properties and keep your listings correct, complete, and up-to-date.
Make monitoring easy. Protecting your business reputation isn't a one-time thing; it's an ongoing process that requires you to regularly monitor (and address) what's being said online. Your reputation marketing company should be able to simplify this process for you, while also quickly alerting you of any critical reviews or feedback that may require urgent attention.
Gain more visibility. A good reputation isn't very useful if potential customers can't find you online. That's why your reputation marketing company should also be able to help boost your SEO performance and drive new customers to your door. Greater search engine visibility can be achieved through smart use of positive reviews and proactive management of your business listings and information.
Always keep in mind that reputation marketing isn't just about signing up for a shiny new software tool or retaining the services of a third-party firm for a certain period of time.
It's a long-term endeavor that requires an organizational or team-wide commitment to performing daily actions over time. Remember: how you manage and respond to your customers online will have a greater impact on your reputation than what's being said in the first place. Find yourself a reputation marketing company that understands and shares this vision with your business.