Download 43 free review response templates for negative and positive reviews
Get the templates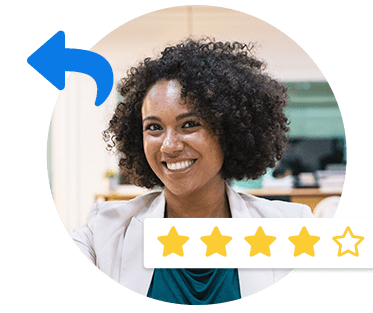 How many hours have you wasted managing online reviews?
Do you go to every online review site manually? Do you listen to all customer feedback from all possible sources? Do you take the time to respond to what your customers are saying online?
The seemingly simple task of online review management can hinder or slow down you and your entire marketing team.
This is especially true for companies with tens or hundreds of business locations. Instead of helping execute amazing social media campaigns that generate traffic and drive conversions, Jake the Marketing Intern spends every morning tracking customer reviews of your business across five different review sites. But there isn't just one location. There are 100 locations in 30 states.
It's not exactly how being productive looks like.
Read MORE:  55 Business Review Sites Where You Can Claim a Listing
A review management system boosts marketing productivity
The implementation of an organized system for monitoring and managing reviews can make a difference in the workdays of marketers — especially in terms of having more time, being more productive, and making the most of customer feedback.
Having a review management system in place also boosts marketing productivity by helping executives and managers develop customer relationships and improve the customer experience.
Here are other ways an online review management system can help:
You have a more efficient process for tracking and responding to reviews
It takes time to go to every review site to see if a new review has been posted. But if you have a system that sends you alerts and notifications for every new review, you can sit back, relax, and rest assured that you won't ever miss another new review.
You can also more easily respond to reviews (making room for other projects… or naps), which, in turn, enhances your ability to resolve any issues with the customer experience, as well as change customer conversations for the better.
You can improve marketing performance
Knowing when a review gets posted so you can respond to reviews is one way to save time. But marketing productivity isn't just about saving time. It's also about successfully promoting your brand, service, or product, increasing customer lifetime value, and developing meaningful customer relationships that improve your bottom line.
A review management system can help you meet your marketing objectives in ways that are simpler, faster, and better.
Let's say ten customers post one-star reviews of your hamburger joint. Without a system in place, you are unable to see the reviews for weeks. When you finally sign into Yelp or TripAdvisor, those review-writing customers have already decided to go elsewhere for their weekly hamburger.
Losing ten customers just like that isn't fun.
Simply put: the way you manage reviews has a direct impact on marketing performance. Sure, you can spend hundreds or thousands of dollars on a fancy website, a big social media campaign, an advertising blitz, or a year-long PPC campaign. But you can't expect these efforts to produce results if reviews — and tools for managing them — are not part of your comprehensive marketing strategy.
Hwy 55 Burgers, Shakes, and Fries leverages reviews and feedback to drive the success of their restaurant operation: Download the FREE case study.
You can deliver on your brand promise
Having a review management system in place can also boost your marketing productivity by giving you the data and insights to understand customers better.
What do they want? What kind of expectations do they have? What can you do to improve the customer experience and deliver on your brand promise?
Look for systems that include analytical tools designed to go beyond the surface level of customer feedback and facilitate the discovery of high-impact customer issues and trends.
By extracting insights from customer feedback, you can gain a better understanding of what you need to do to encourage brand preference and keep customers coming back to your store.
Do you have more tips on how you can use reviews and feedback to boost marketing productivity? Let us know your thoughts in the comments section below.