Download 43 free review response templates for negative and positive reviews
Get the templates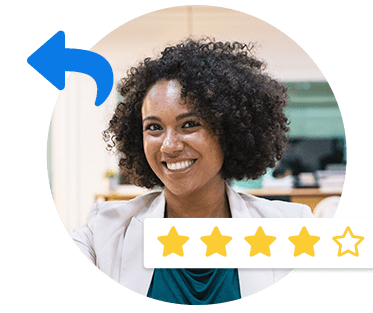 When you have a real estate business, it's important that people know they can trust you and your services.
Setting people up with the property of their dreams is, after all, a daunting task, and you want them to know that you won't rest until your customers are satisfied. This is what sets you apart from the competition.
The best way to get this idea across is through a large amount of positive reviews for your business. Getting these reviews is sometimes easier said than done, so we've compiled a list of tips you can keep in mind to improve online reviews for your real estate business.
Ask Recent Clients To Leave Reviews
Sometimes the simplest solutions are the ones that are most easily overlooked.
A great way to boost your online reviews is to get back to your most recent clients and simply ask them to leave a review for you. Most clients won't be motivated to leave a review unless asked (sometimes multiple times), so there's no harm in following up and asking if they could review your services. You can ask for reviews by sending an e-mail, or perhaps a postcard or gift basket. Make it easy for your clients to leave a review by leading them to a specific page where they can do so.
See also: "Requesting Consumer Feedback: 8 Simple Tips to Help You Generate More Five-Star Reviews"
Leverage the Power of Software
Using a reputation management software can help you manage your online reviews in a big way. It consolidates and centralizes all your reviews from different places on the web, placing them neatly in a dashboard. This makes it easy to track what people are saying about you online – you even get e-mail alerts when you receive a new review.
There's also the option to respond to customer feedback directly from the software, which will help help you stay on top of all your reviews and nurture your relationships with clients. Another feature is the ability to organize reviews by sentiment, so if you ever receive a negative review, you can handle it and respond quickly. It's never been easier to manage reviews from all over the Internet, keeping you aware of how well your business is doing.
Create Video Testimonials
One great way to showcase your reviews and create opportunities for more of them is working together with previous clients to create impressive video testimonials. If future clients see that you've worked with real people who came out as happy, satisfied customers, this will increase their confidence in you and make it more likely for them to use your services. This will leave you a positive review in return.
It's definitely worth the investment to hire someone who can create a stunning video for your real estate website. This will make you look more credible and add a special touch to your brand.
Make it Easy for People to Leave a Review
Ultimately, if people don't see the option for them to leave a review, they're probably not going to search for a way to do it. Make it easy for your satisfied customers to leave a review on your website by placing the option in plain sight. Not only will this will make it more likely for your customers to leave a review, but it will also make your site more user-friendly.
Aside for on your website, you should also make accounts for your business on websites where people look for realtors, such as Zillow and Realtor.com. This will make you available in more places, thus far more reachable than you were before! Accessibility is a great factor in getting more reviews for your business, so make sure that you really make yourself visible.
Bottom Line
Reviews are what make your real estate business trustworthy. While there are other things to keep in mind when marketing your real estate business, reviews are by far one of the best ways to really showcase everything your business has to offer—after all, your services are already tried, tested, and trusted by plenty of customers. You'd do well to let future customers know that you stand out above the competition.