Download 43 free review response templates for negative and positive reviews
Get the templates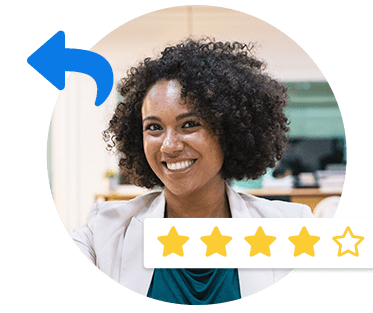 We here at Reviewtrackers are excited to announce a new update to the Ask Tool, our highly popular review generation and customer satisfaction survey workflow suite.
The ReviewTrackers Ask Tool is the smartest way for businesses to capture online reviews and customer feedback through various ways: email campaigns, surveys, SMS, customizable landing pages, on-site kiosks.
With the latest update, ReviewTrackers users can choose to direct all survey respondents to third-party review sites, where these respondents — including brand promoters and advocates — can then share online reviews and powerful social proof.
Alternatively, users can turn the option off, so that all feedback captured through their Ask Tool campaigns remains first-party-owned — and contains no further link or request for reviews.
Key to the update is the removal of the ability to perform selective solicitation or, as it's commonly referred to, "review gating."
The practice allows companies to filter survey respondents, ask happy customers for reviews and testimonials, and isolate customers that may have had issues with their experience at a business location.
In line with its updated review policy, Google — today's No. 1 site for online reviews — no longer allows review-gating.
You may read more about Google's review policy requirements here.
Why Update?
The ReviewTrackers Ask Tool update serves as the latest reflection of our organization's partnership and meaningful working relationship with Google.
Thanks to the ReviewTrackers-Google integration, business users can access important dashboard functionality such as in-app review responses, real-time review alerts and notifications, and best-in-class analytics.
At the same time, the update also ensures that our own community of customers remain in the best position to drive results from their campaigns around business listings and brand reputation management on Google.
By removing selective solicitation and review-gating, we can continue to deliver a technology solution that is compliant with the policies of today's top review platforms, as well as responsive to the ever-increasing demand for transparency and authenticity in online reviews.
Capture valuable first-party feedback. Users who turn off the review request option can continue to capture first-party-owned feedback, which can be harnessed to foster operational improvements and, at the same time, power marketing initiatives.
Generate more reviews. Users who turn on the review request option can transform happy customers into brand advocates, while embracing valuable feedback from critics and detractors.