In the US, Yelp has already proven that people love writing and sharing reviews of local businesses. But the online reviews aggregator also has its sights set on the international scene. Last week, Yelp announced that it's taking its reviews to Latin America, starting with Brazil.
In an announcement posted on its official blog, Yelp says it's launching Yelp Brazil – making the largest country in Latin America also the 23rd country in which Yelp's review service is available. This also means that the reviews for which Yelp is known will be written and read in Portuguese for the first time ever.
(Check out: "How Yelp Drives Local Purchases: 82 Percent of Yelpers Visit Online Review Site Before Buying")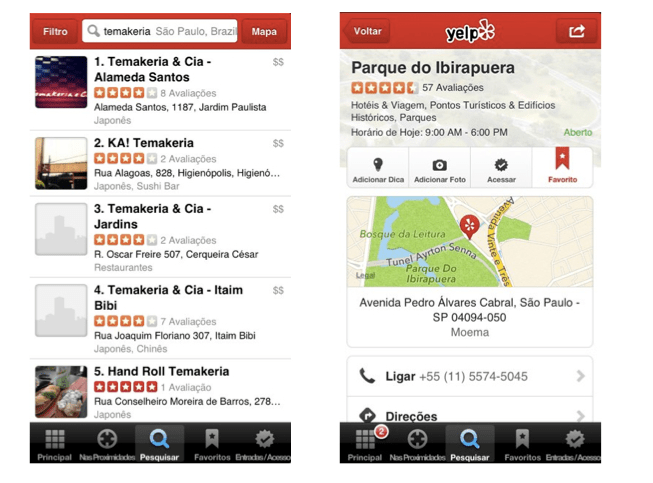 According to Miriam Warren, Yelp VP of New Markets, the company will initially focus on capital city Rio de Janeiro as well as São Paulo (the biggest city in Brazil). Yelp's free iPhone and Android applications will also be available, as well as its free suite of business owner tools: Yelp for Business Owners.
"We're excited to welcome this population of 200 million people into the Yelp fold. With such a diversity of cultures, tastes and ideas from every corner of the world, Brazil seems like a perfect fit for the Yelp family," Warren said. "We can now give the 7th largest country by GDP the opportunity to share experiences about amazing local businesses: from the best place to watch football to where to drink Caipirinha, the national cocktail, all from their computers and smartphones."
Yelp Brazil looks like it's shaping up to be a hit. At this time of writing, there are already over 3,000 reviews in total for restaurants and food businesses – plus another 1,000 for businesses under the shopping category.
Are you a local business owner in Brazil? Get started by checking out our quick guide on how to claim your business on Yelp.