Download 43 free review response templates for negative and positive reviews
Get the templates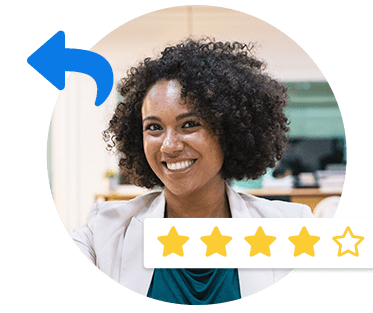 Franchises today are working on improving their SEO strategy to be found in local searches.
Let's say you own a franchise with 50 locations. You provide high-quality burgers at each location. You also make sure amazing service is provided at each location.
But you're having some trouble competing with the local restaurants within each franchise location's local community. You know you've got to improve your franchise SEO so that when a consumer searches for "restaurants near me," your franchise shows up on the first page of search results.
Here are five tips on how to improve franchise SEO. 
Create a Location Page for Each Franchise
You should create a location page for each franchise.
Consumers are looking for information about your business locations such as hours, address, and contact information. And the consumers searching for a business will go to your store:  53 percent of searchers visit a business within 48 hours of a local search, according to research by ReviewTrackers.
When you have a location page for each franchise, that page tells search engines that your franchise is relevant to the location in which the franchise is operating. So if one of your 100 franchises is located in Chicago, then having a location page for Chicago will send a strong signal to Google and improve the franchise's local search ranking.
It doesn't stop there.
We spoke with Chris Conner, president of Franchise Marketing Systems, for more tips. 
Have Social Media and Online Review Profiles for Each Franchise 
Franchises need to be local — both local online and in the communities in which their businesses are located.
"I like when the franchisees have their own social media pages because then they can really localize it," says Conner. The social media pages Conner is talking about are platforms like Twitter in addition to sites with online reviews like Facebook, Google, and TripAdvisor or industry-specific sites. 
He says that if the franchisor does not feel comfortable with having social media pages for each franchise, then they just need to make sure they are doing what they can to get content on the corporate social media pages.
Run a Paid Ad Campaign 
For instant results, Conner recommends running a paid ad campaign.
"We're kind of going away from traditional Google pay per click," he says, "and more into Facebook and Linkedin and paid campaigns that are on social media platforms. Because for a reasonable budget, you can get instant activity and drive traffic. In the meantime, we can do SEO stuff, we can build relevance for local market traffic it just might take a while to see it and realize it and then the ad budget can come down after we get that traffic." 
Problems Franchises Need to Know About
Here's what not to do:
"Things that will kill you is if you have broken links, if you've got pictures that aren't tagged correctly, or you don't have meta tags setup right," Conner says. "What I have seen on other sites like franchise companies or companies in general is that a lot of the time there are just obvious mistakes – when someone is in it every day and looking at the site [mistakes are tough] to see."
When it comes to keywords, for example, a lot of the time Conner finds that the content on the site has the target keywords, but the titles do not.
Incorporate Video
Conner says, "If a client does not have video incorporated in their pages, it's easy to do it now even if they are not exceptionally professional. And that works for SEO, so we're big on pressing video too and that is something too that each franchisee can use and they can go and localize it for their own market and sell on the fact that they are independent business owners and they are from the community."
"I am always pressing on clients to really try to individualize the franchisees pages to them because I think you lose some of the value of having a local business owner from that community if you get too corporate looking and f feeling – so each franchisee should have a pretty deep page with real substance like with a video of them talking about themselves, talking about their location, involvement in the community."
Example of Successful SEO Strategy
One of Conner's clients, virtual reality arcade and storefront VR Junkies, has created a successful SEO strategy.
"It's a new market and it's a new general consumer market so it's tough, you have to be creative because you don't get a lot of people organically finding it," Conner says about the virtual reality industry. "So we threw with them a lot of what we're talking about here – we had people create videos, the website vrjunkies.com, and we had a contest where we asked all the franchisees to submit an article about virtual reality in their community.
"We started a blog and started contributing to the blog, and then we also hired a PR group to find ways to get more content and more credible placement for the brand in local markets."  
Conner and his team are working with the VR Junkies location in Washington, right outside of Seattle to highlight the owner of that location.
"We're showcasing that he is a great guy, a professional, has good experience, and is part of VR Junkies and you should support him in that market."