White-label reputation management is a "rebrandable" type of service, solution, or software designed to shape consumer perception of a business organization or brand.
What is White-Label Reputation Management?
Typically offered by digital marketing agencies and reputation management firms, white-label reputation management is often approached as a holistic process that involves a combination of tactics and strategies, including: 
Specifically, digital marketing agencies and firms use white-label reputation management solutions in order to boost the online reputation of their clients, resulting in improved brand credibility and trust.
What is Reputation Management?
As described in our complete guide, online reputation management is "the use of multiple strategies to influence, improve, and make the online perception of your business more accurate." 
To put it simply, it means you're monitoring what people are saying about your company or brand, while building your reputation and ensuring people are supporting you through online reviews.
Why Your Business Needs White-Label Reputation Management Solutions
White-label reputation management lets you focus on your expertise and saves time overall. Your knowledge likely falls into a certain area, so rather than trying to become an expert in a new field, you can let those who truly know reputation management take the lead for you. Plus, it's easier and more efficient to integrate an existing product or solution than build a new one for your company.
Who Can Resell White-Label Reputation Management?
If you offer B2B services, you will also be able to sell white-label reputation management software or solutions. As an agency, offering reputation management services for your clients can improve their online presence, improve their SEO to rank in search better, and overall drive more revenue. 
But agencies aren't the only ones who can benefit. Any B2B company that wants to help their clients manage their reputation can partner with a reputation management company and resell the software or solutions.
Why Resell White-Label Reputation Management?
Your clients likely don't have the time, technology, or resources to manage their business or brand reputation. You can leverage white-label reputation management to deliver greater value to your clients and build a 5-star reputation for them. When done correctly, it can help you stand out from competing agencies, reduce customer churn, and extend customer lifetime value.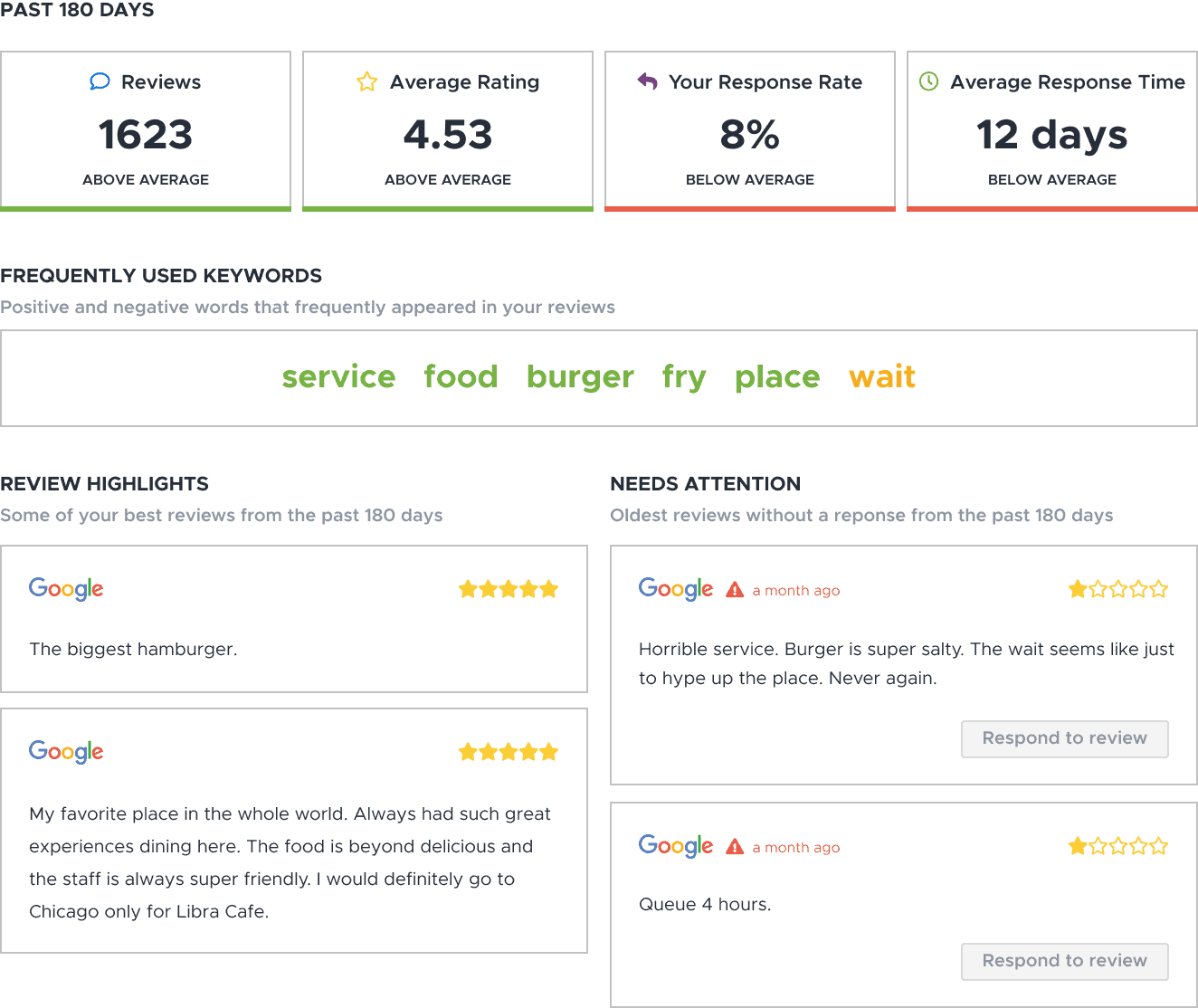 What to Look For in White-Label Reputation Management Software?
If your company or agency is in the market for a white-label reputation management solution or software, you'll quickly realize that there are many providers to choose from. And it's easy to feel overwhelmed. 
To help distinguish between the many providers you're considering, you'll need to look for key differentiators between the offerings to get the most out of your investment.
Review Monitoring and Response
The best reputation management software solutions help businesses efficiently monitor and respond to online reviews. 
Why? Because reviews on websites like Yelp, Facebook, Google, and Tripadvisor are crucial in helping businesses improve their online reputation. Bad reviews, on the other hand, can inflict severe reputational damage, with 94% of consumers saying an online review has convinced them to avoid a business, according to customer reviews research. 
The ability to respond to reviews is particularly important. 78% of consumers believe that a brand cares more about them when its management responds to their reviews. Responding to reviews also helps build goodwill and inspire customer loyalty.
Successful reputation management should therefore help your company or agency's clients become responsive to online reviews and customer feedback.
Review Generation
The right white-label reputation management solution should also enable organizations to easily generate reviews for their clients. 
Not only does this increase social proof and fuel the clients' marketing efforts; it also helps strengthen SEO signals and contribute to greater visibility in local search results.
The generated reviews can be in the form of third-party reviews on the following platforms: Yelp Business, Google My Business, Facebook Business Manager, etc. White-label reputation management solutions can also offer the ability to collect and display first-party reviews: reviews collected through a landing page or email campaign, which can then be displayed on the brands' own websites to help improve search performance.
Accurate, Reliable Data
When evaluating white-label reputation management providers, look for one that can collect and deliver your clients' data in the most accurate, timely, and reliable way possible.
The solution you choose should be able to track online reviews, mentions and reviews on social media, and customer feedback across all the sites, platforms, and channels you and your clients care about.
Additional data-driven features to look for include competitor analysis (to measure your reputation versus the competition), customer experience analytics  (to establish the connection between your reputational data and the customer experience), and employer brand monitoring (to assess your company's reputation as a place to work for).
Pay attention to when and how all this data is delivered to you. You definitely don't want to deal with issues such as seeing duplicate reviews, having data that mysteriously disappears from your dashboard, receiving late notifications, or experiencing overall service disruptions. 
Simply put: your solution must be capable of giving you access to all the important information you need at any time to stay on top of your clients' online reputation. 
Focus on Actionable Insights
Reputation management often involves some level of data collection: for example, brand sentiment tracking, collection of Voice of the Customer data, social media reputation management, and reporting on brand mentions and conversations across the Web.
However, data collection shouldn't be the end goal of your white-label reputation management solution. It should be able to analyze the data for your company or digital agency, as well as your clients, too. 
To deliver the best ROI, the right software should reduce complexity amid mountains of data and help businesses gain meaningful, actionable insights about their online reputation. 
Great User Experience and Excellent Customer Support
Any software or technology platform will naturally come with a learning curve, but you'll want a solution with a well-developed, user-friendly dashboard that is easy to learn and use for your team and client.
The ideal provider will tell you that they're more than just a software company — they are also your technology partner, with a full range of reputation management services.
It's not just about having access to live chat or a support center. From the time you express interest and ask about the solution and all the way to implementation, your white-label reputation management provider should be able to respond quickly and accurately to your questions, needs, and cases. If and when things go wrong, they clearly communicate what the plan is for arriving at a solution.
Conclusion
In today's marketing landscape, reputation matters to your clients. White-label reputation management can benefit digital agencies serving businesses of every size and across every industry. Hopefully, this blog post helps you find the right provider, make a big impact for your clients, and grow your company's or agency's success and revenue.