Applying best practices in local SEO for multiple locations helps ensure that your target audience finds the right information about your brand, no matter which location. 
According to local SEO statistics:
Most local searches are mobile.

57% of local search queries are submitted using a mobile device or tablet.

Consumers look for specific trust signals in local search.

The top 3 factors that influence their decision to choose a business are: photos, Google reviews, and position on the search engine results page (SERP).

58% of companies don't optimize for local search.

31% would like to. But only 30% actually have a plan in place for capitalizing on this high-converting traffic.
Multiple-location SEO also allows your brand to boost marketing results, attract local customers, and raise brand awareness. 
5 Tips on Local SEO for Multiple Locations 
So how do you scale your efforts across multiple locations so that you can capture local customers where your business is located? Read on to learn 5 tips on local SEO for multiple locations.
Optimize Your Google Business Profile
If you're getting started with local SEO for multiple locations, one of the first flags you have to plant is your brand presence on Google. 
Using Google Business Profile (formerly called Google My Business), you can update your business and store information on Google, appear on Google Maps, allow customers to make reservations, get directions to or directly call your locations, and engage with existing and potential customers through Google reviews.
According to research, more than 60% of the people searching for businesses on Google are ready to become customers.
One of the most prominent and sought-after positions in Google's local search results is the Google Maps Pack. Also commonly known as the "local pack" or the "3 pack," Google Maps Pack is a set of three highlighted Google-Maps-based results featuring the most highly ranked businesses based on the factors that determine local rankings (reviews, citations, etc.). 
The most crucial step to making your business locations appear as part of the local pack is to claim your listings on Google and manage your information using the Google Business Profile dashboard.
Remember: listings that have been claimed, optimized, and are regularly updated on Google Business Profile — and which also boast of strong reviews and ratings — are the ones most likely to drive local SEO performance, rank at the top of local search results and be featured in the Google Maps Pack.
Claim and Manage Your Local Listings
Local listing management is one of the most fundamental ways to get started on local SEO for multiple locations. 
Claiming and managing your local listings helps you build and grow your online presence on local business directories and business review sites. This, in turn, can amplify your local search signals and bring your brand closer to consumers who are looking for businesses nearby.
Why are local listings important?
Improved visibility in local search results:

Listings help ensure your business (and store locations) appears in local search results and map listings (like Google Maps and Apple Maps), making it easier for customers to find you. 
Accurate information:

With local listing management, you can ensure that customers have access to accurate and up-to-date information about your brand. 
Reputation management:

Correct, up-to-date listings provide a platform for your customers to leave

online reviews

and ratings, which impact your brand reputation and overall digital presence. 
Create Location Pages
According to industry research, 39% of multi-location businesses in North America do not have a list of local stores on their website. Almost half (48%) do not provide local landing pages or location pages for each physical store.
Location pages can be a powerful local SEO tool. They help your brand stand out online, as well as influence high-intent buyers closer to the point of purchase. 
What should your location pages contain?
To start with, they must contain the business location's NAP information: business Name, Address, and Phone number. Apart from NAP data, you can add location-specific content for visitors and high-intent buyers as they look for useful information about your business from a nearby location. Your location pages should aid the customer experience so that these buyers are not left with unanswered questions. 
Location / store description

Product and service offerings

News, deals, and promotions

Operating hours

Call-to-action buttons (example: book an appointment)

Parking information

Embedded Google Map of the business location, along with directions
The trickiest part about creating location pages is ensuring that the content of each page is unique. This is because unique content is hard to come by when every store or location does or sells the same thing.
When writing copy for each page, focus on providing information specific to the location or store the page is about.
Manage Your Photos
If you're getting started with local SEO for multiple locations, be sure to include photo and video content management as part of your strategy. After all, photos (and videos) are an excellent way to incorporate unique content into your website pages and local listings. 
Images also show search engines that your page is engaging and offers valuable, unique content to searchers. Photos also help break up text and make content easier to understand, making it more likely to be read and shared. 
Furthermore, ReviewTrackers research shows that 50% of online shoppers made a purchase with the help of images.
Manage Online Reviews and Customer Feedback
Online reviews factor into where your business locations rank in search engine results pages. Based on research by Semrush, "In addition to maintaining a complete and accurate Google Business Profile, user interaction — like getting ratings and generating reviews from active customers — are a key component of any solid local SEO strategy," especially for brands with multiple locations.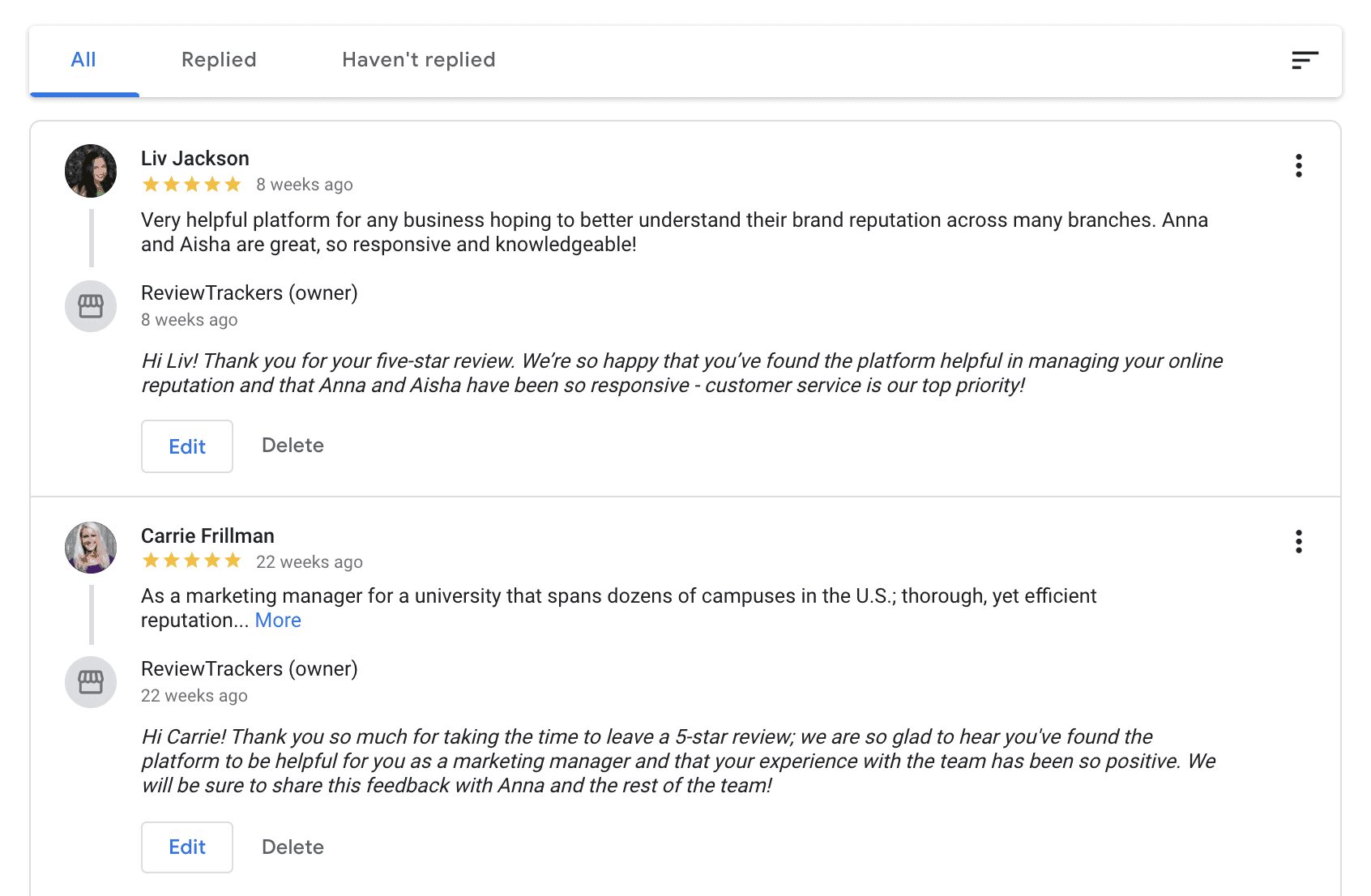 This is why it's important to develop a strategy for learning how to respond to negative reviews, addressing customer feedback, asking for reviews from customers, and, in general, protecting your brand's online reputation. 
Cleaning up any negative reviews and taking steps to ensure they don't happen again will also play favorably into your positive online sentiment.