Hotel review sites are one of the most important sources of customers in the hospitality industry. Specifically, customer reviews data shows 79% of users on Tripadvisor will book a hotel with a higher rating when it comes to choosing "between two otherwise identical properties." 52% of users would not book a hotel with no reviews.
With success heavily dependent on online reviews, it's important that your hotel's online presence is visible on as many business review sites as possible. Creating and controlling your hotel listing on multiple sites is part of cultivating a positive online reputation.
The 9 Most Popular Hotel Review Sites
To get an idea of which sites are popular for hotel reviews, we utilized internal ReviewTrackers data. Specifically, we looked at hotel reviews across the many sites we monitor within the date range of January 2019 to August 2020. Based on our findings, the graph below shows the most popular sites for hotel reviews.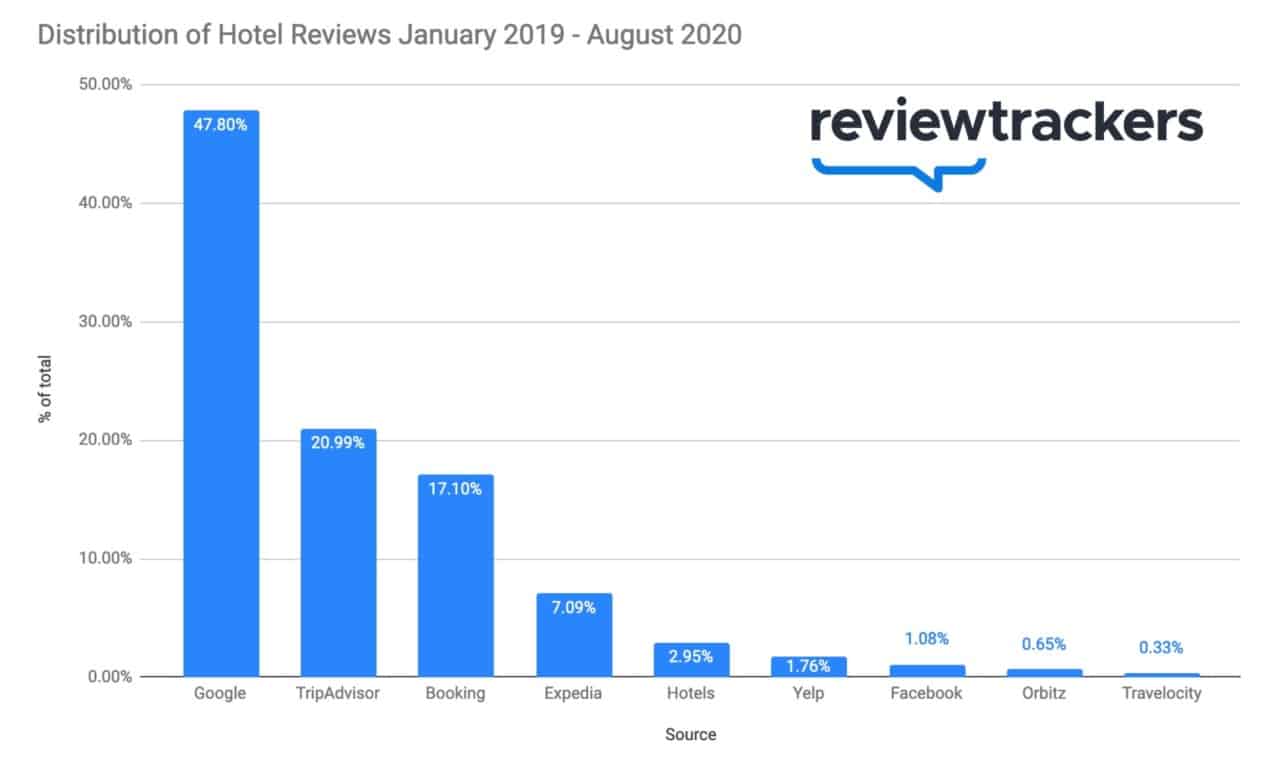 Google
TripAdvisor
Booking.com
Expedia
Hotels.com
Yelp
Facebook
Orbitz
Travelocity
It's no surprise that Google is at the top of the list. Customer reviews data shows that Google and Facebook alone hold 76% of all reviews.
By listing your hotel on Google you put your establishment in front of a massive audience. Most people use Google services on a daily basis, which increases the chance for them to view your hotel, and your Google business listing can help generate leads. With additional improvements, you can also improve your hotel's local SEO ranking.
You can learn more about optimizing your Google My Business listing with our comprehensive guide.
Tripadvisor, the "world's largest travel site," accounts for 25% of all hotel reviews from the top 10 sites. In addition to claiming your hotel on the popular website, interacting with Tripadvisor customers by learning how to respond to negative reviews can also increase bookings and revenue in the long run.
You can learn more about your new listing and its features by checking out our Tripadvisor business guide.
The Dutch-based website has over 29 million listings worldwide, and it claims that over 1.5 million rooms are reserved every day through the site. With numbers like that, it's a no-brainer to list your hotel on the website. In addition to other hotels near your area you'll also have to compete with other listings such as apartments, small B&Bs, and vacation homes.
You can create a free listing for your hotel by visiting the dedicated landing page on Booking.com.
Expedia Group (Expedia, Hotels.com, Orbitz, and Travelocity)
Getting your business on Expedia opens doors for exposure on other review sites. The company is a part of the Expedia Group, which includes Hotels.com, Orbitz, and Travelocity. Combined, they account for over a quarter of reviews distributed across the top 10 websites.
To get started, you can list your hotel through the Expedia Group's Lodging Partner Services page.
A Yelp business account can be useful for additional exposure. Customers already use Yelp to find restaurants, so why not put your hotel on the same site? In addition to more views, your Yelp listing makes it easier (and more convenient) for customers to see hotel information because it's on the same app.
You can leverage social media to gather customer feedback, which is crucial when you want to create a Voice of the Customer strategy. In the past, Facebook reviews used a traditional five-star rating. Recently, that system changed so that users will now provide Facebook Recommendations (a one-click Yes/No rating system) to allow for simpler yet still detailed feedback.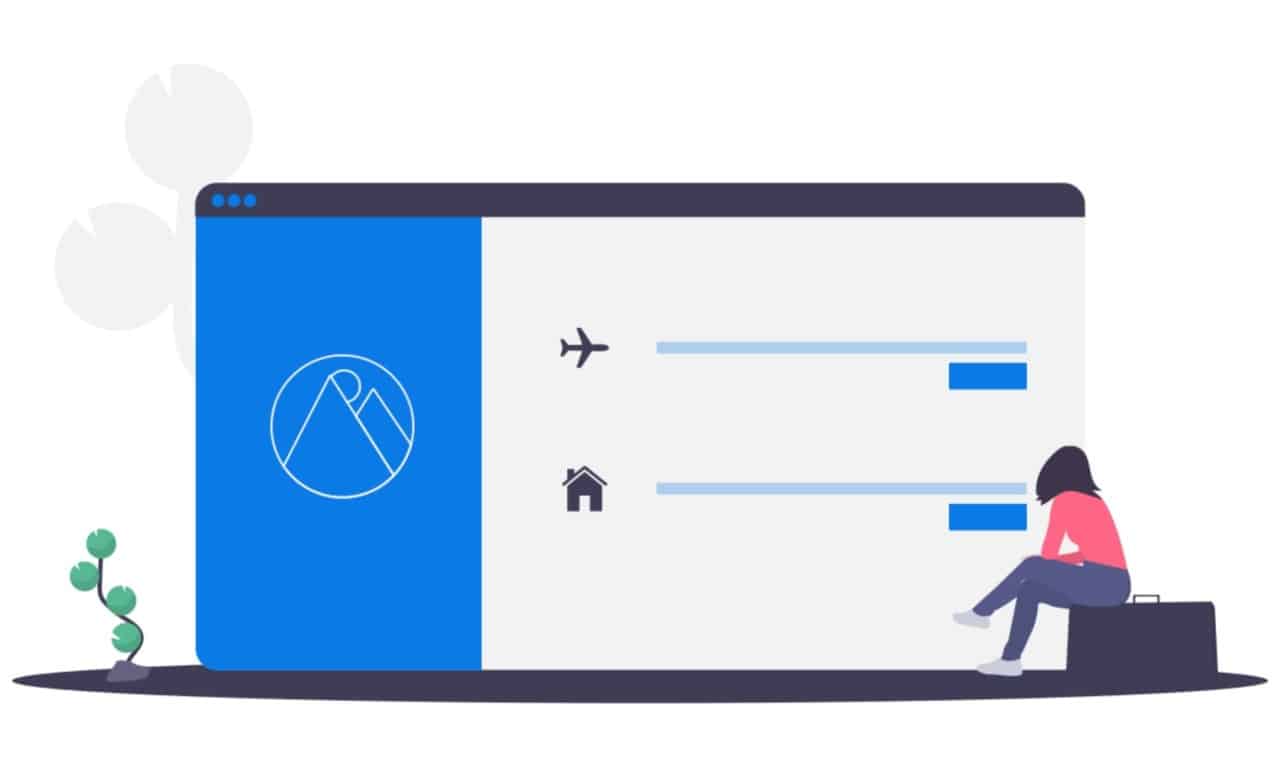 Other Hotel Review Sites To Monitor
Even though most travelers leave their feedback on the sites above, it's still worth monitoring your hotel's reputation in other locations. Browse our guide of business review sites or check out the list below for more hotel sites that can increase your brand awareness and bring you more customers.
Hospitality-Focused Sites
General Review Sites
How Hotel Review Sites Can Improve Your Brand
By posting your hotel on as many sites as possible, you increase your online visibility and provide multiple ways for customers to leave feedback. That feedback not only provides the social proof needed for others to make an informed purchase decision, but it also shows you ways to improve the customer experience.
Customer reviews data from ReviewTrackers reveals 48% of consumers will leave a review after a bad experience at a hotel. By monitoring consumer reviews, learning how to respond to negative reviews, and taking the time to improve the experience, you can create a better stay for future customers who can easily tell others about your hotel.