Looking for new ways to enhance your online visibility and reach a more mobile audience?
Here's a possibility: Yelp. The online reviews aggregator has announced that it's now selling mobile display ads to local businesses.
The first two businesses to give it a try are: Taco Bell and the InterContinental Hotels Group (IHG). According to a story by AdAge, the two will be exclusive advertisers – at least for the month of March – in their respective Yelp categories.
This means that the Taco Bell display ads will show up on the mobile devices of Yelpers conducting restaurant-related searches, while the IHG display ads will appear on the screens of Yelp users looking up travel destinations, hotel info, and hotel reviews. A third advertiser – Miller Lite – is expected to launch its own Yelp mobile ad campaign later this month.
(Check out: "InterContinental Hotels Group Launches Its Own Online Guest Reviews and Ratings Aggregator")
Peep the screenshot below to see how the ads will look like on the screens of mobile devices: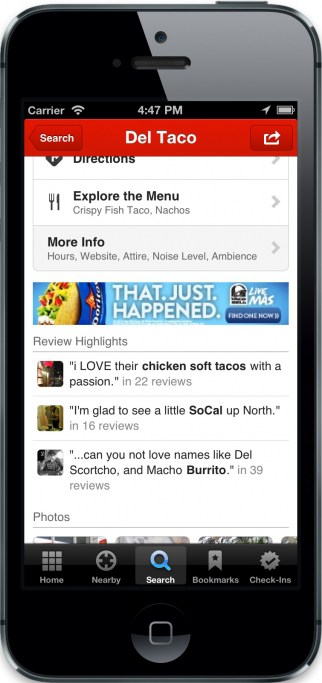 Starting April, Yelp's mobile ad space will be made available to all interested advertisers, marketers, and business owners. The platform will include features like geo-targeting and cross-device tracking, which ensure that the ads stay relevant and reach geographically targeted audiences. So don't you worry: if you're a nail salon spa in San Francisco, Yelp won't have your mobile ads show to Yelp users searching for local gym reviews in Brooklyn.
Last January, the leading online reviews aggregator celebrated its all-time high in traffic for one month: 100 million visitors. This included 9.4 million unique mobile devices using the Yelp mobile app. According to Yelp, if each of the 100 million unique visitors in January spent a hundred bucks at a local business, the company would have influenced over $10 billion in local commerce.
"All those users are trying to find all kinds of businesses." said Yelp display sales head Preston Junger to AdAge. "Could be a mom and pop or a chain. The value of our overall audience is the value that Taco Bell sees."
By selling mobile display ads on its platform, Yelp is set to compete directly with local search and media company YP (YellowPages.com), which generated over $350 million in US mobile advertising revenue in 2012.
As a business owner, will you buy mobile display ad space on Yelp? Let us know what you think by leaving a comment in the section below.