Download 43 free review response templates for negative and positive reviews
Get the templates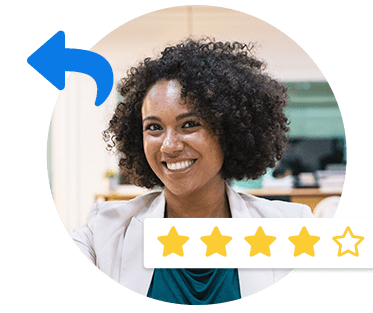 Online reviews have a significant impact on local SEO.
It can be the difference between a year of record profits for your company, or one where you need a magnifying glass to spot the growth in revenue.
Review stars in Google's search engine results pages (SERPs) can improve your click-through rate by up to 35 percent, while your customers value reviews from their peers as much as recommendations from their friends and family.
In the 2018 Local Search Ranking Factors report by SEO software company Moz, online reviews are now one of the top 3 most important ranking factors in local search, along with Google My Business and link signals.
This means that a business' review signals — such as review quantity, review velocity, and review diversity — can significantly influence its local search ranking.
Moz's report shows that reviews have seen continued growth in importance as a local search ranking factor, marking a 43 percent increase in importance over the past three years.
The report's findings jive with what we at ReviewTrackers have discovered from previous research:
Google is investing heavily in reviews

, adding features such as

review response notifications

and

updating the GMB app

to place more emphasis on reviews and customer feedback.

Consumers increasingly expect businesses to engage with them via reviews.

Local search is shaped by (what Google has determined as) the needs and expectations of local searchers. Reviews therefore play a major role, particularly since

53 percent of customers expect businesses to respond

to negative reviews within a week.

Google has included review schema in search results

. Tagging your reviews and ratings with schema markup tells Google that those reviews should be showcased when your site appears in search engine results pages.
The key takeaway? If you are getting a significant number (review quantity) of positive reviews with high ratings (review quality) across multiple high-authority review sites (review diversity), you stand a better chance of getting found in local search results.
Your ranking is higher and your brand is more visible; and you have a greater ability to convert local shoppers into your customers.
Reviews Mean Local Rankings
SEO is all about getting your company's website as high up as possible in the SERPs for any search engine. Reviews are one of the most important factors in local SEO and make a big difference to your rankings. Don't believe me? Believe the stats:
Having at least five reviews on Google can lead to a 1.85 co-efficient improvement in your local SEO ranking.
It's no surprise that reviews are such an important ranking factor in local SEO because the buying decisions of 90 percent of your customers are influenced by them.
Think about it.
Search engines exist to give the most accurate answer to the questions posed by users, and users trust reviews. So it's a no-brainer that Google uses them to decide how to rank your website.
What type of reviews do you want?
When it comes to local SEO, not all reviews are created equally.
Both Google and your customers place a different value on different types of reviews, which makes some reviews more valuable to local SEO than others:
49 percent of your customers won't even consider buying from your business if you have less than a 4-star review rating

77 percent of your customers think that

reviews aren't relevant if they're older than 3 months

18 percent of your customers are only interested in reviews added in the last 2 weeks
It's not only the number of stars you have and how recently your reviews were added that matter to your local SEO; longer reviews are valued more highly than short ones, so encourage your customers to write in paragraphs, not single word summaries.
Which review sources are important for local SEO?
Google remains the most important source of reviews for local SEO. This means that you must set up a Google My Business (GMB) profile to get the best chance of ranking well.  
On the GMB signup page you can create or claim a free business listing that is designed specifically to make your business more visible in SERPs by increasing your presence on Google Search and Maps.
When setting up your Google My Business page, make sure that your business data – which includes category, business title, keywords, map location, and proximity – is always correct, complete, and up-to-date.
Listing on Google is crucial, but it's not the only source of reviews used to determine local SEO rankings. Among the many other sources are:  
CitySearch

Foursquare

Facebook

InsiderPages

Yahoo Local

Yelp
You should also consider and utilize YouTube testimonials and guest blogs that feature reviews of your business to determine local SEO rankings.
It's important that you list your business in as many sites as possible, but make sure that important information is consistent on each site. This includes your business name, address, and phone number are all correct across each site.
How your business can maximize local SEO
Now that you know about the impact of local SEO, you can take the next steps in maximizing your local SEO. This includes:
Ask your new customers for a review.

You can add a pop-up to your website that becomes active once your customers have completed purchase or send a

review request

email after a transaction. These are stages when your customers are happy with your business, which makes them more likely to leave a good review.

Contact your loyal customers.

You know already that part of running a successful business is to have a long email list; email has the highest ROI of all forms of marketing and the best response rate. Using

automation

software makes it easy for you to compose a template email or newsletter that asks your customers to post a review of your business. You can then send it to your list of contacts and measure the response rate.

Amplify your reviews. Embed reviews on your own website to amplify the voice of your customers. Using a review widget makes this easy and automated. Embedding reviews sends important trust signals to web visitors—but doing so also sends positive SEO signals to Google. Reviews count as relevant, fresh content, which Googles loves to see. 
But don't stop there: fill your own blog up with relevant local content to let Google build the association between your brand and your local area.  
Your business needs to use every tool at its disposal to have the highest possible profits and local SEO can be a potent weapon. That is, if you use it right. Start putting the lessons learned into practice, and your company can be even more successful in the future.