Download 43 free review response templates for negative and positive reviews
Get the templates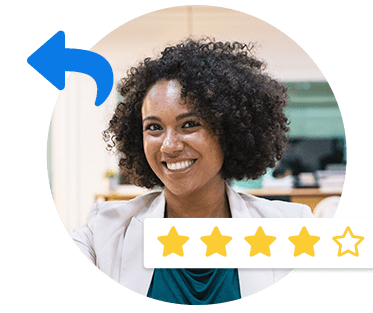 Review websites generate 10 to 50% of the total number of leads for the majority of brick and mortar businesses.
When it comes to the accuracy of their online review-website listings, businesses often make assumptions about the level of due diligence invested by others. Many automated (or customer-generated) entries to review websites like Yelp are full of errors that can cost a business thousands of dollars in potential revenue and unrealized business. The problem is compounded when other Web-based organizations, relying on popular review websites and dependent on info entered into a root website, use the information to automatically populate numerous secondary websites.
Customer-generated entries are not the only cause for inaccurate listings. Many well-intentioned team members have attempted to create the business profiles on a variety of websites, without coordinating with others or verifying the accuracy of their entries. A business's information about a business is never static. Business organizations are often tardy in revising the content of their review profiles. When your business listing is created, the information entered is often inaccurate, incomplete, or out of date, a problem that can have far-reaching effects on your brand reputation.
Duplicate Listings Are Diluting the Strength of Your Brand
Many review websites struggle with duplicate review profiles, the problem rooted in consumers having the ability to create a profile for a business. Because consumers create listings based on "their best recollection," there are often errors that result in duplicate listings. If left on the website for a long time, each of the duplicate listings is likely to acquire strength through having new customer reviews, customer images, and customer videos associated with it. With two listings, shoppers are always missing out on a portion of the story, and businesses are missing out on a higher position of popularity based on volume or star ratings.
The less popular a listing is, the less likely that it will generate direct business leads. Two business profiles with less than fifty reviews each will often disappear in terms of display priority, whereby a business with 100 reviews and the advantage of review recency is much more likely to rise to the top. More and better reviews also make a business far more likely to receive awards such as "People Love Us on Yelp" and "Trip Advisor Certificate of Excellence." If you are a small business, then you are well aware that these types of awards can make a significant difference as far as trustworthiness, upwards price elasticity, and click-through rate.
Listings with Outdated Images Are Missing Out on Conversion Opportunities
Images speak a thousand words, but old, outdated images are worse than silence. One of the easiest ways to bring in additional customers from review websites is by making sure all images are up to date and reflect a product that is contemporary. Hotels and other lodging venues are key segments in business that stand to have the highest losses as a result of outdated images.
Imagine there are two hotels from the same chain, in the same city, both with the same upgrades. Hotel A has taken the time to upload images that reflect the most recent renovation, and include visually appealing images of the upgrades that took place during the renovation. Hotel B still has images from 10 years ago. Because the pricing model is likely to be the same, the property with updated images is far more likely to have a higher conversion rate.
If you run a hotel, bed and breakfast, or other type of lodging venue, update your photos often, and make seasonal image changes if your property markets outdoor activities, such as snow sports during the winter, and hiking and rafting during the summer. If your photos and videos are negatively affecting your business here are some tips on how to fix the problem.
Listings with Incorrect Business Hours Are Leaving Your Tables Empty
There is a story about a woman who attended a conference for restaurateurs, where a small-restaurant owner approached her to ask about potential ways to market their newest effort to increase revenues. The restaurateur had identified a lack of breakfast venues in the area. Entrepreneurial at heart, he opened the doors of his venue for breakfast, but after a few months, he had seen very little in the way of growth. In an effort to help him out, she took a quick look at his review website profiles and noticed that, while the restaurant had added their breakfast menu, they had failed to make two key changes to their review-website profile:
1. Their hours of operation had not been updated.
2. They had not listed their venue as serving breakfast.
These two oversights reduced the number of leads generated, as potential customers were not finding the business. These mistakes had huge consequences, and once corrected, the restaurant owner saw a significant rise in review-website referrals. If your schedule changes, then make it a point to audit and revise all your review website listings. Customers will thank you for it!
Listings with Outdated and Inaccurate Info Are Creating False Expectations
There is no question that less customers means less revenue. But there is another problem that may be impacting your bottom-line, and most importantly, it may be affecting your customers' overall experience. Having outdated information on your review profiles results in expectations not met. In the best of cases, you are able to resolve the issue by compensating a customer, still affecting margins. In the worst of cases, you will have a highly dissatisfied customer that will rant about you online and offline, and is very likely to never visit your venue again. If you are working on refining your customer experience strategy, then work on aligning your marketing pitch to the reality of business, and make sure your customers always receive what you promised. Expired promos, outdated menus, and services you no longer provide should be quickly removed from your review-website profiles, social media pages, and homepage. Accuracy will save you money, and it will help you establish strong brand credibility.
Listings with Missing Services Means Less Customers
This is a common mistake of businesses that provide services associated with home improvement. Failure to list specific services often results in reduced leads. If you are a home remodeler, then make it a point to be specific instead of general. By including all of the services you provide, not only do you enhance your SEO-based opportunities, but you are also making sure customers looking at your review profile know for sure that you are able to meet their specific need. When it comes to listing services, more is always better. Take time to list everything that you do, and provide rich descriptions that help potential customers have a better understanding of what you offer.
Impact
If you want to stay ahead of the competition, then remember that accuracy matters. Go beyond responding to reviews and requesting reviews, to providing information that persuades, informs, educates, and presents your potential customers with the best descriptions of everything that you offer. Accuracy in your review profiles is both priceless and profitable. Work on it today and every day.
How have listings impacted your business? Leave your story in the comments below!