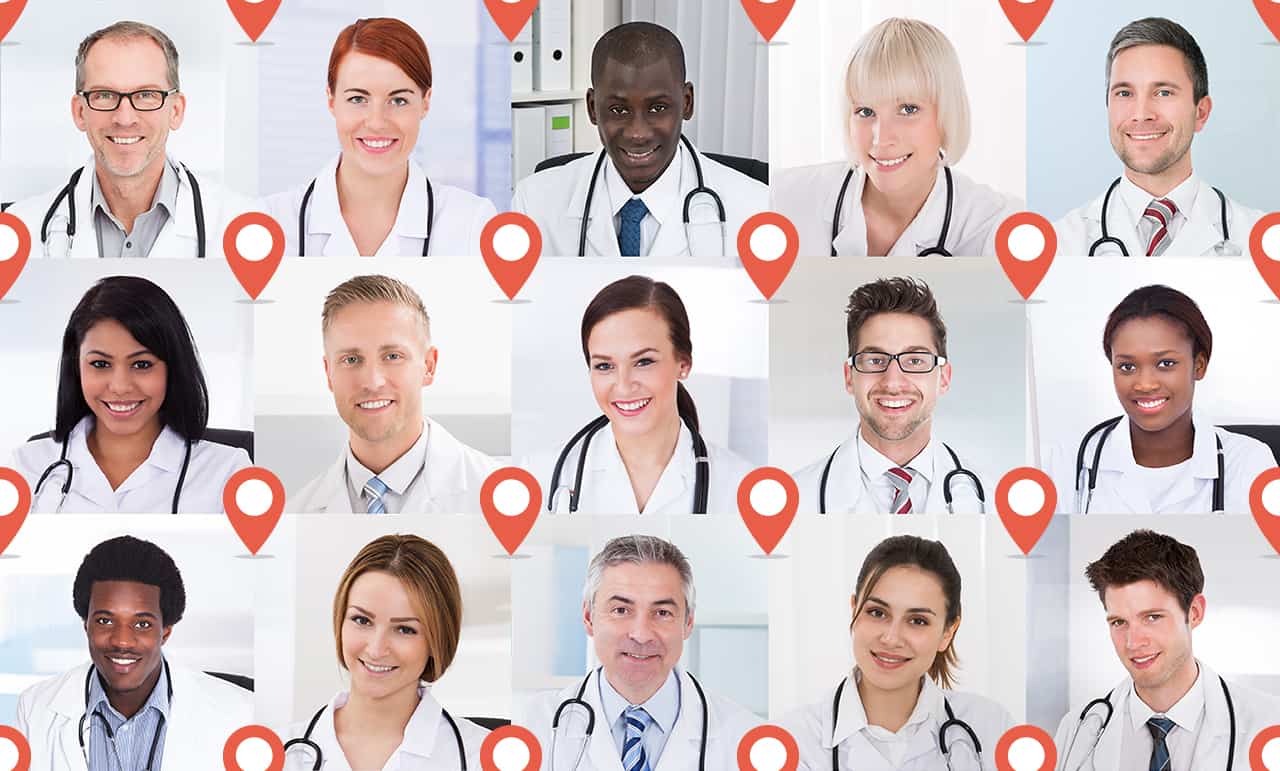 Google My Business is the link between your healthcare organization and the consumer.
Consumers type in something like this in Google's search box when searching for a new provider: "primary care doctor in Boston." They'll then scroll down the page to see the doctors that show up under Google's map. Google My Business (GMB) allows you healthcare providers to pop up on the map, and allows patients to review them.
Consumers use the reviews and ratings of each doctor when deciding who to trust with their health.
It's up to you to make sure those reviews and ratings are mostly positive. But first, make sure you have a location page for each provider.
Here's why you need a location page for every doctor at your hospital.
Every Doctor and is a Brand
Every healthcare provider at your healthcare organization is a brand. Yes, that's right. A brand. And brands need to easily be found online to be successful. Brands also need to be distinguishable from other brands. It works the same way with healthcare providers – they need to be distinguishable from other healthcare providers.
When searching for "oncologist near me," for example, three oncologists show up in the local search results. The one that stands out the most is doctor Regina M. Stein. Why? Dr. Stein has one five-star review, while the other two doctors have zero reviews.
Every Location is a Brand
Each location under your healthcare organization's name is also a brand. So make sure you have location pages set up for each location under your organization's name in addition to a page for each doctor.
You need a location page for each provider because the more individual location pages you have, the higher your practice will rank in search engine results. The higher you rank, the more likely consumers will find a doctor, or one of the locations of your hospital. Other locations can include outpatient centers or doctors who are affiliated with your medical group.
The higher the doctor or healthcare organization ranks in search results, the more likely a customer will choose that provider.
Reviews Will Influence Consumer Decisions More
In addition to a high ranking, having multiple pages for each provider gives consumers more information about the doctor, which helps consumers make decisions. The information listed on the page includes the type of doctor, reviews and ratings, a website, a phone number and address.
Online reviews and ratings are especially important to consumers because consumers are using reviews as research when making healthcare decisions.
According to the 2018 ReviewTrackers Online Reviews Survey, when choosing a new local primary care physician, 66.3 percent of consumers say reviews are influential. And Google is important. Consumers are likely head to Google when choosing this physician: 63.6 percent of consumers say they are likely to check business reviews on Google before visiting a business – that's more than any other review site. Yelp ranks second at 45 percent, followed by TripAdvisor and Facebook
In addition to Google, make sure you are paying attention to industry-specific review sites such as ZocDoc, RateMDs and Vitals.
Consumers are Writing More Reviews in Healthcare
We are seeing a trend that consumers are placing more importance on writing reviews about businesses this year than last year  – especially in healthcare.
Twenty-seven percent of consumers say they are likely to leave a review after a positive experience at a specialist physician. This is an increase from 24 percent of consumers in 2017.
The same is true for primary care physicians. 27 percent of consumers this year say they are likely to leave a review after a positive experience at a primary care physician, which is an increase from 25 percent in 2017.
The trend that consumers are writing more reviews in healthcare is another reason why you need to have a location page for every doctor — so that consumers can write reviews for each individual doctor at your locations.
Listen to Customers to Improve the Patient Experience
One of the most important reasons to have separate locations page for every doctor – and for every location under the organization's name – is so that customers can provide your organization with feedback. This feedback is a great tool that can be analyzed and used to improve patient experience.
Let's say multiple patients had to wait an hour to see the doctor at one of your locations. Your team at that location can implement changes to decrease the amount of wait time for patients.
Every healthcare provider, no matter what kind, should have a location page for each doctor and physical location under their organization's name. The consumer is online. That's where your doctors need to be.