Download 43 free review response templates for negative and positive reviews
Get the templates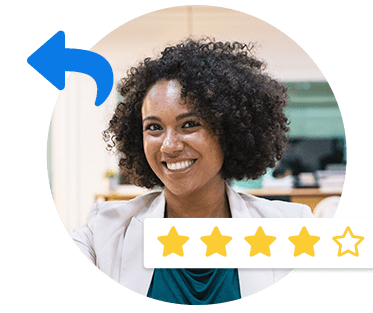 Franchise search engine optimization (SEO) can be challenging and complex for your business. 
On a corporate level, you have to differentiate your brand from competitors and set yourself apart in search engine results. As a franchise, you also have to compete at a local level and ensure the search visibility of your individual locations versus their local counterparts. 
To help improve your franchise SEO rankings, we created a checklist for top-rated franchise SEO best practices.
Franchise SEO Checklist
1. Claim Business Listings
A great website often isn't enough to drive franchise SEO. Why? Because consumers today search for businesses using multiple digital channels. This includes search engines, social media, online review sites, local business directories, mobile apps, and services. 
Your franchise needs to have a presence on these channels. By claiming your business listings, you can be visible to and engage with searchers, even if they don't necessarily end up on your website. 
It also gives you back some level of control over what's being said about your franchise and your franchise locations online. By claiming ownership of your business presence on multiple channels, you'll have more freedom to publish important information about your business across the Web.
Not sure where to claim your business listings? Here's a list to get you started. 
2. Post Relevant, Engaging Content
SEO demands content that is engaging, high quality, recent, and relevant to your audience. 
Quality content created specifically for your franchise brand's intended users can help demonstrate your expertise in your given niche and increase your site traffic, which boosts your site's authority and relevance. 
So what should you post? Content can be in the form of blog posts, photo and video content, whitepapers, infographics, ebooks, user-generated content like reviews and testimonials, and social media posts. 
3. Create Location Pages
Creating location pages on your website allows you to create unique content, build up your franchise brand, and leverage the sister sites within your franchise's network.
It also helps searchers easily find relevant information about each of your franchise locations, such as hours, address, and contact information.
Here's a great example of how to set up location pages, courtesy of the fast casual restaurant chain Hwy 55 Burgers, Shakes, and Fries:
In the case of Hwy 55, all the individual location pages are all linked to a central "Locations" page: https://www.hwy55.com/locations/. 
Here are some location page best practices:
Choose a simple URL.

If your website URL is franchisename.com, the URL of your location pages can be as simple as franchisename.com/city or franchisename.com/locations/city. 

Add NAP.

NAP stands for business Name, Address, and Phone number. This information must be present on each of your location pages and correspond to each individual franchise location. 

Fill the page with unique, relevant content.

Apart from NAP, you can also add other types of information that searchers may be looking for. The Hwy 55 example page lists down each location's hours, directions, map location, owner and operator names, store descriptions, photos, social media links, and even current job openings.
Be as creative as you can. Add local news, special deals and promotions, and testimonials specific to the location. 
You can also embed first-party of third-party reviews on your location pages by using review widgets. A widget suite like ReviewTrackers' Amplify lets you simply copy and paste the code on the backend of your website, helping you boost franchise SEO performance and inspire shopper confidence. (We'll talk more about review widgets in the next section.)
4. Collect More Online Reviews
Online reviews are one of the top 3 most important ranking factors in local SEO. This means that your franchise locations' review signals — such as review quantity, review velocity, and review diversity — can significantly influence their local search ranking.
If you are getting a significant number (review quantity) of positive reviews with high ratings (review quality) across multiple high-authority review sites (review diversity), you stand a better chance of getting found in local search results. 
A higher ranking online makes you more visible, which means more customers coming to your locations.
If you don't have a program in place for collecting more reviews, here are some tips:
Ask your new customers for a review.
You can add a pop-up to your website that becomes active once your customers have completed purchase. You can also send review request emails after a transaction. These are stages when your customers are happy with your business, which makes them more likely to leave a good review.
Reach out to your loyal customers.
You know already that part of running a successful business is having a long email list. After all, email has the highest ROI and the best response rate out of all forms of marketing.
Using automation software makes it easy for you to compose an email template or newsletter asking your customers to post a review of your business. You can then send it to your list of contacts and measure the response rate.
Amplify your reviews.
Embedding reviews on your own website and your franchise location pages amplifies the voice of your customers. Using a review widget makes this easy and automated. Embedding reviews sends important trust signals to searchers. It also sends positive SEO signals to search engines. Remember: reviews count as relevant, fresh content, which search engines love to see. Collecting reviews can also generate a wave of online activity that can enhance your franchise SEO visibility. More importantly, proactively reaching out to customers for reviews shows that your franchise listens to customers and values their feedback. 
5. Set Up Google My Business for Every Location
Google is not only the world's number one search engine; it's also the top online review site, according to the Online Reviews Survey. This means that one of the most important SEO factors for franchises is the presence of each individual location on Google My Business (GMB).  
GMB is an online dashboard designed to streamline the management of your franchise's business information across multiple Google services. (Important note: If you previously used Google Places for Business, Google Local, or Google+ Pages Dashboard to manage your business information, your account has automatically been upgraded to Google My Business.)
Not yet on GMB? Visit https://business.google.com/ to create a Google account for your franchise. 
Through GMB, you can manage and update each franchise location's business information on Google. Using this essential tool also allows your franchise locations to appear on Google Maps, provide customers with directions, enable calls and direct reservations, and track and respond to Google reviews.