Download 43 free review response templates for negative and positive reviews
Get the templates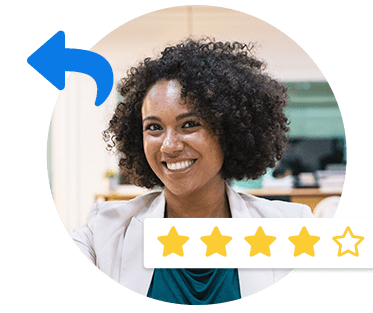 Attracting top talent isn't as simple as posting job opportunities online and waiting for top candidates to beg you for an interview.
Unless you're an HR leader for Facebook, Google, or the rest of the companies in this list of the world's best places to work, it's critical that you're able to build a rock-solid employer brand capable of securing and retaining key talent. Here are 4 secrets to success:
Build Your Employer Brand
Assess brand awareness and reputation.
One of the keys to successful recruitment is your ability to understand (and then improve) how people view your company as a place to work for.
Are candidates already familiar with your company? What is your reputation like based on what employees are saying online, on sites like Glassdoor, LinkedIn, and Indeed? At the mere mention of your company, will candidates instantly be on board?
Surveying your stakeholders, employees, and target audiences can help you assess the attractiveness of your employer brand. Also, be sure to regularly tune into what people are saying on employee review sites, so you can keep your finger on the pulse of your company's reputation.
Market and emphasize what you're offering.
One of the toughest parts of recruiting is the whole process of telling your audience about your business, letting them know about the organizational culture, selling them on your offer, and pitching to them your company's vision.
You can make things easier by actively marketing and emphasizing what you have to offer. Share what makes your brand unique!
Update the copy on your benefits booklet, job descriptions, and company marketing materials. Position yourself in ways that differentiate your employer brand from competitors. Do you offer perks like unlimited Kindle books, lunch and learn sessions, happy hours, training classes, and company outings? Publicize these activities and resources; they could be extremely valuable to the perfect candidate you've been looking for.
Monitor and respond to online reviews posted by employees.
One of the easiest ways to tell whether or not a company's employer branding is on point is by looking at its activity on employee review sites.
By monitoring and responding to online reviews on sites like Glassdoor and Indeed, you demonstrate to both your workforce and your candidates that you are listening to them, that you care about what they think, and that you value their feedback.
More importantly, you'll be able to stay agile and shape your employer brand based on information that comes directly from your employees.
Share the stories of your top employees.
The most attractive, authentic employer brands find ways to put the spotlight on their employees. Why? Because frankly, there isn't a more apt group of people to show top candidates what it's like to work for the company.
Get your leaders and rock stars to host a live Twitter chat or Q&A. Shoot a YouTube video of your top employees giving an office tour. Share a 5-star employee review on Glassdoor across your social media profiles. Take photos of your team (all smiles, of course) and upload these to your Careers page.
By turning your employees into advocates, you can build a rock-solid employer brand that, in the eyes of candidates, stands out from the competition and boosts your ability to recruit just the kind of talent you're looking for.