Download 43 free review response templates for negative and positive reviews
Get the templates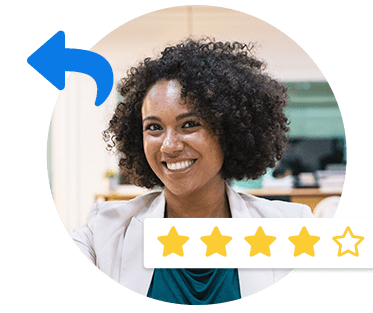 "Chicago restaurants." "Sushi burrito places in SF." "Car dealers near me." "The best doctors in Phoenix." "Tokyo hotels with swimming pool." "Cameras for sale in Manila."
This is how consumers today search for information online about a certain product, service, or business. They want to find out where it is or what's nearby versus simply what it is. And they're customizing their searches to deliver only results that are associated with specific geographical locations.
It therefore makes sense that local search engine optimization (local SEO) has become a major topic of conversation for business owners and brand managers hoping to reach and market to the right people at the right time. The impact of having an effective local SEO strategy is undeniable.
From Search Engine Watch:
1 in 2 mobile users will visit a store within one day of performing a local search.

18 percent of local searches performed on mobile devices lead to a sale within 24 hours.

92 percent of consumers choose a business that appears on page 1 of local search results.
With higher local rankings, you get increased traffic, more in-store visits, and higher sales.
The Impact of Local SEO
It's worth noting, however, that the impact of local SEO will vary for different types of businesses. There are also exceptions: a few categories — companies using virtual offices, say, or artists and entertainers — that don't necessarily need to approach local SEO as a critical component of their digital marketing initiatives.
Let's take a look at 4 types of businesses impacted by local SEO — plus tactics you can employ to improve your local search rankings.
Service-based businesses
Restaurants, hotels, bars and cafes, spas and salons, auto shops and service centers, banks, and other such service-based businesses with a physical location are among those whose local search rankings can significantly affect business performance.
What's great about local SEO is that size doesn't necessarily matter, especially if you have a solid strategy in place. For example: a mom-and-pop burger joint with great online reviews and an attractive business listing that appears at the top of local search can compete with, say, a globally recognized brand like Burger King or McDonalds.
Said burger joint may not reach an audience of chargrilled burger lovers in China, like Burger King or McDonalds can. But it doesn't have to. It just has to cater to hungry people nearby who are already on Google or Yelp or TripAdvisor, looking for a place to eat.
Multi-location companies
Don't get us wrong: local SEO can also greatly impact Burger King and McDonalds.
National brands, bigger companies with multiple business locations, franchises and chains, enterprise-level organizations with anything between 1 to 10,000 physical locations: these businesses can also benefit from branding and marketing strategically on a local level.
Business locations with multiple departments, offices, and individual practitioners
It's not just companies with multiple locations that can profit from having an effective local SEO strategy; business locations housing multiple companies — or departments, or offices, or individual practitioners — can also increase traffic and revenue by working on improving their local rankings.
This group includes hospitals with individual doctor offices, shopping malls housing multiple stores and retailers, insurance companies managing hundreds or even thousands of agents, law office buildings with a number of listed legal professionals, and even co-working spaces with addresses that serve smaller companies and startups.
Agencies
Marketing firms and agencies that work with any of the three types of businesses above will obviously have to understand the business impact of — and offer solutions for — local SEO.
A well-designed website is nice to have, as is a solid social media presence, but strong brand presence on local search can deliver even more impressive ROI — making local SEO one of the most popular and viable offerings or revenue streams agencies can have.
Steps to Improving Your Local SEO
Is your company one of those that can benefit greatly from a solid local search marketing strategy? Here are some SEO tips for improving your local rankings:
Manage your business information via Google My Business (GMB)
One of the most effective ways to improve your local SEO performance is by claiming your business listing and managing your information using Google My Business.
A well-managed Google listing fosters significant improvements in your local search ranking. Listings that boast of strong reviews and ratings are also the ones most likely to rank at the top of local search or even be featured in the "local pack" of highlighted companies.
Ask happy customers for reviews
More and better reviews improve your local SEO performance. So it makes sense to have a plan in place for collecting customer feedback and reviews from happy customers, who may already be poised to give you 5-star ratings… but just need a little nudge.
Have at least 5 reviews (on Google) to get your star rating to show
Did you know that your star rating will appear in local search results after you have collected more than 5 reviews on Google? This can be a great eye-catcher on the search results page.
If you have less than 5 reviews on Google, it's crucial that you're able to reach out to customers who are likely to leave a positive review of your business. (You definitely don't want your first 5 reviews to have mostly 1- to 2-star ratings.)  
Build more citations and ensure NAP consistency
After claiming your listing on Google, do the same for other platforms or channels where your business may be listed: Yelp, Facebook, TripAdvisor, Citysearch, what-have-you.
This helps you build out citations — mentions of your business name on the web, along with other key information, with or without a link back to your website.  
Consistency in your NAP (name, address, phone number) information is also incredibly important. It's easy to end up with variations, but avoid this as much as possible. For example, if your location is at "72 Fort Davies Street," stick to that way of spelling it, instead of using a variation like "72 Ft. Davis St."
If your local data appears to be unstable, inconsistent, or outdated, Google and other search engines are less likely to reward your business listing with a high local ranking.
Read MORE: Top 9 Reasons to Claim Your Business Listings and Review Site Profiles
Build your visibility on social media
Social signals are another key factor in local search rankings. The more engaged and proactive you are on social, the more likely your pages and your business will attract fans and followers and, therefore, rank better in local search.
Promote your content — photos, videos, blog posts, company news and updates, etc. — to your social media communities.

Share your best reviews on social media and highlight stories that are relevant to your audience.

Respond to comments and customer feedback posted on your pages.

Tap into paid social ads to open up your funnel to new targeted audiences.
Greater visibility on social media lets search engines know that people are talking about and engaging with your business online. It also helps drown out any negative noise that may be hurting your business reputation on local search results pages.
Incorporate review content into your website
Another way to use user-generated content (i.e. reviews and feedback) for boosting your local SEO performance is by adding review content to your website. One common way is to use a review widget to display all or some of your reviews:
This leads to improved user interaction and on-site content density, increased triggers for search engine crawlers, and improved search relevance for long-tail searches.
Create location pages
Running a business with multiple locations? One great way to bolster your local SEO efforts is by by creating dedicated pages for each of your locations on your website.
Be sure to add location information in the URLs and title tags of these pages: for example, "www.DavidsPlumbing/Denver" with the corresponding title tag, "David's Plumbing | Denver, CO plumbing services". These location pages, once built out, are going to be crucial in improving the local search ranking of your specific locations over time.
Respond to online reviews
More reviews and ratings of your business on Google (as well as on other third-party review sites) can lead to greater online "prominence" and better local SEO.
Not only does responding to reviews help drive engagement and create the kind of fresh content typically crawled by search engines; it also shows that your business values feedback, helping boost shopper confidence and foster consumer trust.