A strong local marketing strategy can help smaller businesses stay competitive in markets and communities that would otherwise have been dominated by bigger brands, franchises, and chains with money to spend.
It levels the playing field, so to speak, and creates an opportunity for any company — regardless of size — to build and grow a loyal customer base in a given location or service area.
Running out of creative ways to boost your local marketing presence? Here are 8 ideas that you probably haven't tried yet, but which work great even for businesses with a small budget.
1. Share your best online reviews on Facebook
According to a Gallup report, only 5 percent of consumers think that social media exerts a great influence on their purchase decision. Which is another way of saying that your audience probably pays very little attention to your number of likes and shares and followers and retweets. And people hardly care either for branded social media content, purely promotional posts, and all those links to your blog posts.
What does matter? The experiences and opinions shared by peers and fellow consumers.
Research by Forrester even found that 45 percent of consumers would much rather engage with — and trust — content found in consumer-written online reviews.
Instead of turning Facebook into a tool for constant self-promotion, use it as a platform where you let your happiest customers do the talking. Share screenshots of your latest 5-star Yelp or TripAdvisor review. Upload a video message where you say "thank you" to everyone who took the time to share their customer feedback on online review sites. (Check out this amazing example by a New Orleans karaoke bar called Cat's Meow.) These types of Facebook content will prove to be more effective in terms of helping you build trust with your community and highlighting stories that are relevant to your local audience.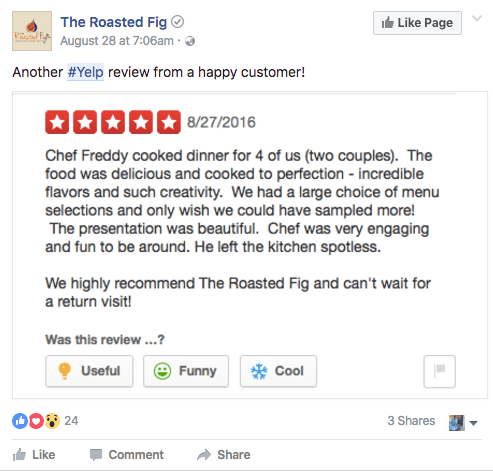 2. Automate social media engagement for tweets
Tens or even hundreds of thousands of tweets sent every day contain location information that you can harness to drive engagement, activate promoters, and strengthen local presence.
What if you could automate the way you engage with people who tweet in and around your business location, or mention your brand name?
The idea behind localized social media automation is to increase your efficiency in the way you monitor and respond to real-time social media comments, customer feedback, or even simple mobile check-ins via various social apps and services (Swarm, Instagram, etc.).
By doing so, you stay up to date on what customers are saying about you online, while also showing the target audience in your local community that you're engaged and responsive on social media.
When people hear back from a business, their perceptions of that business immediately improve.
Check out this great blog post by Directive Consulting on how to automate your social media for local conversations — using only a Zapier account and your Twitter.
3. Enter local business award competitions
We here at ReviewTrackers are a big fan of this strategy, because it boosts the visibility of our brand to the local community here in Chicago. You can do the same! In most cases, finding out the best local business competitions and most prestigious award-giving bodies in your area is a matter of conducting a quick Google search.
Even if you don't win, you can still broadcast your participation and generate a great amount of positive publicity and social media buzz around your brand. And if you do win? You can showcase the achievement by adding a badge on your website and spreading the good news on all your local and social channels.
4. Create and distribute infographics
Up to 40 percent of consumers respond better to visual information than plain text. This applies on social media, too. According to research, tweets with images receive 18 percent more click-throughs, 89 percent more favorites, and 150 percent more retweets than tweets without images.  
That's why it makes sense to create and distribute your own infographics. They're like eye candy for your audience, easy to digest, remember, and share. More than a way of communicating useful information to your audience, infographics also serve as an extremely potent form of marketing content that can increase referral traffic, generate inbound links, and communicate and reinforce your brand values and personality.
As much as 62 percent of content marketers surveyed by the Content Marketing Institute already utilize infographics as one of their tactics for reaching out to ideal customers.
Don't have a designer? Check out tools like Canva and Piktochart. You can even outsource the infographic design to professionals at sites like Dribbble, 99designs, and Visually.  
5. Join HARO and help a reporter out
HARO, short for "Help A Reporter Out", is an online platform that provides journalists with a robust database of sources for upcoming stories. At the same time, it also provides business owners and marketers with opportunities to serve as sources and secure valuable media coverage.
You can register as a source for free and start pitching immediately to journalists immediately. At the very least, HARO can enhance your link building and inbound marketing initiatives. And who knows? Maybe your efforts will soon have you end up being featured in the New York Times.
6. Do good through local community outreach
Take the time to reach out to and engage with the local community in which your business operates. Support a charity event or hunger drive. Join your local chamber of commerce. Encourage employees to volunteer in a nursing home.  Participate in a charity run or fundraiser. And don't hesitate to publicize your efforts.
Through outreach, you can expose your business to the community and enhance your brand reputation in ways that you probably can't do with, say, a full-fledged advertising or PR campaign. It gets your name out there. It amplifies your reach. And it helps generate precious inbound links or even leads.
Research has also shown that community outreach fosters consumer trust and has a stronger effect on customer loyalty than service quality.
7. Create a reviews page for systematically collecting customer feedback
As you have probably realized by now, online reviews are an important component of every successful local marketing strategy.
In order to generate more and better reviews, you can set up a dedicated landing page, ideally on your website, that encourages your customers to be vocal about their experiences.
You can install a reviews widget on your website, use a review management and customer feedback tool like ReviewTrackers, or build a simple reviews page on your own.
Once it's all set up, list down the touch points where you can prompt customers to leave their feedback on your page. You can even share the link across your social media profiles or remind customers in-person after they complete a transaction.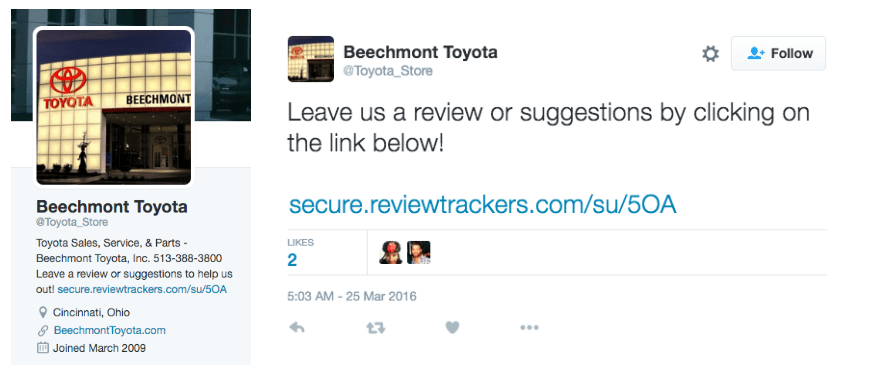 8. Add relevant local content to your website pages
Crafting a successful website experience isn't just about design. It's also about having unique, relevant content that provides value to your visitors.
To support your local marketing strategy, you can choose to add some localized content to your website pages. For example, you can talk about other businesses in your area and link out to non-competing partners and suppliers and stores. If you're running a local coffee shop, talk about where you get your beans from. If you're managing a boutique hotel in a tourist-friendly town, talk about some of the sights to see or list down local tour operators that customers can consult with.
By localizing your website content and providing users with relevant local information, you're also telling Google and other search engines that your site is a great resource for people in your area, which then helps increase your propensity to show up in organic local search results.
If you have more great ideas for smart local marketing, feel free to share in the comments section below!