Download 43 free review response templates for negative and positive reviews
Get the templates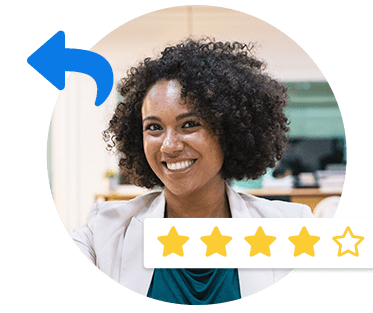 In the age of online reviews, anyone can be a critic. Whether they're judging hotel rooms and restaurants, commenting on their recent automotive dealership visit, or assessing their physician's bedside manner, consumers today can rate and review a business with a click of a button.
"We like judging," declares Conde Nast Traveler's Mark Ellwood, "and we like rating. It's a natural human instinct, and it applies to everything around us."
Online reviews work for your business
More than a few businesses, as a result, have been left feeling vulnerable, fearing that these random, unpredictable reviews could undermine years of hard work. The power of reviews is very real.
According to Cone Communications, 4 out of 5 consumers reverse their purchase decisions after having read negative reviews.
According to Influence Central, 9 out of 10 consumers believe that reviews are more important than any type of information provided by a salesperson.
Ellwood asserts that these consumer-written reviews could inspire trust in a brand – while lack thereof has the opposite effect.
"These days," he says, "if there isn't some kind of user-generated babble, it reads like a big, bright red flag: Does anyone even go to this hotel (or restaurant or shop)?"
Review signals help develop your brand
What some don't always realize, however, is that reviews can also work for – instead of against – a business.
The most obvious example is when you have multiple 5-star reviews that attract customers and convince shoppers to make a purchase. Which, after all, is what reviews are for: to help people make a decision on what to buy and what not to buy.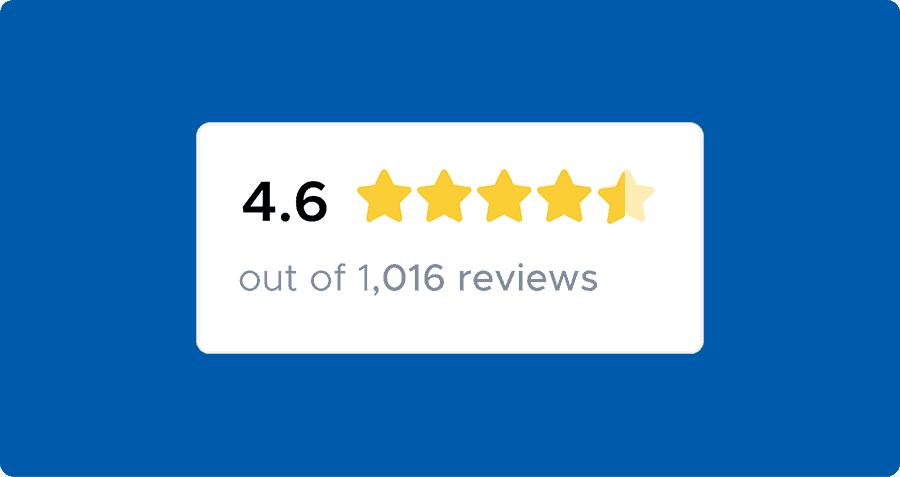 (Example: ReviewTrackers' Amplify)
But reviews – and "review signals" (we'll explain in a bit) – affect your organization's other marketing objectives, too. Review management is particularly crucial in the development of your brand, and can help you gain a major edge in the most competitive of markets.
What are review signals?
Thanks to sites like Yelp and TripAdvisor, more consumers than ever are posting their own reviews and opinions of local businesses.
This generates a huge amount of data – and we're not just talking about the actual review text ("BEST steak I ever had" or "Stay away from this place!!!"). We're also talking about types of review data that your organization can measure, drill down, analyze, and manage.
Here are key review signals you should take into consideration:
Review quantity
Review quality
Review diversity
Product/service keywords in reviews and review responses
Freshness of reviews
Positive/negative sentiment in reviews
Authority of third-party sites on which reviews are present
Quantity of reviews and numerical ratings by authority reviewers (Yelp Elite, Google Local Guides)
And more
Instead of fearing what the voice of the customer has to say, a number of savvy marketers are embracing reviews and managing these review signals in order to build a strong brand and improve performance.
Review signals improve your local search visibility
According to the 2015 Local Search Ranking Factors study by SEO company Moz, reviews are one of the top seven most important factors affecting local search results. They rank ahead of social signals like Facebook likes and Twitter followers – and closely behind traditional search factors like on-page and link signals.
What this means is: if you are getting a significant number (review quantity) of positive reviews with high ratings (review quality) across multiple high-authority review sites (review diversity), you stand a better chance of getting found in local search results. Your ranking is higher and your brand is more visible; and you have a greater ability to convert local shoppers into your customers.
"Reviews have become a major competitive difference maker," says Miriam Ellis of Solas Web Design. "So you'll want to be earning as many good ones as possible, particularly on prominent platforms like Yelp."
Review quantity adds credibility
Review quantity is a key signal that you should always be monitoring. The latest research suggests that only 8 percent of consumers do not read reviews prior to making a purchase decision. The remaining 92 percent need the information to determine whether a business is good or not.
Moreover, according to research firm YouGov, 53 percent read reviews for the simple reason that they don't want to get ripped off.
That's why it makes sense for your business to encourage – instead of censor or stifle – reviews. Simply put: the more you have, the more credible your brand looks.
Here are more numbers from another study, this time by AdWeek:
An increase of 1 to 8 reviews improves your conversion rates.
An increase of 8 to 100 reviews improves your natural search traffic.
And if you are managing a young, fledgling company, find ways to improve your review quantity; otherwise, you may not even be in the running when consumers are in the running for the kinds of products and services you offer.
Read MORE: "Requesting Consumer Feedback: 8 Simple Tips to Help You Generate More Five-Star Reviews"
Quality and sentiment of reviews strengthen and protect reputation
"Your brand name is only as good as your reputation," Richard Branson once said.
He's right. It takes more than a slick trade name, a beautiful logo, or a memorable slogan to build a great brand. Traditionally, these elements will certainly go a long way in establishing – and differentiating – your business in the minds of consumers. But what will really set you apart is your reputation.
How are you perceived by consumers?
Is your brand trustworthy?
Based on what others think or have said, does your brand deliver on its promise or leave customers disappointed?
At a time when anyone can literally "Yelp" your business, your reviews have as big of an impact on your reputation as anything. In fact, as many as 4 in 5 consumers will reverse their purchase decisions after reading negative reviews of your business.
Pay particular attention to the quality and sentiment of your reviews, as well as the authority of the people writing those reviews. The best-case scenario: you have well-written, detailed positive reviews posted by loyal customers and influencers (Yelp Elite, Google Local Guides), thereby fostering consumer trust and helping minimize any impact that bad reviews might have on your brand.
Review velocity and freshness help you stay relevant
Be honest: would you trust a Yelp or TripAdvisor review that was posted 5 years ago? Even if it says that the restaurant "serves the best pork belly in the world," you really wouldn't be convinced that it still serves the best pork belly in the world.
The velocity and freshness of your reviews matter.
Search Engine Land suggests that the lifetime of your review content may be even shorter than expected. According to its report, 69 percent of consumers believe that reviews older than 3 months are no longer relevant. 15 percent actually say that the only relevant reviews are the ones written within 2 weeks.
This explains why smart marketers regularly encourage and request customer feedback. It's not a one-time thing that you tick off your to-do list and forget forever. You don't want just great reviews. You want great new reviews, generated at a speed that's consistent and relevant to the needs and expectations of your customers.
Review velocity and freshness can also improve your content quality and SEO performance, especially if you're already incorporating reviews into your site and business pages. According to AdWeek, 800 words of review text can make up 70 percent of fresh content for your page – which search engines will reward with higher search results.
Star ratings affect your powers of persuasion
Another key review signal that can make or break your brand is the one that's perhaps easiest to identify and measure: your numerical star rating. Here's what the latest research has to say about the ability of star ratings to persuade (or dissuade):
ReviewTrackers CEO Chris Campbell sums it up perfectly: "Star ratings matter because they serve as a useful and convenient source of information when consumers are researching a local business they're not familiar with."
Review diversity expands your social and digital footprint
Yelp and TripAdvisor aren't the only community-based sites laced with reviews. Social apps and platforms like Facebook, Google My Business, and Foursquare let users share their opinions of local businesses, too. Depending on your industry or vertical, there will be other social networks and digital properties where you can plant your flag and join the conversation: OpenTable and Zagat for restaurants, say, or Cars.com and DealerRater for automotive businesses.
As you implement your brand development strategy, take note of the diversity of sites where you're getting reviews. Not only does this help you identify where exactly customers are talking about your brand; it also gives you a better idea of how (and where) to focus your buzz-building efforts and drive brand engagement. The more accessible you are, the more effective your marketing efforts will be.
There's really no need to be afraid of what the voice of the customer has to say. Whether it's harmful or helpful to your business really depends on what you do with their feedback. Managed properly, review signals can positively shape your brand, protect your reputation, and improve your bottom line.