Healthcare consumers are more likely to review their physicians on online review sites after a negative patient experience, according to research by customer feedback software company ReviewTrackers.
The research is based on a January 2017 local search and online reviews survey, as well as findings from an analysis of over 30,100 online patient reviews of more than 2,000 healthcare professionals and facilities.
According to ReviewTrackers research, patients are 34.7 percent likely to review their primary care physicians after a negative experience; meanwhile, positive experiences are only 24.8 percent likely to produce an online review.
Patients Praise Good Doctors — and Loathe Bad Experiences
Textual analysis of patient reviews also reveal the top keywords typically associated with the highest positive and negative sentiment scores.
In highly rated, favorable reviews, patients mentioned their doctors by name and heaped praise on the individuals responsible for their positive experience.
In critical reviews — with patient feedback that was, at best, less than stellar — patients didn't necessarily single out their physicians; instead they talked about specific procedures, experiences, or illnesses that were generally unpleasant, with phrases like "worst experience," "bedside manners," "flu shot," and "sinus infection" ranking high on the list of keywords with the highest negative sentiment scores.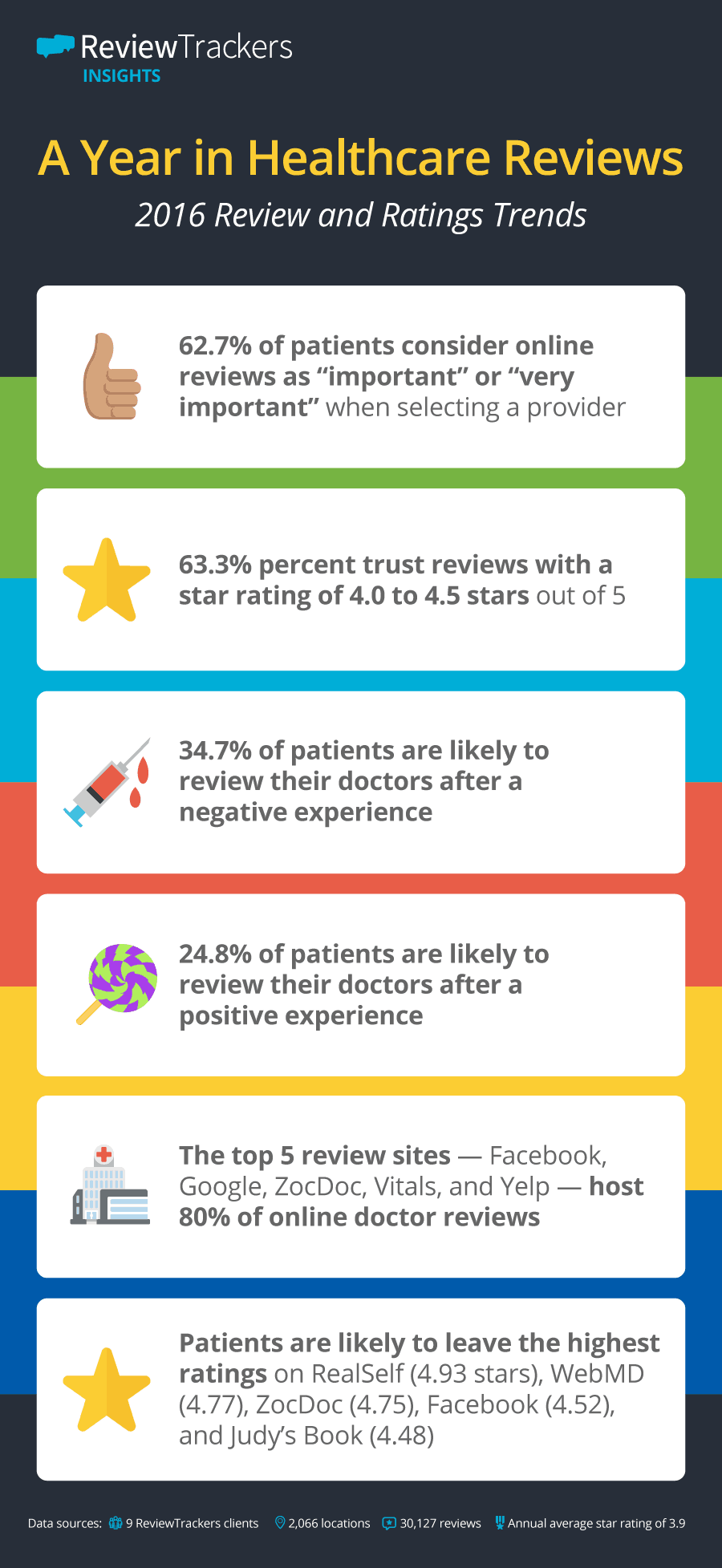 Key business takeaway: beyond fixing what's broken, make experience the priority
These findings suggest that today's healthcare consumers are more vocal than ever about the patient experience. They are looking beyond medical skill or quality of diagnosis in order to assess other aspects and interactions across the continuum of care, such as bedside manner, office environment, and customer service.
Healthcare providers must therefore go beyond the traditional fix-what's-broken approach and place their focus on delivering better patient experiences. Healthcare is no longer just about treating illnesses and preventing disease; as voiced in their online reviews, healthcare consumers want, expect, and value a satisfying and meaningful doctor-patient relationship.
There's a bounty (and better reviews and reputation) waiting for providers that can deliver, while those that don't are bound to receive poor ratings and negative feedback.
The Voice of the Patient is Louder (and More Persuasive) Than Ever
Research by ReviewTrackers also provides valuable new insight into the Voice of the Patient — and the type of impact that it has on the decisions of modern healthcare consumers.
According to survey results, 62.7 percent of consumers consider online reviews as "important" or "very important" when selecting a local business or provider. Also, 63.3 percent trust reviews with a star rating of 4.0 to 4.5 stars out of 5, almost echoing the results of previous research that found that 4.2 to 4.5 stars is the ideal rating range for purchase probability.
To find the right physician, patients harness online search features in order to filter out providers with poor reviews and rating scores: in fact, survey respondents say that they are 68 percent likely to use search filters when looking for either primary care physicians or specialists.
80 percent of patient reviews and feedback are posted on the top five online review sites: Facebook, Google, ZocDoc, Vitals, and Yelp. Meanwhile, RealSelf tops the list of sites where patients left the highest ratings (4.93 stars), followed by WebMD (4.77), ZocDoc (4.75), Facebook (4.52), and Judy's Book (4.48).
Key business takeaway: develop a review management and review request program
These figures emphasize the need for healthcare providers to develop a program for effectively managing online reviews — and requesting new ones. The Voice of the Patient is louder and more persuasive than ever, with healthcare consumers turning to online reviews, social media, and health research sites to find a new doctor, make a decision about hospitals, and read information about quality of care.
In order to succeed, providers must listen to, manage, and respond to patient reviews and feedback. It also makes sense to to develop a review request program: one that focuses specifically on sites where patients are likely to leave the kind of feedback that boosts (instead of tarnishes) the physician's reputation.
As the clout of healthcare consumers grows, so do their options. To encourage preference and inspire loyalty, providers must be able to listen to feedback, foster trust-based relationships with patients, and consistently deliver experiences that captivate and go beyond achieving better health outcomes.