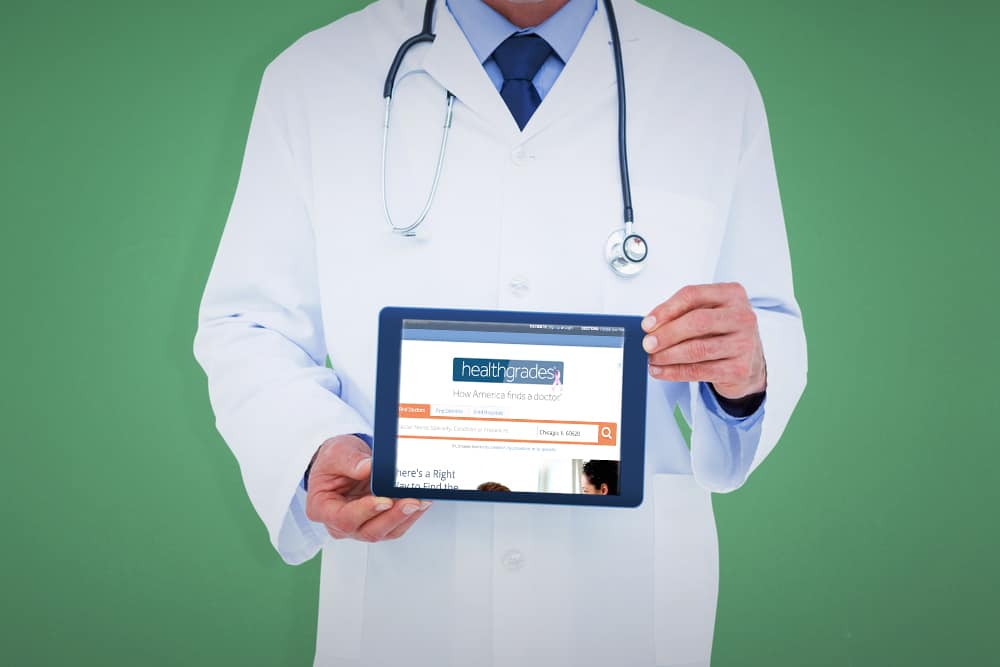 With over one million visitors per day, Healthgrades has become a strong player in the growth of medical practices and their online presences.
And with over half of those visitors converting into a patient visit within seven days of visiting the site, it's important for healthcare marketers to understand how to improve brand reputations on this niche review site.
In a general sense, patients are very unlikely to submit a review of your services and practice unless they have a need to rant or complain, or they are prompted through marketing collateral to submit their opinion.
The latter approach stands a far better chance of generating a neutral or highly positive reviews.
When you acquire more patient reviews, everyone benefits. Healthgrades becomes a stronger tool with more data; patients have better information, both in quality and recency; and you stand a better chance of securing new-patient referrals when users or the site identify you as a well-rated practitioner.
Today we will look at ways by which Healthgrades facilitates review engagement from patients – plus tools you can use to encourage your own patients to review you on this popular site.
Healthgrades' Main Advantage: Getting Online Reviews
For Healthgrades, review acquisition comes easy. It is a matter of simple math. With over one million visitors a month, the site has become a household name and the go-to place to both find and opine about medical doctors.
Most of their reviews require minimal prompting. Additionally, they rank pretty well when patients conduct searches related to leaving reviews about medical practitioners. These two factors combined account for a large percentage of their reviews.
How Healthgrades Helps You Engage with Your Patients
Healthgrades equips doctors with personalized, printed postcards to send to their patients as part of the follow-up protocol after a visit. The postcards have relatively good success when it comes to review acquisition but fail to deliver the request in a seamless fashion, forcing the patient to actually type out a URL to locate their medical provider and write a review.
Because the postcards are absolutely free to physicians, it is not a bad idea to request and use this collateral as part of the overall marketing and review generation strategy for your clinic.
Savvy Ways You Can Tweak Healthgrades' Approach and Make It Your Own
The basic idea behind Healthgrades' postcard campaign is to bring people directly to your profile and prompt the desire to evaluate your medical practice on key metrics such as customer service, ease in making an appointment, and bedside manner.
With a little creativity and the willingness to drive your online reputation to the next level, you can take this concept and make it your own by encouraging patients to leave reviews on Healthgrades while providing superior customer service through relational follow-up.
(Check out: "Doctor Reviews Show that Patients Care More About Service than Medical Expertise")
Send Thank You E-mails
From the very beginning of your doctor-patient relationship, make sure you obtain e-mail addresses as well as permission to contact.
Without being overly aggressive, you can generate follow-up emails that provide patients with general information about your practice, the means to contact you back, reminder of future appointments, opportunities to contact you back with specific questions, and an invitation to review you online with a customized link to your profile. You can also use the email as a means of conducting your own follow-up survey. You can read more about conducting a medical post-visit survey here. 
Conduct Follow-up Calls
Many private practices have already implemented follow-up call programs aimed at improving patient satisfaction and providing patients with an opportunity for Q&A regarding prescriptions, side effects, and other questions that were not addressed during their visit.
With proper etiquette, and only after ensuring the patient is satisfied with the level of care received, the nurse in charge can politely encourage the patient to leave a review on Healthgrades or their review site of choice. 
Set Up Customized Tablets in Your Waiting Room
More and more medical practices are incorporating new technologies to their practices. Among the most popular ones is the use of tablets to process patient registration. Through the use of a customized welcome page or registration path, it is possible to give patients multiple opportunities to visit Healthgrades, read your reviews, and submit their own.
With the help and guidance of an experienced technology consultant, your medical practice can deliver a more convenient registration experience that expedites check-ins and encourages patients to review your practice. If you are looking into possible upgrades for your clinic, then why not explore electronic registration with marketing options such as review submission and new-patient referrals? (Read more on how tablets are improving patient experience.)
Healthgrades is just one of many review sites that should be part of your online reputation management strategy. Take a moment to evaluate if you are currently covering all your bases and making the most of your online reputation as a tool to grow your medical practice. If you are not, it is not too late to start. A well- managed online reputation is likely to help you grow your practice and give you increased credibility among your current patients.