In the mobile-first era, it is no surprise that consumers will go online to "do their homework" when shopping for — well, literally anything. It can be dinner at a nearby restaurant, an executive suite in a hotel out of town, a fancy new dress or a brand new car… whatever. Modern consumers are combing through all the information at their fingertips, through smartphones, word-of-mouth, and social media to weigh pros and cons before purchasing.
Consumers are relying on the feedback of previous happy (or unsatisfied) customers in order to make purchase decisions. They're also turning to this same online sleuthing when making decisions with a bit more impact than what's for dinner — decisions that impact their quality of life, the health of their children, and in some instances, life or death.
This guide will cover:
For Health Care, Patient Feedback is Trending
More patients than ever are turning to online physician and hospital reviews to search for (and choose) doctors. According to a 2014 survey, the number of patients using online reviews increased 68 percent from 2013 to 2014. Almost 50 percent of survey participants said they would go out-of-network for a doctor with favorable online reviews. Many of these patients are also more likely to have private insurance.
As the healthcare segment becomes increasingly patient-centric, having online profiles and positive patient feedback is not only advantageous — it is a necessity. Creating, maintaining, and managing your online reputation could become key to attracting and retaining patients.
But why should you welcome critiques from unhappy patients who didn't see the results they wanted? You are, after all, in the business of science, where the customer isn't always right and you can't cure everything every time.
Right?
Fortunately, negative patient feedback isn't as plentiful as positive. To ensure positive reviews for your practice, continue to improve listening skills and diagnostic accuracy. However, when negative reviews occur, it's important to have a strategy in place. Respond in order to:
Satisfy the reviewer.
Maintain a positive online reputation and brand image.
Remain in HIPAA compliance.
Physicians and healthcare professionals have an increasing interest in patient feedback management. Armed with the knowledge that many patients, caregivers, and family members are discussing symptoms, diagnoses, and doctors online, healthcare has gone digital.
Practicing physicians benefit from actively monitoring their online presence and managing patient reviews. If they don't? What starts off as a single small flame can grow into a raging wildfire, with the power to impact a practice's bottom line.
As physicians and healthcare providers work on their overall strategy, it is essential to be cognizant of families and caregivers conducting searches that seek to provide a second opinion, a hopeful alternative or a diagnosis.
When building content for your website or review sites, try not to minimize the importance of catering to this group. This can be achieved by highlighting unique or experimental procedures, providing patient testimonies specific to rare diseases or breaking down complex procedures into understandable vernacular.
Doctors should not limit themselves to referrals from the medical community. Putting information out in the open will help you connect with patients or relatives making life and death decisions on behalf of a loved one. Don't let press coverage be the only source of info available to those that need you the most. Take a look at how Johns Hopkins Facial Prosthetics Clinic makes the best use of patient testimonies here.

Online Patient Feedback: The Facts and Numbers
A 2011 study by the Pew Research Center shows that almost 80 percent of those online and 60 percent of all adults have used the Internet to look for health information or information about healthcare providers.
These statistics highlight why even reluctant medical practices and doctors should focus their attention on online reputation management. Information that in the past would find no traction nor audience is rising to the top of search engines and getting seen.
You can choose to ignore the overwhelming trends or you can embrace them and use them to your advantage. You can turn this massive push towards medical information to your favor, but you must start by promoting your brand online.
So what does online reputation management look like?
Most notably, it is how you choose to monitor, address, or assuage your online reviews, social media mentions, and search engine result page frontrunners. There are many platforms available for patients to place public "grades" on their physicians or medical experience. As such, the healthcare sector is notably visible online and visibility will only get more wide-sweeping and pervasive with time. Getting ahead of the curve is of utmost importance.
Case Studies
Take a look at how Fresh Image Cosmetic Surgery and Skin Images is using positive reviews to their advantage right on their web page. Notice how Dr. John Standefer highlights his position as "Top Doctor" on the review site RealSelf, while also executing other reputation enhancers such as listing awards and accolades as well as "Before and After" images.
By publishing positive reviews right on his page, Standefer is not only promoting past positive outcomes to prospective patients but also enticing others he's treated to provide a review as well.
Their approach to diversification and amplification through review sites has resulted in page domination when a potential customer conducts a brand-specific search. Notice that the clinic takes over the page; first, with a Google ad and second, with an active Facebook presence.
Their accompanying social media mix is a fantastic combination of informational content and brand promotion. They post regularly and take great care to help put real faces to the practice's name.
Mckinney Pediatric Dentistry is another great example of a practice providing direct access to reviews right on their website. Take a look at their Google reviews, where they maintain a unanimous 5-star review, as well as those on Yelp. Notice that their name and domain name are conducive to search responsiveness.
What Truly Matters to Your Patient
Let's take a look at the priorities driving the selection of a medical provider as captured by a survey conducted by the Journal of the American Medical Association. By understanding prevalent motivating factors, we can better prioritize our approach to online reputation management.
A well-managed online reputation functions as an early alert system, potentially protecting your medical practice from possible malpractice liability issues. Meaning, you'll be able to detect problems and make the appropriate changes before things go too far and you have an irreversible catastrophe on your hands.
As Shlomo Bernatzi notes in his book, The Smarter Screen: Surprising Ways to Influence and Improve Online Behavior, individuals are more likely to share private matters with a screen than they are with a face.
Moreover, you can't ignore the fact that engaging in online reputation management is a great way to help you connect with new patients — 24 hours a day, 7 days a week. Millennials, specifically, are far more likely to book appointments online than wait on hold. They are more likely to seek out information online than call with a question. Your online availability, alongside a carefully monitored and managed reputation, is key to reaching as many people as possible.
Read MORE: Sizing Up the Millennials: Report Reveals Key Digital Trends and Strategies for Healthcare Industry Marketers

Develop a Patient Feedback Strategy in 7 Steps
In order to establish a proper online reputation management strategy, you must first engage in some offline preparation. Meet with your team to discuss best practices for translating your brand online. Then set up Google Alerts with the name of your practice, practicing physicians, and any search terms which you believe are identifying. This will give you a clearer picture of when and how you're being talked about online.
Now that you have the capability to monitor online discussions about yourself in real time, it's also important to investigate what's already been said and what's getting the most traction on search engines. Run a few search engine tests to see what's appearing on page one when searching for the name of your practice or hospital, etc. Is it a bunch of 5-star reviews that will help get prospective patients through your doors or is it a scathing blog post about a long waiting room experience?
Identify your patients and prospective patients. Who are the people you are already reaching? Note important characteristics and demographics. How can you work towards cementing a positive reputation with this existing clientele online? How can you ensure they are seeing positive depictions of your brand and practice?
If you haven't done so already, start a website or blog and claim or create social media pages, and physician profile pages. Scattering your visibility across multiple platforms allows you to have more control over what people are seeing when they type your name into a search engine. Creating content for these sites may seem burdensome at first, but once you find a rhythm you'll learn how convenient this sort of information dissemination can be towards informing and garnering new patients. (Check out: "Doctors, Hospitals, and Healthcare Marketers and Organizations: A List of Online Review Sites You Track and Manage")
Once you've established these initial online spaces, branch out to other social media and professional profiles. Having a positive presence on social media platforms will go a long way in driving down unwanted search results while professional profiles on sites like LinkedIn will rank highly on search results and provide extra online credibility.
Closely monitor your online reviews and mentions and keep track of the amount of positives versus negatives. If you find poor reviews to far outweigh their positive counterparts, there may be more steps you need to tackle offline than online. Sit down with your group and review what's being said. If a particular staff member is routinely generating negative reviews, dealing with the matter internally will go a long way towards curbing online negativity.
Finally, study your competitor's online reputation and social media profiles. What are they doing right? What are they getting wrong? How can you borrow their best tactics while avoiding any problems you identify? Examine their reviews and find ways to set yourself apart.
Best Practices For Engaging With Patients on Digital Platforms
Manage Review Site Pages
We mentioned it before, but it bears repeating: people will check you out on review sites whether or not you claim your page. You should go ahead and claim them, then spend some time providing any relevant information you deem important. Choose to use review sites as a positive way of impacting online visitors, whether they're coming to do their homework on local practitioners, complain about a poor experience, or sing your praises. Any interaction holds the possibility of becoming something positive.
Add as many details to your pages as is allowed by the site, such as;
Address
Hours
Specialties
Accepted Insurance
Physicians
Parking and
Awards
After outfitting your page with these details, your focus can shift to responding to patient reviews. Always thank reviewers for taking the time to leave their feedback. When responding, do so with the same level of professionalism you would extend if you were meeting with this patient face-to-face. However, keep in mind:
Patient privacy. Be mindful of laws in place to protect patients and their privacy. Unlike other industries, those tasked with responding to reviews and reputation management must be aware of the legal implications inherent in their job. Responses to patients must meet the standards set by the U.S. Department of Health and Human Services. Sometimes silence is the only legal response, even if it means you can't always respond to problems voiced on review sites in order to protect a patient's privacy, even if your hospital took all the appropriate actions.
Generalizations. When deciding to respond to a negative online review, do so by providing examples rather than case-specific information. Offer general statements referencing standard operational procedures and examples of similar instances to the patient's experience. Using actual cases is not always the best source material when it comes to online reviews. But that doesn't mean you can't utilize examples when defending an argument or illustrating a point when responding to reviews.
Approval. All policies associated with review responses of a medical practice should first be approved by your legal counsel and aligned with any regulatory standards set forth by your state licensing authority.
Benefits of Responding to Your Positive Reviews
1. Responding to positive reviews personalizes the patient experience. Even if your response is just a simple "Thank you," the reviewer will feel they've been heard and that an open dialogue is welcome.
2. Responding to positive reviews allows practitioners to expand on topics that may be relevant to a wider audience. When prospective clients are scrolling through reviews, they're no doubt noticing the responses as well. Procedures that a reviewer hints at or positive protocol that is mentioned in passing can become a great springboard for you to inform those reading about the details. In doing so, your response will be just as persuasive as a great star rating.
3. Responding to positive patient reviews quickly demonstrates a heightened level of care. Whether they mean to or not, readers may equate a lack of response online to a lack of care offline. Timeliness is a key way in keeping readers from making a negative connection.
4. Responding to positive patient reviews shows superior virtual bedside manner. Imagine your reviewer is sitting in your practice. You would want to respond in the friendliest and most professional way possible! Extend this same courtesy to your online conversations.
5. Responding to positive patient reviews can potentially improve your offsite SEO by allowing you to include content that incorporates keywords commonly used in searches by potential patients. Research relevant keywords and do your part to make yourself as easy to find as possible. Just a little legwork goes a long way in helping your responses to work for you.

Review Platforms for Medical Providers
Once you've established a reputation strategy, you'll want to discover which review sites to engage and manage. Remember: patients will talk about, review, promote your practice, or dissuade prospective patients on these sites WHETHER OR NOT you make the time to monitor and manage your profile. You may as well join in on the conversation!
Yelp
Yelp is one of the world's biggest review sites – with lots of business categories to choose from, including physicians and healthcare providers. To claim your practice listing on Yelp for Business, just visit https://biz.yelp.com/. You can also check out the ReviewTrackers guide on claiming your Yelp page.
Healthgrades
You can claim and maintain a free profile on Healthgrades by registering on the site at https://update.healthgrades.com. The site also features sponsored programs for providers looking to promote their practice. If you're managing or marketing a hospital or other healthcare facility, be sure to check out Healthgrades' solutions suite to foster growth, expand engagement, and improve performance.
Vitals
To claim your listing on Vitals, visit vitals.com and sign up. You can manage and edit your information, including display name, practice address, specialties and expertise, and education and awards. Once you've established a profile, you can begin responding to reviews.
Wellness.com
You can get listed on Wellness.com by enrolling in their Wellness Provider Program. Visit http://www.wellness.com/docs/12761/wellness-provider-program and use the search box to find and claim your business page. To see if you're already listed, go to http://www.wellness.com/provider/public/search.
Google My Business
To create or edit your listing on Google, visit the Google My Business page at www.google.com/business. You can also check ReviewTrackers' guide on how to claim your listing via Google My Business.
Having Google reviews and a Google My Business account is key to domination! When folks turn to Google to search for a particular medical specialty plus the word "best," you want to be one of the search engine frontrunners. Oftentimes, Googling "best dermatologist + city" will result in a Google My Business search result first.
Do you practice a specialized medicine such as dermatology? Take a look at the examples below.
ZocDoc
To claim and manage your ZocDoc listing – as well as set up instant online bookings and build up your positive reviews – go to https://www.zocdoc.com/join/Start. ZocDoc is helping increase the number of annual doctor visits through targeted emails. The messages offer recommendations and allow readers to click through and make an appointment immediately.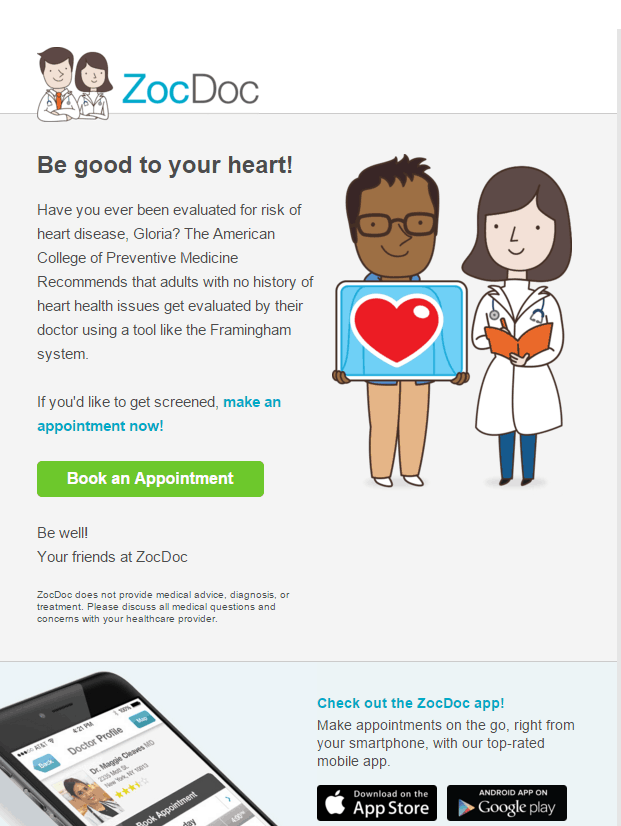 RateMDs
Doctors and healthcare providers are listed on RateMDs free of charge. To claim, manage, and edit your listing, click on Claim Doctor Profile located at the top of your reviews page. You can also contact RateMDs to remove fake listings you may find.
Dr. Oogle
Dr. Oogle can generate listings of your dental practice – with or without consent – because your information is  made publicly available by the State Dental Board. You can maintain your listing's accuracy and update your office information by going to https://www.dr-oogle.com/sitemap1.cfm.
Doctor.com
http://www.doctor.com/
Signing up for Doctor.com gives you visibility on all sites available through its network, as well as access to review generation tools, a Showcase Page for your practice, and various consultants with a diverse knowledge base. For more information, visit http://www.doctor.com/providers.
Real Patient Ratings
Real Patient Ratings houses one of the largest databases of verified plastic surgery patient reviews. The reviews generated by the site are the result of surveys completed by patients who have visited a qualified doctor's office. Plastic surgeons can sign up for reviews from Real Patient Ratings by visiting http://www.therealratingsgroup.com/deliver-amazing-patient-experiences-and-grow-your-online-reviews/.
RealSelf
Another site providing patients with reviews of plastic surgeons and cosmetic treatments is RealSelf. You can claim your practice's listing on RealSelf's website by going to http://www.realself.com/dr/claimprofile.
UCompareHealthCare
http://www.ucomparehealthcare.com/
UCompareHealthCare allows users to search by location, specialty, or doctor name. The site offers highly comprehensive comparisons of healthcare providers based on data from federal and state government agencies and multiple third-party sources. Your practice is probably already listed on the site, but if it isn't, contact the UCompareHealthCare team to add your listing.

Establish an Online Healthcare Digital Presence
Healthcare information travels fast and travels far thanks to the power of the Internet. As a result, establishing an online presence is quickly becoming a necessity for medical practices and healthcare professionals.
It's best to sit down with everyone involved in your organization or brand to determine your own unique set of reasons why venturing online will prove beneficial. Are you combatting low patient numbers? Do you want to disseminate information about a particular illness plaguing your area? Or are you simply interested in finding out what people have to say about your practice?
Although you're taking reputation management online, it is still about actual patient feedback. It's about communicating with these people and developing relationships and, hopefully, trust.
Your online digital presence should be about growing this audience. It should be about engaging and educating them. Your aim should be improving outcomes and patient satisfaction, and only THEN, by achieving those things first, about improving your bottom line.
The Type of Medicine Matters
Admittedly, your reputation management will differ based on the type of medicine practiced. The sort of online patient reviews that a plastic surgeon engenders is going to look different from that of a mental health provider.
While experiential factors, such as quality of care and length of wait times, are important across the board, diagnostic accuracy is not so important to the recipient of cosmetic surgery who is instead seeking visible results.
Meanwhile, listening skills and ease of appointment scheduling are extremely important to patients of mental health providers. Take a look at the reviews of other practices, clinics, and physicians in your field. What sorts of things are high priority items for these patients? Cater your patient feedback strategy, both offline and on, around the specific needs of your type of medicine.
How should therapists handle reviews?
Asking for psychiatrist recommendations from your friends or coworkers could be a difficult or embarrassing conversation to have. It doesn't come quite as naturally as asking around at the block party if anyone has a good G.P.
Due to the veil of secrecy so many place over the topic of mental health wellness and care, turning to online review sites can be a helpful resource for those seeking a provider. Unfortunately, many therapists worry about the implications of an active Yelp page. Will negative reviews impact their numbers? Or even force them to alter the way they practice?
Not necessarily. It's important to remember the intention of review sites is to help consumers make informed choices. Completely blocking a patient's ability to share their experiences is not helpful. You certainly shouldn't specifically ask patients not to review you.
Instead, consider placing disclaimers on your pages asking clients to keep confidentiality in mind before writing or posting. Many times they have simply failed to consider how much personal information they are including before hitting publish.
Also, consider pointing reviewers in a direction that would be most helpful to readers looking for the right therapist. Professionalism, listening skills, and overall satisfaction with the session are all topics that can be discussed without implicating confidentiality.
Case Study: Dr. Mandy Warthan, MD 
Dr. Warthan is a dermatologist practicing in McKinney, TX and her office scores an average Yelp rating of 1.5 stars. Take a look at a few of her reviews. If her practice made reading reviews a priority, perhaps they could have avoided the avalanche of negative reviews that have piled up over the years. Once read, they could work towards correcting the offending practices and behaviors immediately. Overwhelmingly, reviewers are seeking stronger clarity regarding billing procedures. Just a simple change in administrative systems could bolster their rating and go a long way in repairing their online reputation.
6 Reasons You Need to Establish and Monitor a Social Media Presence
It's crucial in gaining younger patients. Half of the world's population is under 30 and they spend an increasing amount of time on social media platforms. Social media is where the younger generation is conversing, sharing, and learning. Failing to engage with these potential patients on their "home turf" could prove irreparable in marketing to them.
Provide valuable information. Physicians have knowledge to share with the masses and social media makes for a fantastic microphone. Many doctors feel called to partake in outreach opportunities specific to their area of expertise. Jumping on social platforms is a great way to "rally the troops" and get support for causes as well as disseminate life-saving information. You never know who may be reading!
Make healthcare a shared experience. Health and human beings are both very social entities. Healthcare? Not so much. You have the opportunity to change that. For years, healthcare has existed in a vacuum, reserved for private conversations amongst close friends. Reaching out to patients seemed only possible through word-of-mouth referrals and barebones advertising. This approach ran counter to the very human qualities so many seek in good healthcare providers — great listening skills, a warm smile, a shoulder to lean on. Social media can humanize your brand, allowing others to see your physicians and staff as real people.
Open up lines of communication. Millennials are not as likely to communicate via phone as past generations. Perhaps they perceive turning to the Internet to be a quicker route to answers or perhaps they're cautious about making private phone calls in a shared office space during work hours. Whatever the case may be, millennials would rather avoid a phone call. As a result, opening up multiple lines of communication is more necessary than ever.
Everyone's doing it! Other professional sectors have laid the groundwork with tutorials and best practice examples. Mimic their successes and learn from their failures. While medicine is a vastly different field from so many businesses out there, this doesn't mean the resources available aren't applicable.
Reach those who would otherwise fall through the cracks. Social media straddles demographic divides which may exist offline. The fastest growing demographic of Facebook users are women over 55. A quarter of adults in urban areas use Twitter. And roughly half of young adults (18-29) are active on Instagram. With a little digging, you can determine which markets your current methods are failing to reach and extend your efforts to include these alternative platforms.
Using social media effectively
Make connections. Network with peers and colleagues. Opportunities to connect exist outside the patient pool. Follow other practices and stay on top of trends in your field. Due to privacy regulations, sometimes turning to a colleague for an online testimonial is the easiest legal road to take. Make sure you return the favor!
Join communities. Share information and findings with the larger medical community. Join networks relevant to your area or specialty. Join in the conversation with these communities. Not only will this assist you in staying abreast of what's happening, but it goes a long way in legitimizing your brand for your followers.
Expand bedside manner. Increase quality of care by communicating authentically with patients before and after their visits. You want to create the perception that lines of communication are open, even when a patient isn't inside your four walls. Patients love feeling heard. Even if they're not jumping at the chance to communicate on your accounts, it's the option to do so that matters most.
Uphold privacy regulations. Maintain compliance with all rules and regulations pertaining to patient privacy and information. Run ideas past your legal counsel. Always check if you have any doubts about whether a post or public communication with a patient is compliant or not.
Share cautiously. Seek patient authorization before publishing any images, testimonials, or reprinted reviews. These are fantastic tools for bolstering your social media pages, but you must make sure you have permission first!
Work as a team. Establish employee policies and training for any staff with access to social media accounts to set up best practices, discuss legal issues, and work towards a cohesive vision of your overall social media messaging.
Set goals. Develop metrics for success that can be shared with executive leadership. Setting social media goals can keep you on track and assure that all members of your team are working towards the same overarching vision.
Using Net Promoter Scores
Some medical practices can implement Net Promoter Score surveys as a means to capture patient satisfaction early on. A Net Promoter Score is a scale that ranges from -100 to +100 and measures how willing your customer base is to recommend your services to their friends or family. The number is then used as a proxy for overall satisfaction — in this case, patient satisfaction — and brand loyalty.
For example, a practice may ask their patients to fill out a short survey at the completion of an exam. One question asks the patient, "How likely are you to recommend?" and offers a scale from 0 to 10 with 0 being extremely unlikely and 10 being extremely likely.
Those answering this question with a 9 or a 10 are considered your promoters. Those falling in the 7-8 range are passive and 0-6 are your detractors. To establish a Net Promoter Score, a percentage of detractors is subtracted from the percentage of promoters.
Let's say your practice has 35 percent promoters, 45 percent passive, and 20 percent detractors.

35% – 20% = a Net Promoter Score of +15.

Your practice holds a Net Promoter Score of +15.
You can utilize Net Promoter Scores to learn more about what is most important to your patients as well as a means to benchmark goals. (Check out: "7 Ways You Can Use Net Promoter Scores (NPS) to Improve Online Reputation and Customer Satisfaction")
How to Better Serve Your Patients Online  
Content is king. According to the healthcare communications agency GSW, "90 percent of people turn to the Web first for information about consumer products or services and 72 percent of people treat their health questions the same way." That's quite a market for useful information pertaining to medical and healthcare practices. Online advertisements are typically no more than a name and a memorable catchphrase, often going completely unnoticed by your audience. As a result, smart marketers are turning to captivating content to engage potential patients. Brands using this tactic to great effect are embracing the idea that medicine should be patient-centric — offering guidance from experts, sharing patient experiences, and providing opportunities for readers to connect within a larger community. You must ask yourself what challenges or frustrations are your patients facing in their everyday lives. And create content which responds to these unique set of needs.
Achieve greater reach through social media. Social media is a highly personal and personalized experience; so too is the healthcare experience. Patients are emboldened to have their voices heard on matters of medicine, and they're turning to social media as a megaphone. In an effort to keep up with the conversation, you must follow suit and turn to social media to achieve the greatest reach possible. Many healthcare practices are finding positive results on these platforms. Utilize social media to create excitement, post content (see above), drum up interest from prospective clients, and stay connected.
Press play. Information about healthcare can be dense and difficult to read. To keep their messages legible, healthcare brands are turning to online videos to dispense branded information in a palatable way. We know that a majority of our media time in the U.S. is spent on mobile devices, so if you're going to try this approach take heed. Create a condensed message for your viewer and ensure they can watch it on-the-go. Many other markets have found captive audiences this way. As mobile stays put as the leading digital platform, why not follow suit?
Going local. More often than not, consumers are turning to their mobile devices to find establishments to meet their current needs. Meaning, you can harness the power of location-based tactics and advertising. It's easier than ever to get targeted content and coupons into the cell-phone holding hands of those nearest to you. The previously cited GSW study shows that 62 percent of people will show a good deal to their friends and 57 percent are more likely to take advantage of a location-based ad. Going local could be a priceless step towards achieving your positive online reputation.
Offering answers to recurring questions. Once you're in the habit of collecting your feedback on review sites and social media, you may notice certain trends emerging. Perhaps the same condition-specific questions continue to surface time and time again. Whether this questions arose as the result of medical developments or some false information circling about on the Internet, successful medical brand managers will simply answer the question, rather than touting credentials. In doing so, you'll showcase a quality of care which prioritizes patients and clear up confusion about what matters most to them.
"Before and After" images. The old saying is true, a picture can be worth a thousand words. Providing patients with "Before and After" images on your pages can be a very powerful tool when applicable. Cosmetic procedures, bariatrics, and complex surgical procedures all stand to benefit from a more visual approach. However, the greatest examples of utilizing this approach effectively are careful to consider context. Make sure to offer a well-written testimonial alongside the image to round out the story of the pictured patient's journey. When taking this approach, always obtain the patient's permission to publish and when applicable, protect their privacy.
Stay on top of medical trends. The newer the procedure, prescription, or technique, the more likely your patients and prospective patients are jumping on Google to learn more. Stay on top of these trends and commit to becoming an early adopter. Talk about the benefits and provide first-hand accounts of your experiences. You stand to gain so much by sharing what's "new" with your followers.
Implications for Healthcare Networks
The expanding library of patient reviews available online carries a few implications for healthcare networks. Most notably, a negative review can impact the brand of the entire network. As a result, you want to encourage those within your network to manage and respond with the brand in mind.
It's also important to note that negative reviews network-wide impact upward price elasticity. A network is best protected when each individual provider maintains their own personal professional profiles on medical websites. This way, comments are directed to the appropriate provider instead of the brand.
However, negative reviews DO carry the ability to help you identify and understand unit-specific issues. Moreover, it may also be important to note that Yelp has begun adding health care statistics to medical business listings. In exchange for providing these statistics to Yelp, the non-profit ProPublica will gain access to all healthcare reviews on Yelp's site. They can then use this information in news research.
From Patient Feedback to Patient Satisfaction
What was once considered far too subjective to measure is now proving more important than ever. Patient satisfaction is now a contributing factor in regulating how much money a hospital will receive from the federal government.
Recently, data on patient satisfaction has been taken into account when the government decides how much money to reimburse medical institutions for their care of Medicare patients. Because patients turning to online rating outlets have vastly different expectations than medical professionals, it's important to consider a few things. Patients will often discuss how nice or pleasant their interactions were rather than clinical outcomes. They may write off any hope of "satisfaction" before they've even been seen, simply because of a lengthy wait time or a disorganized administrative step. The information your reviews garner is valuable in helping you achieve maximum patient satisfaction both offline and online.
It seems scrolling through a cacophony of online reviews is a major stop along the road to making any purchase, even visits to the doctor. It's safe to say health care has arrived in the digital age. Hopefully, armed with new knowledge, best practices, and implications of online patient reviews, you've learned how integral a good online reputation is to the success of your practice. This isn't some passing fad. If you get on board and start directing the conversation, you'll be spring-boarding into monumental success.