The growing number of healthcare review platforms like Zocdoc gives medical practices an online presence. With Zocdoc reviews, doctors can gain new patients and increase their reputation.
Having an online footprint is essential, especially in the healthcare industry.Data shows that only 5 percent of healthcare providers consider themselves as digital-first organizations. This statistic needs to increase in light of the fact that 68 percent of consumers will refer to online reviews, research sites, and social media to find health-related information or a new healthcare provider.
Reviews aren't the only feature available on Zocdoc. A simple scheduling system and the ability to fill out basic forms are also included to create a better healthcare experience.
How To Claim Your Practice on Zocdoc
Step 1: Fill out the form on the company's "Get Started" page. It asks for important information such as your full name, phone number, email address, zipcode, and medical specialty.
Step 2: Talk to Zocdoc and get a demo. The company will look at your information before getting back to you within one business day to "make sure Zocdoc is a great fit for your practice and review your qualifications." You also have the option to invite more doctors to join the platform.
You'll also get a free demo of the software so make sure that you have a decent Internet connection and a laptop (PC or Mac) when a company representative calls you.
Step 3: Set up your profile. In addition to your name and specialty, your Zocdoc profile will list other valuable information such as your board certifications, the address of your practice, the languages you speak, and a brief professional statement.
Step 4: Set up your calendar. Zocdoc's booking system is compatible with most patient management systems, which makes it easier for you to see up-to-date schedules every day. Patients will be able to see the date of your next available slot, and choose the perfect time for their appointment.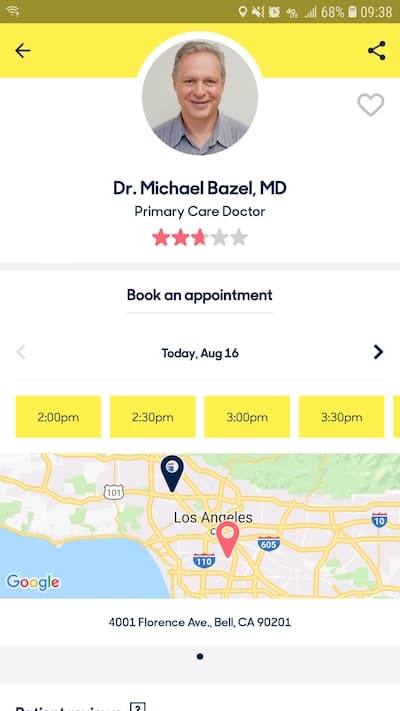 Step 5: Look at review options. For most practices, Zocdoc's Patient Reviews are provide more than enough feedback on the experience. After an appointment, Zocdoc will ask the patient to write a review of their experience. In addition to an overall score, patients will give a one- to five-star rating on a doctor's bedside manner and wait time in the office.
For practices or hospitals with a larger set of patients there are Partner Reviews. Zocdoc utilizes a third-party review system in order to provide you with a more in-depth look at the experience of each patient.
Convenient Online Booking on Zocdoc
Zocdoc offers a booking feature directly on the app that lets patients schedule an appointment at any time. They can also get timely notifications through their phone calendar or SMS messaging that will remind them of an upcoming visit.
The addition of an online booking system provides an immediate and convenient solution for patients. Rather than waiting on the phone with a secretary to figure out the best time for an appointment, they can use Zocdoc to see the available times with a press of a button.


Forms and Reviews, Simplified on Zocdoc
Online booking isn't the only way to save time. Before they even step in the door, patients can use apps like ZocDoc to fill out the required health and insurance forms. This could result in less waiting time and allows you to see more patients in one day.
After the visit, Zocdoc will ask patients to leave a review on your profile page. This feedback also helps other patients who are currently looking for a new doctor. With enough positive reviews on Zocdoc, you can garner an online reputation that can bring in more patients to your practice. If you're already established on multiple review sites, you can easily monitor each review on the ReviewTrackers platform.
More Zocdoc Reviews + More Exposure = More Patients
The features of an app like Zocdoc not only bring healthcare to the digital age, but they also create a quick and stress-free experience for the patient. This, in turn, might entice them to post an online review.
A majority of patients — about 81 percent — read online reviews, and 60 percent will choose their healthcare provider based on positive online feedback. However, it's not just patients who pay attention to online reviews. In today's healthcare industry, 85 percent of doctors actively monitor their online reputation.
The days of recommending a doctor by word of mouth are waning. Now, it's all about fostering your online reputation, which isn't difficult at all. Check out our handy guide to claiming your medical practice on 12 major review sites.