Download 43 free review response templates for negative and positive reviews
Get the templates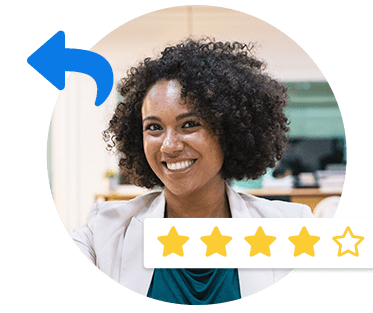 There is a vital shift happening right now in healthcare.
People are bringing technology-fueled expectations to their patient experience, and they are demanding innovation in the way care is delivered and managed.
Just like in retail, travel and transportation, financial services, automotive, and nearly every industry, the old fee-for-service and fix-what's-broken approach is no longer enough.
The increasingly wired populace and a growing class of savvy, empowered consumers want more options, fairer prices, greater convenience, and better interactions across the continuum of care. And they are voicing their desire for all these through online reviews and patient feedback, which play an increasing role in helping other consumers make smarter healthcare decisions.
Whether it's in the form of a detailed review on Google or Facebook, an overall star rating on Dr. Oogle or Healthgrades, personal recommendations on ZocDoc or Vitals, or candid comments on social media, the opinions, experiences, and feedback shared by patients have the power to influence the behavior of those looking for care.
Approximately

85 percent

of consumers are now at least "moderately likely" to choose a doctor over another based on high ratings and positive reviews. (

Vitals

)

62 percent

of survey respondents said they turn to online reviews as the first step to finding a new doctor. (

Software Advice

)

Based on positive reviews, patients value doctors' excellent customer service and bedside manner more than they do the level of medical skill; patients who post negative reviews complain most about poor service and bedside manner four times as much as they do about misdiagnoses and inadequate medical skills (only

21.5 percent

of the negative reviews cited medical skill as a major concern). (

Vanguard Communications

)
These numbers demonstrate that healthcare executives must focus on managing online reviews and patient feedback in order to deliver better patient experiences.
To download the case study, please click "Read it now."
Customer Success Story: Nicklaus Children's Hospital
Nicklaus Children's Hospital is one of the leading pediatric hospitals in the nation. It's part of Miami Children's Health System, the area's only healthcare system fully dedicated to pediatric care.
According to Nicklaus Children's Hospital's marketing coordinator, Saran Zamora, and web marketing manager, Robert Prieto, company stakeholders wanted a better method for capturing patient feedback, particularly those posted on web review sites.
Enter ReviewTrackers, the award-winning online review management and customer feedback software platform.
"With ReviewTrackers, we can get granular insights and a snapshot of what the overall sentiment is for all of our reviews," said Prieto. "(And) we get an overall star rating for a particular medical group or a particular doctor."
Zamora added, "ReviewTrackers is a piece that allows us to really gauge the sentiment and the perception of a particular group of physicians or a particular physician, or a location. The leadership teams are able to gain insight into the customer experience."
To read our full Q&A with Zamora and Prieto, download the customer success story below.