Still doubtful of the impact that online reviews have on your business? Here's a story that we hope will put those doubts to rest.
Last year, restaurateurs Dominic Richiano and Brian Kozak bought Caffe dell'Amore, an Italian restaurant in Naples, FL. At the time, it was ranked 195th out of over 500 restaurants in the area on travel reviews aggregator TripAdvisor. It didn't have better ratings on similar review sites like Yelp, OpenTable, and Urbanspoon.
"To think of myself as being 195th at anything was just unacceptable," Richiano said in an interview with News-Press.com.
So here's what he and Kozak did. They brought new life to Caffe dell'Amore. They gave the dining room a makeover. They expanded the menu, and – true to the tradition of great Italian cuisine – they enhanced the restaurant's selection of wines.
The work didn't stop there, though. Realizing the increasing impact and influence of online reviews, Richiano and Kozak also began closely monitoring restaurant reviews – keeping an eye on what customers were saying about their business, staying aware of how they compared to other Naples restaurants, and finding ways (both online and offline) to steadily improve Caffe dell'Amore's reviews, ratings, and rankings on the Internet.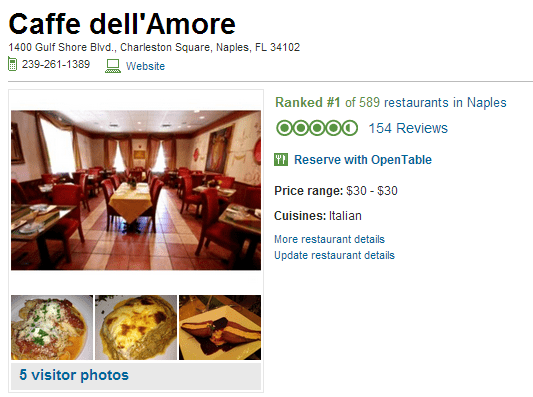 Not only did they take the time to respond to bad reviews on TripAdvisor; they also personally thanked happy customers who left positive comments. They claimed their listing on OpenTable and set up online reservations through the OpenTable platform. Caffe dell'Amore's website was also redesigned to integrate a TripAdvisor widget displaying the restaurant's most recent traveler reviews.
Richiano and Kozak also put up a TripAdvisor sticker on the restaurant's front door that says, "We value your opinion."
The result? Caffe dell'Amore is currently ranked Number 1 on TripAdvisor's list of top restaurants in Naples. It has been Number 1 since Thanksgiving (2012), and has an aggregated rating of 4.5 out of 5 stars. So far it has generated a total of 154 reviews, 124 of which say that the restaurant is "excellent." Caffe dell'Amore was also named as a 2012 OpenTable Diner's Choice Award Winner, and now consistently gets five-star ratings and glowing reviews.
"We went to this restaurant with RAVE reviews from three different groups of people," read one of the TripAdvisor reviews. "The food was amazing, but what I love is the owner, Dominic's passion for his food and his craft, he was wonderful. We cannot wait to return to Florida…this will be our first stop for dinner!"
The impact of the two restaurateurs' proactive review monitoring is undeniable. "I'd say 90 to 95 percent of the new customers who find us are from TripAdvisor," Richiano said. "We respect TripAdvisor tremendously, it's just an incredible tool and it was a big day for us when we went Number 1."
Photo credit: