With a database of millions of accommodations, airlines, experiences, and restaurants, travel website Tripadvisor is a great platform for businesses looking to connect and engage with travel consumers and guests.
If you are listed on Tripadvisor, you can take advantage of its suite of marketing tools by claiming your Tripadvisor business page for free.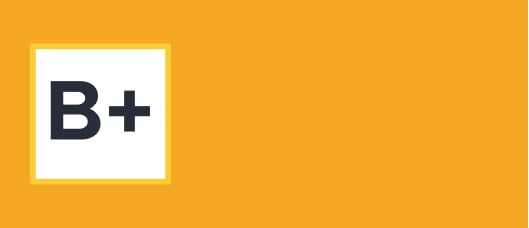 Find out your brand's online reputation score
Take the guesswork out of your strategy. Instantly generate your brand's online Reputation Scorecard, complete with review highlights, ratings, keyword trends and more.
Claiming your business gives you access to Tripadvisor's Management Center, where you can update your business information, manage and respond to Tripadvisor reviews, answer users' questions, flag reviews for removal, receive alerts when you get new online reviews, and upload photos and videos. (Management Center can also be accessed using the Tripadvisor owner app.)
Accommodations and restaurants can boost their performance on Tripadvisor with additional advertising tools that are available for a fee. However, Tripadvisor currently isn't offering any premium tools for attractions.
You can also use online reputation management software to build your business reputation on Tripadvisor. With ReviewTrackers, you can monitor what your customers are saying on Tripadvisor, respond to their reviews, and create campaigns that make your Tripadvisor page stand out.  
Read below for details on Tripadvisor advertising options for accommodations and restaurants, plus: the costs to advertise on Tripadvisor.
For Accommodations: How to Advertise on Tripadvisor
There are 3 types of Tripadvisor advertising or premium tools that accommodations can use to attract more guests on the website.
Business Advantage
Tripadvisor Business Advantage features a suite of tools designed to better market your property or accommodation on Tripadvisor. Business Advantage can also direct Tripadvisor users to your direct booking channels.
Some of the tools you can use with a Business Advantage plan include:
Contact details

Search links

Mobile click-to-call buttons

Special offers and announcements

Enhanced analytics suite

Ability to download data
There are two Business Advantage plans to choose from: Standard Access and Preferred Access. The cost to advertise on Tripadvisor using Business Advantage starts at $499 a year. To sign up, visit: https://www.tripadvisor.com/BusinessAdvantage.
Instant Booking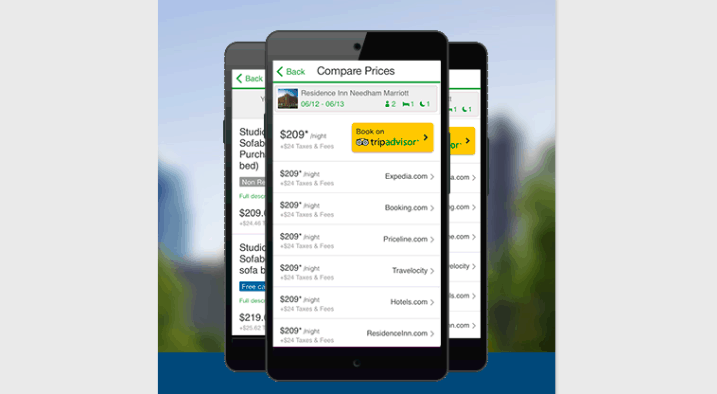 With Tripadvisor Instant Booking, travelers can reserve hotels and accommodations directly on the site. It's a great way for Tripadvisor businesses to capitalize on the website's traffic.
You'll receive the bookings directly through your connectivity partner and pay commissions only for completed stays. Connectivity partners include booking engines, channel managers, and property management systems.
Once Instant Booking is enabled, Tripadvisor will add a "Book on Tripadvisor" button on your Tripadvisor listing.
With Instant Booking, you can choose from two commission rates:
15 percent commission rate. This allows you to capture half of all "Book on Tripadvisor" traveler views (and the bookings that those views generate).

12 percent commission rate. This allows you to capture a quarter of all "Book on Tripadvisor" traveler views (and the bookings that those views generate).
For example, if "Book on Tripadvisor" is displayed 400 times for your property, and you've signed up at a 15 percent commission, your rates and availability will show at least 200 times out of the 100. At the 12 percent commission, your rates and availability will show at least 100 times.
Sponsored Placements
Accommodations can use this package to advertise their listing or property page in prominent places on Tripadvisor, such as the top of search results, "high-profile shopping pages," and even on the listings of local competitors.
There's no need to choose keywords or objectives, since this type of Tripadvisor ad features automated targeting.
You may choose from three budget options. Prices start at $2.69 a day. There are also $5.39 a day and $8.08 a day options. You can also set your own budget.
Sponsored Placements are risk-free. This means you pay only for the clicks you get and you can cancel at any time.
To sign your business up for Sponsored Placements, visit this page: www.TripAdvisor.com/business/sponsored-placements.
For Restaurants: How to Advertise on Tripadvisor
There are 2 types of Tripadvisor ads or premium tools that restaurants can use to attract more diners.
Tripadvisor Premium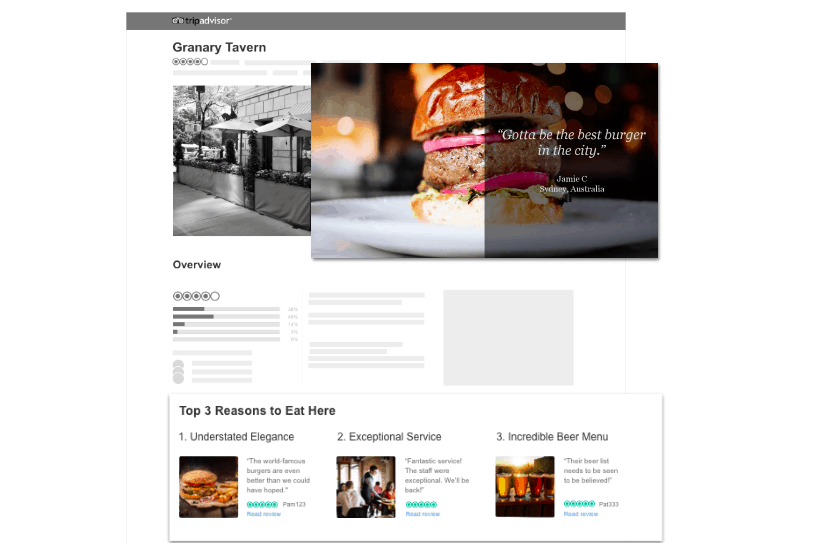 Tripadvisor Premium for restaurants gives you access to subscriber-only tools that can help you differentiate your restaurant's Tripadvisor page. Some of the features include:
Storyboard: This replaces a static image at the top of your listing with an eye-catching slideshow that showcases the best your restaurant has to offer.

Top 3 Reasons: This allows you to choose three aspects of your restaurant to highlight on your listing. The Top 3 Reasons section appears between Overview and your Tripadvisor reviews.

Favorite Review: This lets you handpick a customer review that showcases what your business is truly all about. Your Favorite Review appears in the second position of your profile or page.
Tripadvisor advertising costs for Premium varies. The exact price of a subscription is tailored to each property based on a variety of factors such as location, size, and traffic.
To sign up for Tripadvisor Premium, visit https://www.tripadvisor.com/Premium.
Tripadvisor Ads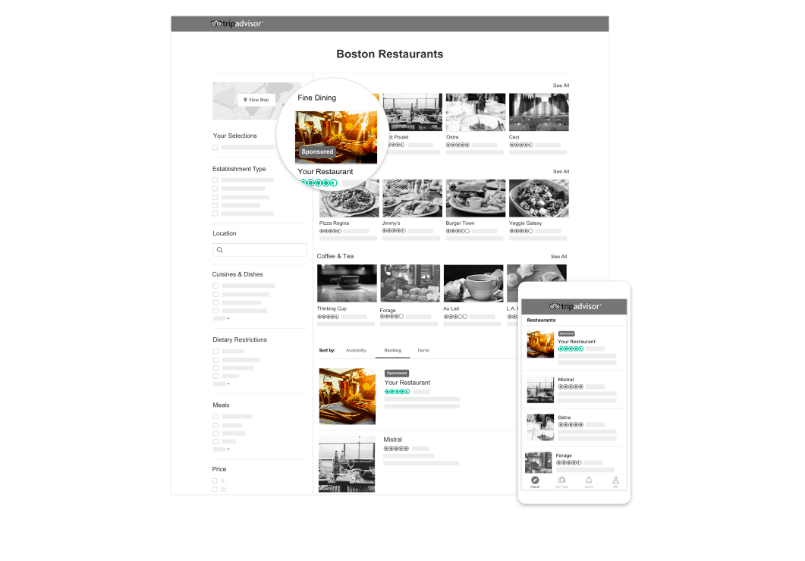 Tripadvisor Ads for restaurants drive traffic to your listing by promoting your restaurant in exclusive sponsored placements. These go to a targeted audience of diners looking for a place to eat in your given location.
Similar to Sponsored Placements for accommodations, Tripadvisor Ads for restaurants are risk-free. You pay only for the clicks you get.