Here at ReviewTrackers, we are committed to helping businesses transform the customer experience — by making it easy and simple to track, manage, and analyze online reviews and customer feedback.
As part of this commitment, we have been working with Hootsuite to bring the best customer feedback management experience to the world's most widely used social relationship platform.
The ReviewTrackers app in the Hootsuite App Directory is designed to support marketing and customer experience professionals as they uncover actionable insights from customer feedback across all major review sites, including Google, TripAdvisor, Facebook (Facebook Reviews), Foursquare, and Zomato.
By installing the app, you can create a Hootsuite tab with streams that display your business' online reviews and customer feedback, alongside social media comments and signals.
ReviewTrackers App on Hootsuite: Key Features
With the ReviewTrackers app on Hootsuite, you can:
View your online reviews in a Hootsuite stream

, with filtering options for organizing and managing all the customer feedback you care about.

Sort and search

for online reviews by the groups and locations you have created.

Sort and search

for online reviews by status label (In Progress, Responded, Do Not Respond).

Add your own notes

to ReviewTrackers from your Hootsuite dashboard, so you can stay updated, save your responses, or share additional information to your team. The notes you add on ReviewTrackers are also synced with the review data displayed on Hootsuite.    

Assign tasks to team members

so they can respond to and manage new reviews of your locations, directly on your Hootsuite dashboard.

Share your best reviews

across your social media pages and profiles, including Twitter, Facebook, LinkedIn, and Google.
The ability to manage online reviews on Hootsuite — using ReviewTrackers technology — is one of the features our customers have been asking for.
With 88 percent of consumers relying on online reviews in order to determine the quality of a business, ReviewTrackers helps companies listen to, manage, and respond to what their customers are saying online. More importantly, ReviewTrackers provides the data and insights companies need in order to understand customers better and deliver optimal customer experiences.
"One of the goals when we developed ReviewTrackers was to become the Hootsuite for online reviews," says Chris Campbell, ReviewTrackers founder and CEO. "We're thrilled to be able to partner with the leader in social relationship in supporting businesses as they seek to uncover unique actionable insights that drive customer engagement levels and performance."
How to Install and Use the ReviewTrackers App on Hootsuite
Transform the customer experience and start managing online reviews on Hootsuite using the ReviewTrackers app.
Sign into

Hootsuite

.

Expand the menu on the left side of your Hootsuite dashboard. Click on "App Directory."

On the search box for App Directory, type in "ReviewTrackers." Alternatively, you can find and read more information about the ReviewTrackers app by navigating to

http://apps.hootsuite.com/158/review-trackers

on your browser.

Click "Install App."

Once the ReviewTrackers app is installed, you will be prompted to enter your ReviewTrackers account login information. Enter your information and click "Authenticate with ReviewTrackers."

Once logged in, you can create a new Hootsuite tab and streams for managing your online reviews. You can also add a stream for your reviews to an already existing tab.
Any stream you add using the ReviewTrackers app gives you the option to choose the reviews that you want that stream to display.
To choose, just click the Magnifying Glass icon on top of the stream. From the dropdown menu that appears, you can choose to view reviews based on business location, online review site, star rating, and date range.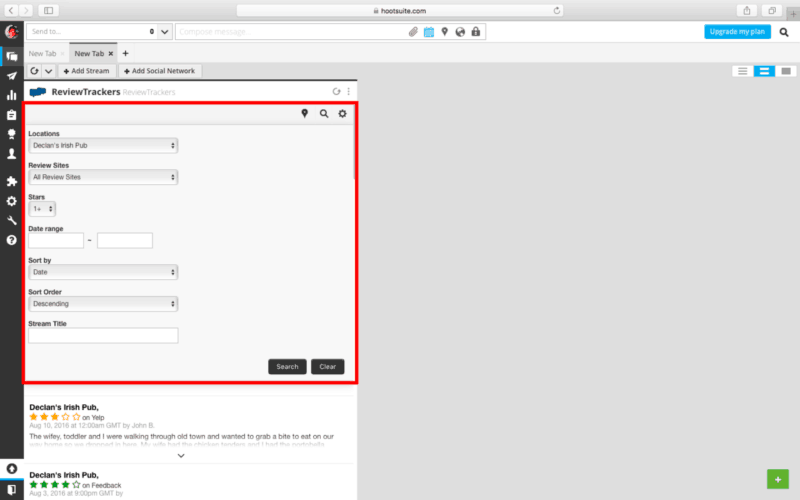 To use the ReviewTrackers app on Hootsuite, a ReviewTrackers account and Hootsuite account are required.
Don't have a ReviewTrackers account yet? Create your account today by signing up for a free demo.
ReviewTrackers is the award-winning customer feedback software that helps businesses transform the customer experience. The platform collects review data from 80+ review sites to surface customer insights that enable brands to listen to and understand customers, and make data-driven decisions about what they truly need or want.
Trusted by over 50,000 businesses, ReviewTrackers helps busy professionals save time, money and resources so they can focus on what matters most: their customers.