We compiled a list of great SEO reputation management examples you and your team can follow. 
If you're serious about driving growth for your brand, having an effective SEO reputation management strategy is a must. Not only will this help you build your brand presence (and therefore improve brand awareness ); it will also inspire consumer trust, create brand value, and drive traffic and sales.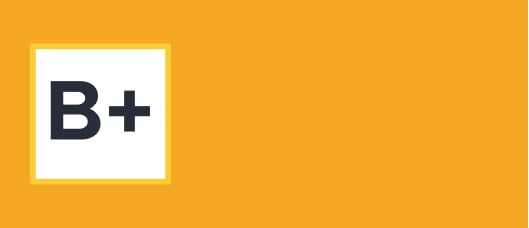 Find out your brand's online reputation score
Take the guesswork out of your strategy. Instantly generate your brand's online Reputation Scorecard, complete with review highlights, ratings, keyword trends and more.
Downloaded the report? How to Interpret Your Reputation Score
SEO Reputation Management Example: Manage Local Listings
Local listing management should be a crucial part of your SEO reputation management strategy. 
By creating and claiming your listings across top directories, online yellow pages, and social media and business review sites, you are effectively planting your company's flag across digital properties that show up in search results, and which potential customers use to discover businesses.
Local listing management is also one of the most effective ways to rank for "near me" searches. It amplifies your local search signals and brings your brand closer to consumers and searchers who are looking for businesses nearby. 
When conducting local listing management, be sure to prioritize directories that rank at the top of the results for "near me" search terms. How do you find out which ones these are? You can start by performing a "near me" search that matches what your business is about.
Claiming and updating your local listings may present a challenge if you're representing a brand with multiple business locations. 
To address this, more and more marketers are deploying local listing management solutions to save time and ensure consistency of listing information on search engines and across top directories. For example, P.J. Whelihan's Pub + Restaurant, a chain of sports bars that operate in New Jersey and Pennsylvania, uses ReviewTrackers to optimize their brand's visibility for "near me" searches and outrank the competition.
SEO Reputation Management Example: Optimize Your GMB Listing
One of the core digital properties that your brand can own is your Google My Business (GMB) listing. (This has recently been renamed as Google Business Profile.)
This could very well be the first search result that potential customers come across when they search for your brand on Google. This isn't to mention the fact that, according to online reviews statistics, Google is today's top review site. 
Once you have created or claimed your listings on Google, optimize it by keeping the information updated, uploading photos and videos, responding to reviews, answering questions, and posting updates. 
Holistic medicine practitioner Embodied Potential Rolfing sets such a great example of this. Whether searchers are looking on Google Search or Google Maps, the company's GMB profile is full of useful information.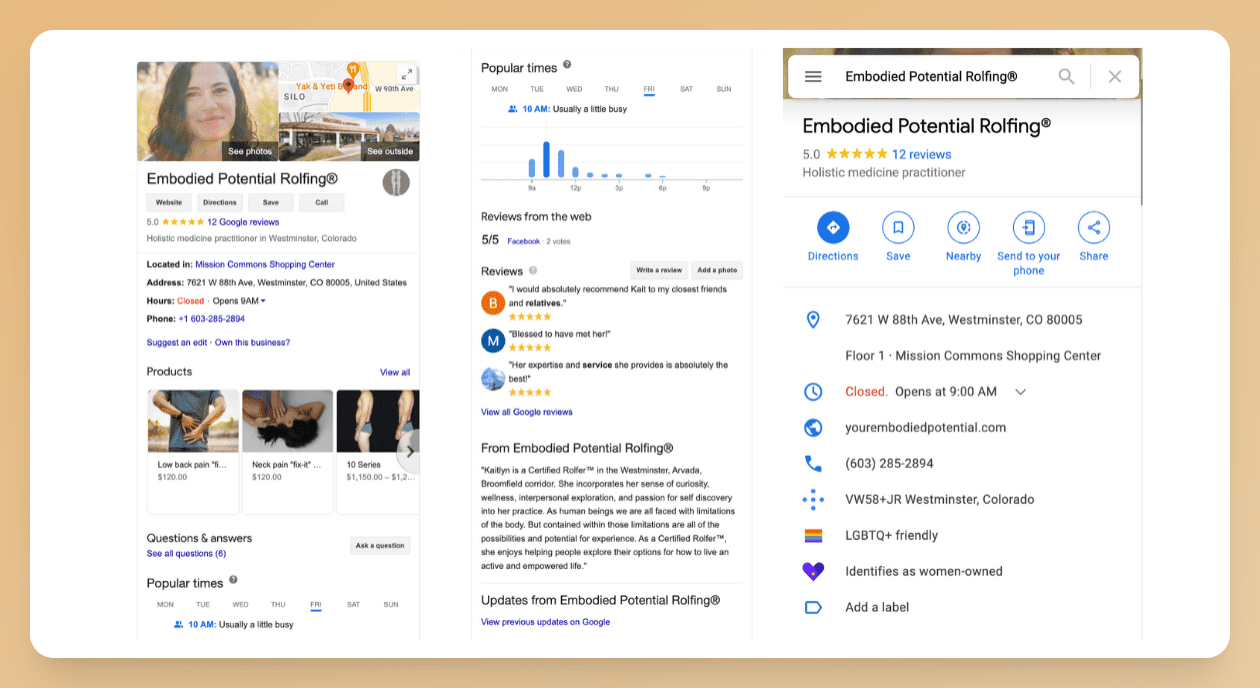 SEO Reputation Management Example: Respond to Negative Reviews
Learning how to respond to negative reviews is not only about addressing candid customer feedback. It is also about keeping it off the front page of Google.
Here's a great example of Six Flags getting back quickly to a customer who posted a 3-star review on Google:
According to customer reviews stats, 53% of people expect businesses to respond to negative reviews within a week. But 63% say that a business has never responded to their review.
Review response activity can inspire trust in searchers who are looking for information about your company online. They're more likely to convert if they see that you are active in engaging with customers who have shared their feedback. 
SEO Reputation Management Example: Create Location Pages
Location pages, which are pages on your company website that list and display information about all your business locations, can make a huge impact on your SEO reputation management strategy.
Location pages make it easier for searchers to find specific information about your business locations. Many of the components found on these pages also serve as ranking factors for local search. 
Here's an SEO reputation management example for location pages set by retail brand evo. 
Each of their location pages displays store updates, operating hours, location and phone number, a menu for products and services offered, a Google map, a form for booking appointments, a website review widget, and contact information. 
Read more: Retail Brand evo Puts Customer Experience at the Forefront with ReviewTrackers Technology
SEO Reputation Management Example: Create and Publish Videos
People love video content and search engines know it. Not only does Google have its own Videos tab for search engine results; previews of videos also frequently appear in the main search engine results pages. 
Smart marketers are leveraging video to supercharge their SEO reputation management strategy. They understand that video content on platforms like YouTube, Twitter, Facebook, Instagram, and TikTok isn't exclusively for entertainment purposes; the format can also be used to improve brand reputation and search visibility. 
For example, video is perfect for providing virtual tours and giving potential customers a feel of what it's like to step into one of your business locations or stores. Video content is also useful for showcasing new products or menu items, as well as for introducing company employees and humanizing your brand.
A great example is how SunStream Hotels and Resorts uses Facebook and Vimeo to offer search engine users a glimpse of the experience of staying at one of their properties.
Final Thoughts
If you're just getting started with your SEO reputation management strategy, the examples above should give you some ideas and inspiration.
Be sure to apply best practices in search engine optimization and reputation management as you go along. In time, you'll see which tactics work best for your brand, helping you improve your online presence in search while also building a reputation that attracts more customers to your business.