See customer feedback from over 100 review sites in one place
Request a demo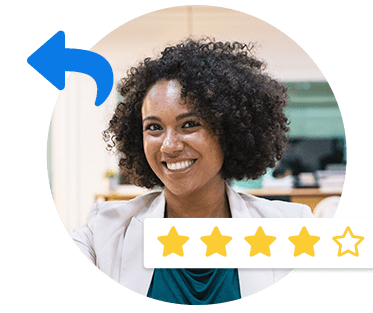 Online reputation management for real estate agents is more important than ever.
One of the major deciding factors for millennials – who are reaching the age when they're thinking of buying a home – are online reviews at 61 percent as they tend to look online as their primary source of information on real estate agents.
In order to stay successful, real estate brokerages need to maintain a favorable reputation through online reviews. Here's why it's important.
1. Reviews are Referrals for Real Estate Agents
A personal referral for any business carries some weight, but online reviews work in the same way for real estate agents. In fact, 72 percent of consumers trust online reviews just as much as personal recommendations.
Unfortunately, online reviews are the least common feature included on the websites of commercial real estate brokerages at 36 percent. Agents can benefit from more first-party online reviews on their website because it can increase the site's ranking in local search results. It's an easy way to distinguish yourself from the competition.
These first-party reviews also need to be recent. Research shows that 77 percent of customers consider a review irrelevant if it's older than three months. In addition, 18 percent of customers are only interested in reviews posted in the past two weeks.
2. More Reviews Are Great for an Agent's Online Reputation
Those numbers make it clear that both agents need to increase the frequency of reviews from customers.
So how do you do get more feedback? Just ask. Doing so shows customers that an agent cares about their online perception as well as the feedback of each customer.
Reviews can also help expose pain points. It's up to agents to fix these issues, and customers expect their feedback to have a direct impact on changes. Nearly 89 percent of Americans believe that businesses should use both positive and negative feedback in order to improve their service.
There's even a chance to convert negative comments into favorable ratings by responding and solving the issues listed in the review. Research shows that 80 percent of customers believe that a business – or in this case an agent – cares more about them if management responds to their feedback.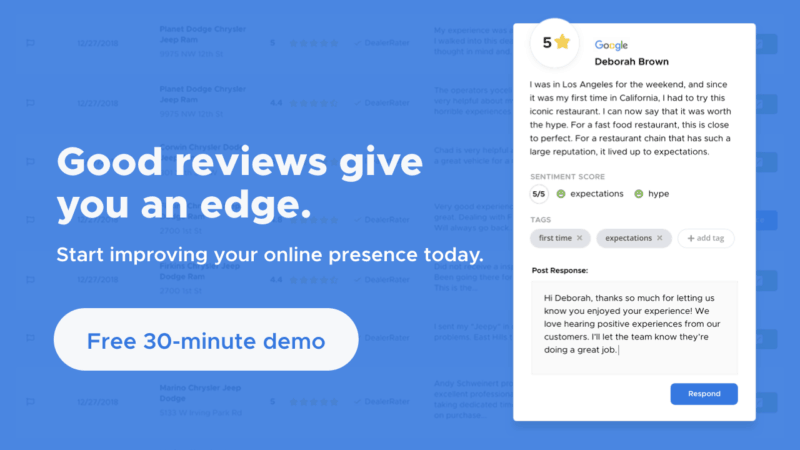 3. Reviews Add a Human Element in a Digital World
Even with the meteoric rise of sites like Trulia and Zillow, most people still prefer to use a real agent rather than go through the house buying process alone.
A recent survey showed that 83 percent of the consumers worked with an agent to help with the purchase of a home.
Here's why: property is a major purchase, and people want to work with someone they can trust. Consumers are still wary of trusting their real estate future to an online business.
For many consumers, a digital platform like Zillow is actually a way to get more information on properties and agents before they engage with real estate brokerages.
To make the most of the digital transformation in real estate, make sure your brokerages' reviews on Zillow and other websites are top-notch. Consumers will be vetting you even if they don't realize it.
4. Reviews Help Real Estate Agencies Attract Top Talent
There's a heavy demand for real estate agents, and brokerages can attract more agents in two ways:
Employing a technology-first approach to their operations.
Maintaining a positive employer brand on sites like Glassdoor.
Embracing Technology
A major hurdle for 48 percent of real estate brokerages is the pace at which they have to keep up with technology. Brokerages that don't adapt quickly to new innovations will have trouble retaining the best young agents, who want to engage with prospects through social media, SMS, and videos.
By using the latest innovations, agents can improve their communication with clients searching for a home, which equates to a better overall experience. Happy clients lead to more positive reviews, which helps brokerages retain agents for other potential homeowners.
A Positive Outlook
Positive reviews are not just for agents. They're vital to real estate brokerages as well, which need to maintain positive ratings on Glassdoor, Indeed, and other employer brand sites.
One way to get positive feedback is through employer branding, which involves more engagement between employees and the leadership team. With brand training, constant communication, and listening to employee feedback real estate firms can turn agents into brand ambassadors.
The result is that each agent will feel like they have a stake in the company's success, which converts to a positive online reputation via reviews. More positive reviews will attract potential employees, and more importantly, the best agents to fit the brokerages' needs.
Get the Best Agents with Great Reviews
If anything, the rising dependence on a digital reputation is a positive addition to the real estate industry. Brokerages should be more vigilant in monitoring online feedback left by customers and use their online presence to create an attractive brand (to prospective employees as well as future customers).
With online reviews, real estate brokerages also show that they're adapting to current technology, which will attract better agents and more customers.