Getting your business listed on local search platforms and online maps services is the new getting listed on yellow pages and telephone directories.
By listing your business in places where consumers are looking for you, you can improve your local search rankings, drive more store visits and sales, and increase your traffic and revenue.
For its Maps and Search services, Google is a top priority for businesses looking to build and boost their online presence. Through a dashboard called Google My Business, you can streamline the management of your business information across multiple Google sites, services, and products.
Get listed and be found on Apple Maps
Another online maps service that you probably want to get listed in is Apple Maps. Even though the application had a slow start when it was first launched in 2012, with Mashable describing it as "almost unusably bad," Apple Maps has since addressed many of its criticisms through software development and updates.
This isn't to mention how every Apple device — iPhones, iPads, Macs — comes with Apple Maps built in. The service is also integrated with Siri, and includes a rapidly growing amount of crowd-sourced local business information, complete with online customer reviews, ratings, deals, photos, and turn-by-turn directions.
If you're looking to boost your business' online presence and visibility, it makes sense to get listed on Apple Maps. After all, you want to be found when a user says, "Hey, Siri, find me the closest Filipino restaurant," or "Hey Siri, what are the best hotels in New York?" And while Google remains the leader in local search, it's always beneficial to balance your business presence across multiple local search platforms and online directories and maps services.
How to list your business on Apple Maps
Apple works with multiple data providers in order to display local business information on Apple Maps.
However, if your business listing doesn't yet exist, or if there are errors with the way your business is listed, you can add or edit your information directly through the Apple Maps Connect website.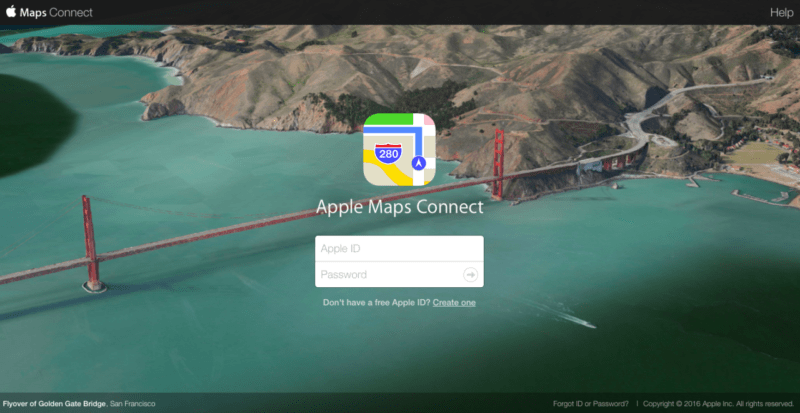 Step 1: In order to use Apple Maps Connect, you need to visit the Apple Maps Connect website and log in with your Apple ID. (Visit this page if you don't have an Apple ID.) Once you're logged in, you'll see a message with a link for adding or correcting your business information. Click on "Add My Business."
Step 2: You'll be taken to a page with the Maps Connect Terms of Use. Read the information provided and click "Agree."
You'll then see a search box for entering your business information and location. Click your business if it appears in the list of search results. This will get you started with claiming your business listing.
If your business listing does not exist yet, click "Add new place."
Step 3: Fill out the form that appears on the page with your business information. This includes your place name, place status (open, moved, or closed), country, phone number, business category, and information on whether or not your business accepts Apple Pay. Click "Next" once you have completed the form.
Step 4: You'll be prompted to allow Apple to call your number and give you a code for verification. (You can also choose to "Verify later.")
Step 5: After verifying your phone number, you'll be asked to provide your business location details, including your street address, building name, town, postal code, and state and province. Click "Next" once you have completed the form.
Step 6: A map will appear, and you'll be asked to provide the exact location of your business by moving the red pin to your building, near the main door. Click "Next" once you're done.
Step 7: You'll be asked to specify your hours of business. You'll also have the option to indicate if and when your business is open 24 hours. Click "Next" once you're done.
Step 8: You're nearly done! Just fill out the next form with links to your business website, Facebook page, Yelp page, and Twitter profile. You can also add a link to your official app on iTunes, if you have one. Click "Next" once you're done.
Step 9: That's it! All you have to do is review your business information. Apple will notify you if there's an issue with what you provided, but if there isn't any, you can click "Submit for review."
If additional verification is required, Apple will contact you. But if everything is in order, you can expect to see your business listing on Apple Maps within a week or so.
Hit a snag? Let us know how we can help by sending us a message or leaving a comment in the section below.