In today's social media-driven and fast-moving market, it's critical for brands to follow companies that have rebuilt their reputation.
Whether it's in the face of negative customer reviews, social media comments, honest mishaps, or full-blown PR disasters, brands must learn how to respond well under pressure and handle the situation.
We rounded up a few examples of companies that have rebuilt their reputation — and what your team can take away from their success stories. 
Samsung Galaxy Note 7
One of our favorite examples of companies that have rebuilt their reputation is Samsung. In 2016, the company suspended the sales of the new Galaxy Note 7 flagship phone and announced a recall after it was found that a manufacturing defect in the batteries caused the phones to generate excessive heat, resulting in explosions and fires.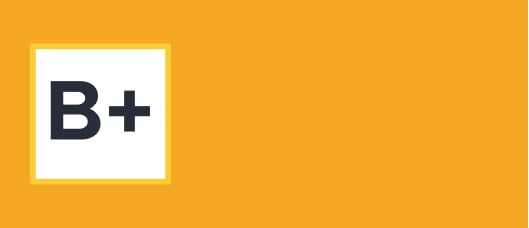 Find out your brand's online reputation score
Take the guesswork out of your strategy. Instantly generate your brand's online Reputation Scorecard, complete with review highlights, ratings, keyword trends and more.
The recalled Galaxy Note 7 One instance may have even been the possible cause of a Horry County house fire, an incident that took place thankfully while no one was home. 
Samsung, however, acted quickly and took responsibility for the problem. The company gathered 700 researchers and engineers, 200,000 phones, and over 30,000 batteries tested in every extreme condition possible. Samsung also opened up for the first time to third-party auditors.
Once the issue at hand was addressed, the company then focused on rebuilding its brand reputation and regaining consumer trust and confidence. Samsung responded to negative feedback and social media comments, going as far as to set up social media "war rooms" where the company and its agencies monitored and managed media reports, online reviews, and customer sentiment every day. 
Samsung also launched the "Do What You Can't" campaign, which linked its phones to content creators (headlined by YouTube personality Casey Neistat), served to exemplify the new brand philosophy, and successfully generated plenty of word-of-mouth marketing buzz for the brand. 
Takeaway: In times of crisis, take responsibility and move into decisive action to solve the problem. Gather your team to ensure alignment in all types of communications. Most importantly, engage with your customers, especially the promoters who are willing to stand by your brand. 
Pepsi: Kendal Jenner Commercial
In 2017, Pepsi launched the "Live for Now – Moments" campaign that centered on a rather tone-deaf commercial featuring supermodel Kendal Jenner.
Audiences criticized the ad for seemingly trivializing the Black Lives Matter movement by portraying the rally as a block party that Jenner, by no means an appropriate representative of social activism, joined to have fun. 
To address the social media backlash, Pepsi removed the ad in less than 24 hours. The company released a statement and even responded to private social media posts and comments.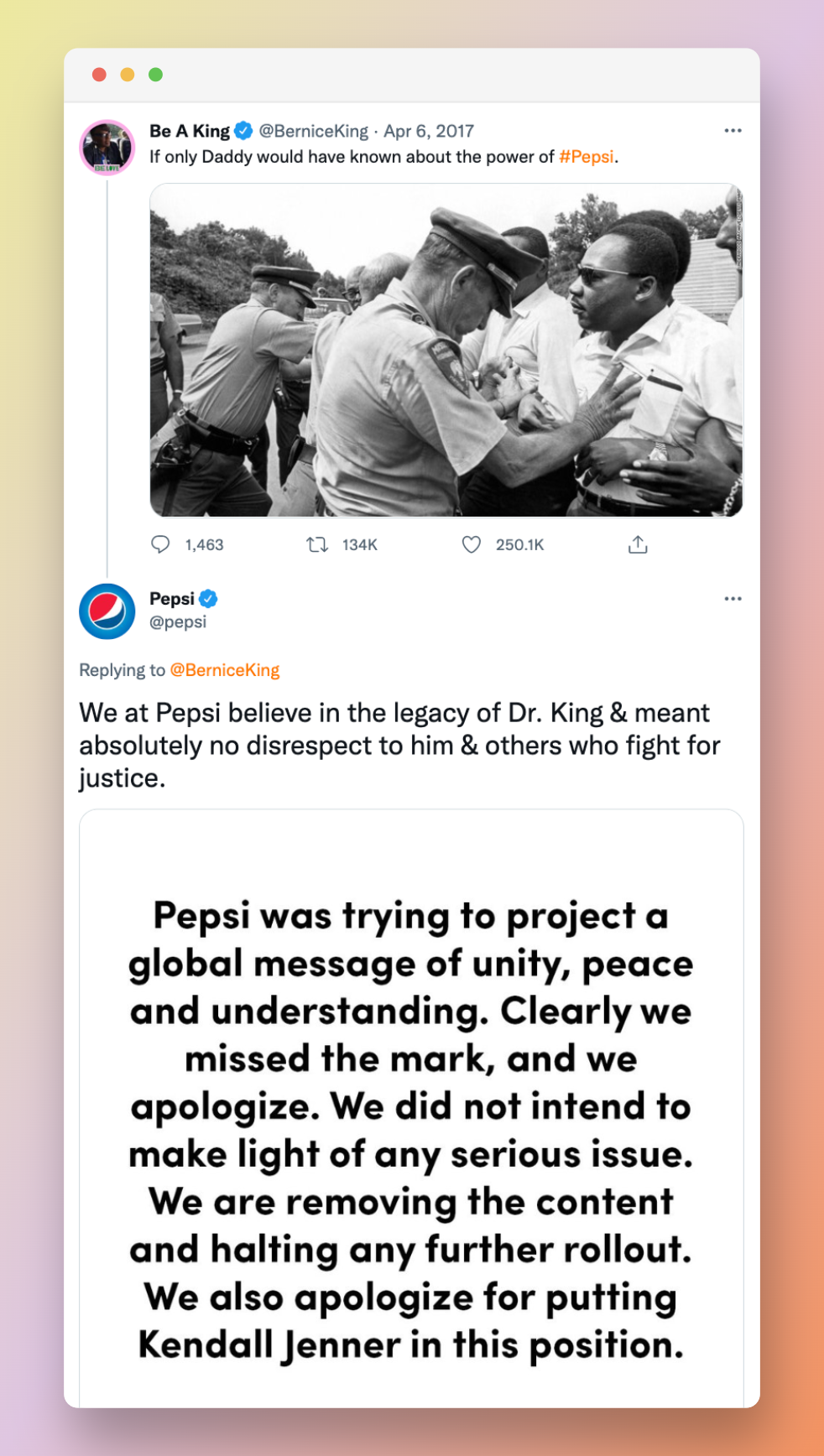 "Pepsi was trying to project a global message of unity, peace, and understanding," read one of the company's tweets. Clearly, we missed the mark and we apologize. We also apologize for putting Kendall Jenner in this position." 
Takeaway: Brands can avoid lasting reputational disasters by implementing effective crisis communication strategies. Learn how to respond to negative reviews, social media comments, and unsolicited feedback. Like many examples of companies that have rebuilt their reputation, Pepsi showed empathy and promised action: key components of effective crisis management.
Best Buy
Electronics retailer Best Buy did not necessarily have a full-blown reputational crisis, but the company did have to pivot its strategy at a time when e-commerce was on the rise and brick-and-mortar retailers (ex: Circuit City and Radio Shack) were going bankrupt. 
Customers were visiting Best Buy stores to browse, only to make their purchases online later.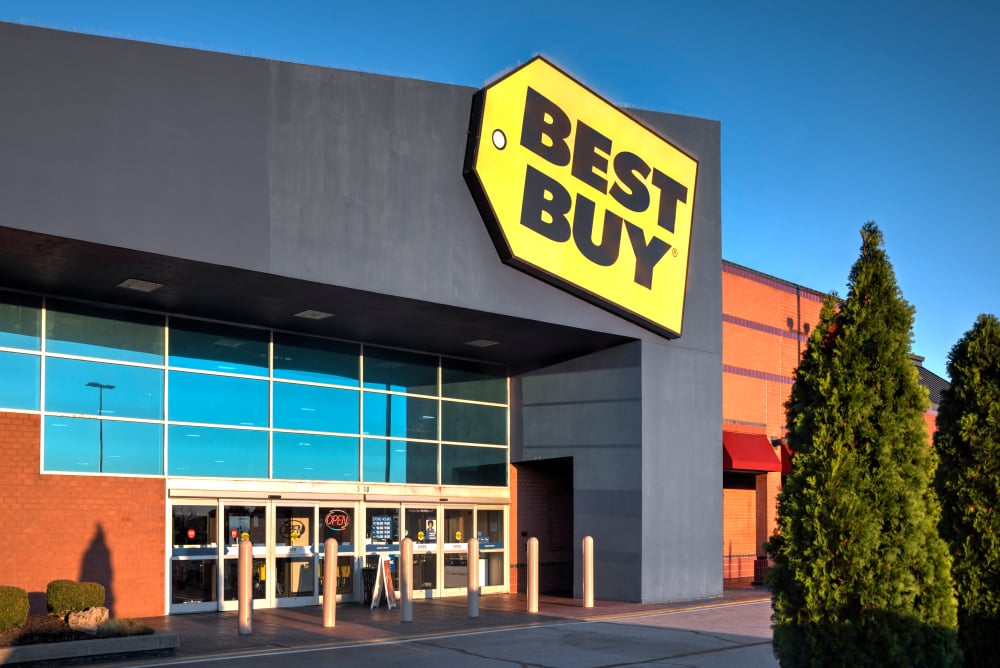 To keep the company relevant, Best Buy's leadership (particularly former CEO Hubert Joly) instituted a price-match guarantee, reengineered its supply chain for greater efficiency, listened to customers and collected employee feedback, and invested more in sales staff training.
Best Buy also focused on improving its in-store experience, leasing out floor spaces to create showrooms for popular electronics brands and even introducing an in-home consultation service that brought personal technology advisors to consumers' homes. 
Takeaway: To keep up with the pace of disruption, brands must listen to feedback, invest in customer experience management, and focus on delivering experiences that reflect the lives of their customers. Those who sit out the transformation risk being marginalized and forgotten. 
Slack
Early this year, business messaging application Slack experienced a widespread outage that prevented millions of users from accessing the platform. 
A configuration change inadvertently led to a sudden increase in activity on the company's database infrastructure. Due to this increased activity, the affected databases failed to serve incoming requests to connect to Slack.
This lasted around 5 hours, during which the company used social media to update users informed about their progress. Slack also posted updates on its status page in order to transparently detail its efforts to address the problem.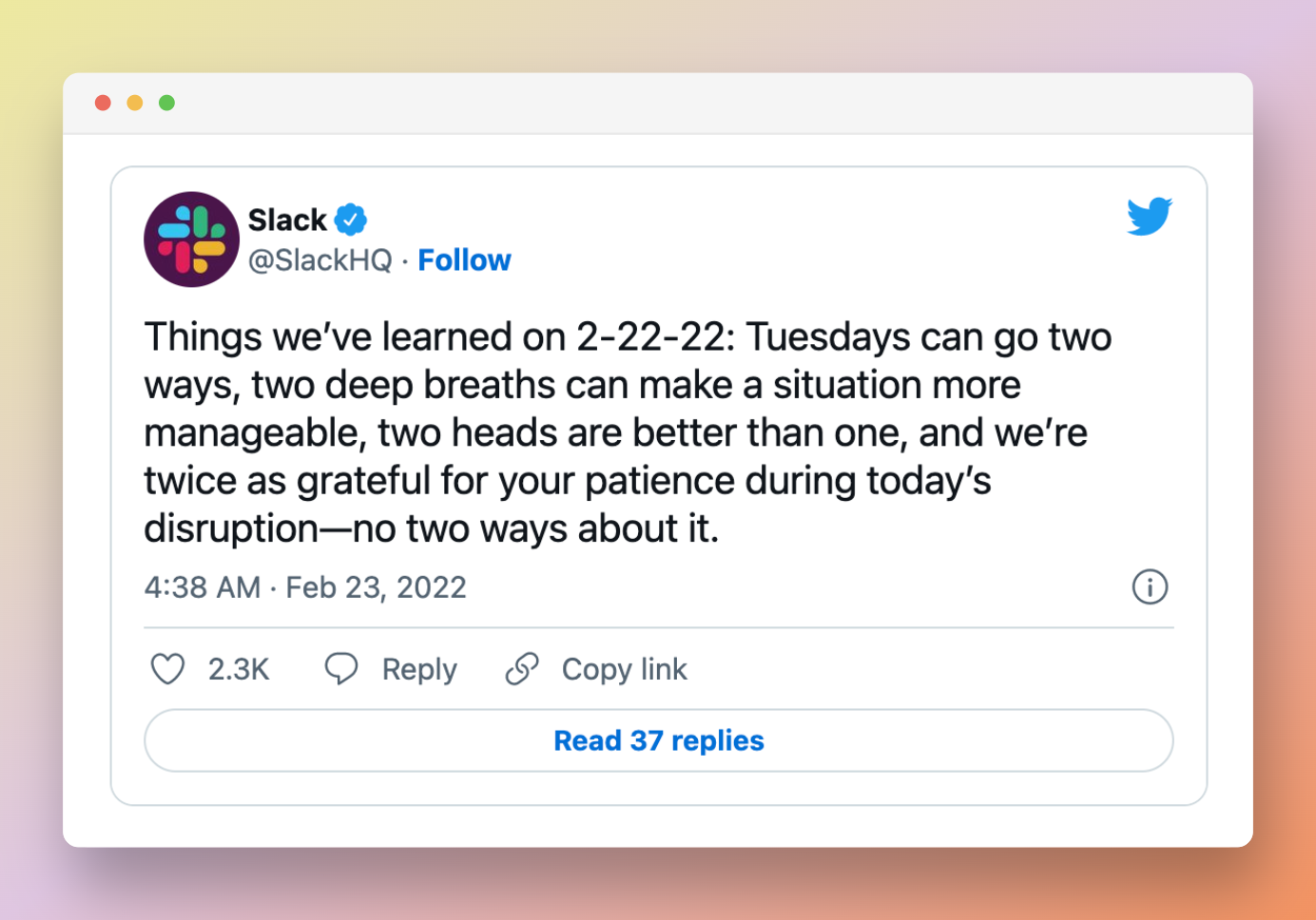 Takeaway: Be honest and apologize for your honest mistakes. In times of crisis, be sure to have a plan in place for providing an authentic reassuring response. demonstrate full transparency and utilize all the relevant channels available to keep your customers informed.