Download 43 free review response templates for negative and positive reviews
Get the templates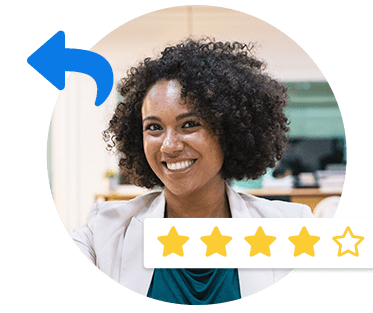 It isn't easy to continually analyze, quantify, and utilize customer feedback.
If your Voice of Customer (VOC) strategy is not making an impact in the areas that matter most, constant changes may be required. And, depending on the size of your business, you may be relying on text analytics, online review subcategories, focus groups, point-of-sale analysis, or a combination of any of these data points. The common denominator of these sources of data, and that which is most likely to affect the quality of insights, relates to the size of the sample. Resorting to these only channels of feedback, and excluding a more inclusive customer sample, results in data that can be biased. This can be detrimental when attempting to refine feedback.
What is a good Voice of Customer Strategy?
A good Voice of the Customer strategy should do the following for your business:
Allow for customization of your products and services to create efficiencies and reduce inventory
Increase profitability by understanding what means the most for your customer
Pinpoint profit-generating opportunities based on customers' voiced needs and wants
Identify, prioritize, and fix issues affecting the customer experience
Get ideas on products and services that your customers need and you are not presently offering
The "VOC" info gathered from each of these channels may not give you a full picture of the true needs of the majority of your customers. Then, we will explore how capturing a Net Promoter Score can help you tie loose ends and fix most problems associated with Voice of the Customer analysis.
Text Analytics
Several things impact the quality of your text analytics, thus the results. The most important areas to evaluate when your VOC strategy is failing are the source of your text, and how it is capturing or failing to capture opinions and reviews from a variety of customers that truly represent the mix that makes up your customer base.  If you believe you are casting a net wide enough, then move on and look at the way you are analyzing your text. Perhaps the parameters set forth are not reflective of the language used by your customer; therefore, you are not getting results that are useful in implementing changes that matter.
Online Review Subcategories
On the surface, online-review subcategories may appear to be straightforward in terms of the information captured. Some of the most popular third-party review websites like TripAdvisor and Zomato offer reviewers the option to rate businesses in simple scales that measure such things as cleanliness, comfort, value, or suitability for a particular group of people. So far, so good, but before you go making changes based exclusively on data provided by online-review websites, you need to understand that the bulk of your online reviews are not reflective of the average patron. Your online reviews are generally made up of advocates who are truly passionate about your product or service, or customers who have had a negative experience that has gone unresolved and are writing a highly negative review to get back at you, as well as to provide other consumers a caveat emptor about a particular issue. With this in mind, metrics from subcategories do not reflect the opinion of your average buyer persona.
Focus Groups
A favorite of many product managers, focus groups and usability groups have value in certain contexts, but may not be the ideal way to capture a realistic VOC. Generally speaking, the stage for focus groups is highly focused and not representative of a real transaction. The artificiality of the engagement often leads to lack of clarity when it comes to identifying the true needs of customers. In addition, focus groups are very small, and they fail to provide diversity in opinion.
Point-of-Sale Analysis
It is commonly said that we speak with our wallet and, to this end, many VOC strategies include aggressive point-of-sale analysis, where customer profiles merge with consumer behaviors in an attempt to identify insights that can help the organization improve the way it does business. POS analysis has value in helping a business grasp the "whats," but it is seldom useful in giving the business the nuances that characterize the whys. In this case, the problem is not rooted in sample size. Instead, businesses are faced with the reality that customer behavior and engagement is complex, and knowing those complexities is essential to drafting a VOC that works.
Now that we have looked at the shortcomings of some of the most popular tools for Voice of the Customer strategy, let's take a look at why expert marketers are firm believers in integrating a Net Promoter Score to obtain a bigger, better, and more accurate picture of the drivers behind customer loyalty.
If you are not yet familiar with the Net Promoter Score head here to see how the NPS is changing the direction of businesses just like yours.
Why use Net Promoter Score (NPS) ?
Net Promoter Score Surveys Are Simple
The simplicity of this one-question survey aids in a business's ability to push the survey to almost 100 percent of all customers, and possibly secure a response rate that ranges between 80 and 90 percent. Results in this range provide business-intelligence professionals with a clear idea of the direction of the business and the overall customer sentiment.
Net Promoter Score Surveys Provide Insights That Help in Understanding Loyalty
Knowing if a customer is likely to recommend a business to their friends and associates provides clues that can help shape the offering, and it identifies what drives allegiance to the business.
Net Promoter Score Surveys Help Capture the Voice of the Silent Majority
Customers that sit right in the middle of the NPS scale are the ones that offer the most potential as well as the most risk. Knowing who they are and what the business can do to improve their experience can turn an average VOC strategy into a money-making machine that helps push passive customers into the loyal-advocate category.
Net Promoter Score Surveys Provide Text with Laser-Focused Info
Instead of endless questions, a Net Promoter Score survey asks respondents to elaborate, if they wish, in free-text format. Responses are often brief, and they point to the true root of the problem, making it perfect for shaping VOC strategy!
How do you tune in to the Voice of Customer? Tell us in the comments below!