ReviewTrackers is empowering brands to unlock the most powerful customer insights with Recipient Details, a new feature that enables users to leverage customer transactional data in order to contextualize data from customer feedback, survey responses, and online reviews. 
A new feature of ReviewTrackers' Microsurveys tool, Recipient Details enables brands to define specific data fields based on transaction information they have from their own systems and tools, such as email automation platforms (e.g. Hubspot) or customer relationship management (CRM) tools (e.g. Salesforce).
With Recipient Details, brands can now crystallize a wide range of customer data types into insights, helping them achieve a more accurate, complete, and unified view of the customer. 
Related: How ReviewTrackers Consolidates the Operations of Top Brands 
How Recipient Details Uncovers Trends and Insights
With customers more connected and in more channels than ever, brands that have the ability to capture, understand, and leverage customer context stand to set themselves apart from the competition and win their markets. 
This is why it's essential to understand the types of information that will equip your organization with actionable insights that support your customer experience management strategy. Examples of these types of information include:
Reviews and feedback from survey responses

Transaction-level details captured in CRMs and ordering platforms

Customer segment details stored in marketing automation software
Recipient Details brings all these together. Specifically, the feature consolidates information or metadata essential to adding greater context to and understanding feedback shared by customers in their Microsurvey responses.
This means you can, for example, uncover trends in the feedback left by reviewers who ordered a specific menu item. Teams can even set up Recipient Details related to, say, loyalty tier, helping unlock insights into what customers love the most or find most rewarding about their experiences. 
With Recipient Details, ReviewTrackers users can collect up to 10 unique data points alongside feedback and data from Microsurvey responses. These include:
Customer name (first and last name)

Email address

Phone number

External_id (store number or other location identifiers)
You may also choose to add data points such as:
Region

Customer loyalty tier

Demographic information

Transaction number or ID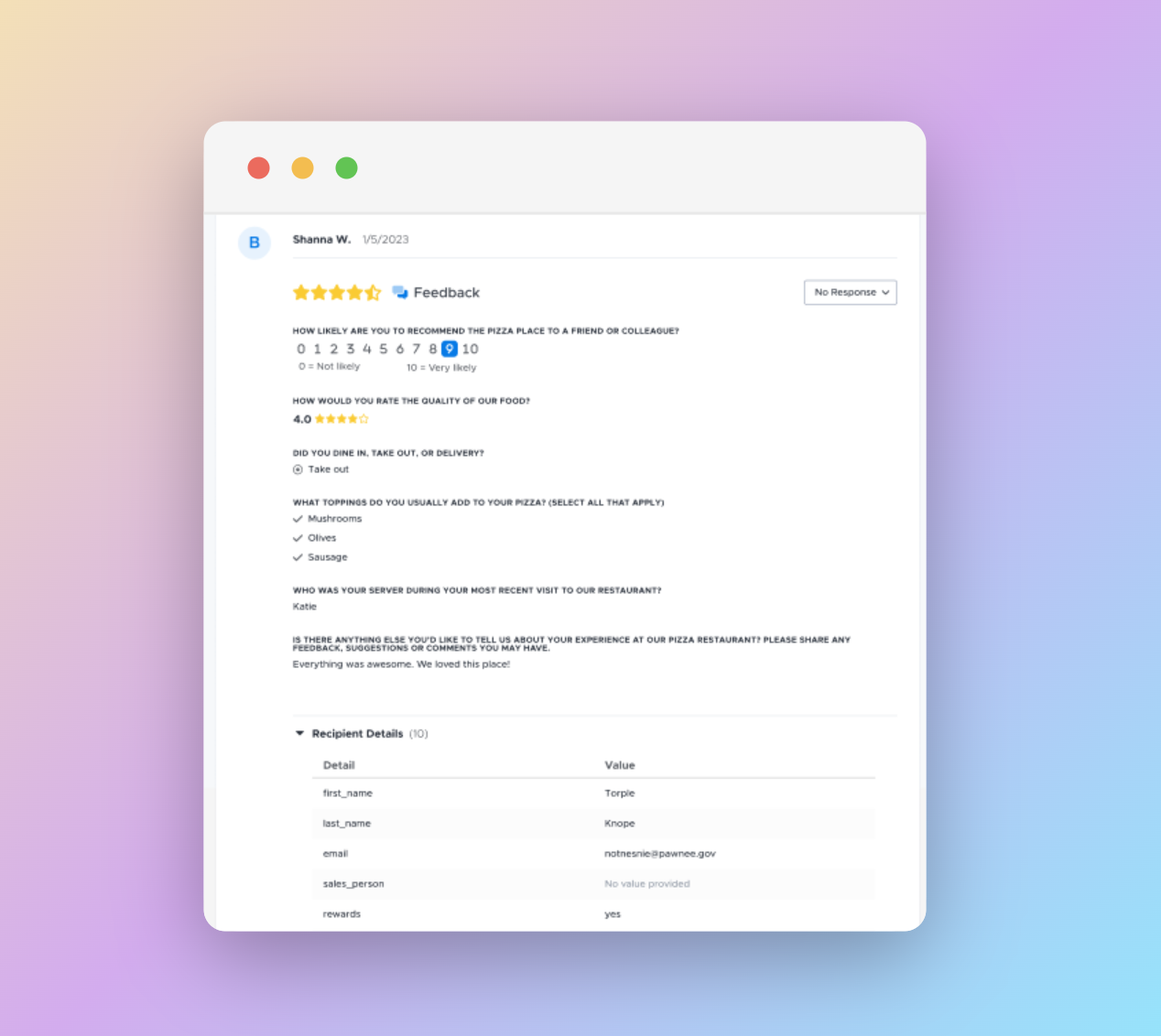 Since these types of data live outside of ReviewTrackers, users have two ways to import them into the dashboard:
Import a CSV

Use URL parameters (pass data programmatically to a URL variable that contains the Recipient Details)

Easily build personalized links on your own in Excel or Google Sheets
Recipient Details can be added within ReviewTrackers' Microsurveys tool, which entices consumers to provide detailed feedback without the extra barriers to entry of longer-form surveys. Each Microsurvey has a default required review rating question (star rating or NPS), with the option to add up to 5 additional custom questions. (To learn more about Microsurveys, read our blog post on the ReviewTrackers' Ask Tool.)
See Recipient Details in Action
One of the keys to a strong connection with your customers is having access to clean, consolidated data (such as from individual transactions and survey responses) — the context of customers' digital lives. 
Recipient Details is the latest demonstration of ReviewTrackers' commitment to helping brands achieve a deep, data-driven understanding of the customer and weave together a unified, engaging experience throughout the customer lifecycle. See the feature in action today by signing up for a demo of ReviewTrackers.