Restaurant guests are more likely to leave high ratings on Facebook than on any other review site, according to research by award-winning customer feedback software ReviewTrackers.
The research is based on a January 2017 local search and online reviews survey, as well as findings from an analysis of more than 331,920 online reviews of more than 1,300 restaurant locations.
These findings echo the results of previous ReviewTrackers research in which Facebook reflected the highest growth rate in reviews, with new reviews coming in at a pace that's 4 times faster than on other restaurant review sites.
Textual analysis of restaurant reviews also revealed the top keywords typically associated with the highest positive and negative sentiment scores: "Waitress" had the highest negative sentiment score and "good food" had the highest positive sentiment score. In all of the analyzed reviews, "service" was the most frequently mentioned keyword.
ReviewTrackers, an official US Foods Value Added Services partner, also found that customers are 43 percent likely to leave a review after a positive experience at a restaurant; on the other hand, after a negative experience, customers are 46.7 percent likely to leave a review.
The Power Belongs to the Customer
These findings demonstrate that the customer has more ways than ever to voice their opinion about your restaurant. Apart from restaurant review sites like Yelp and TripAdvisor, social media channels and mobile apps like Facebook, Foursquare, and Google (Maps and Search) have also become popular platforms for rating businesses, publicly sharing customer feedback, and talking about positive and negative dining experiences.
This makes it critical for restaurants and foodservice executives to effectively monitor and manage online reviews and customer feedback — especially at a time when these reviews are making an undeniable impact on booking, reservations, and purchase decisions.
According to ReviewTrackers, almost 90 percent of customers will begin their search online, and 89 percent of customers start their search with a web browser like Chrome or Safari. 67.7 percent of consumers say that at least half of their searches result in visiting a local business. Moreover, 48 percent of restaurant-goers consider reviews as "influential" or "highly influential" when choosing a restaurant.
Here are some more highlights from ReviewTrackers' research on restaurant reviews and guest feedback: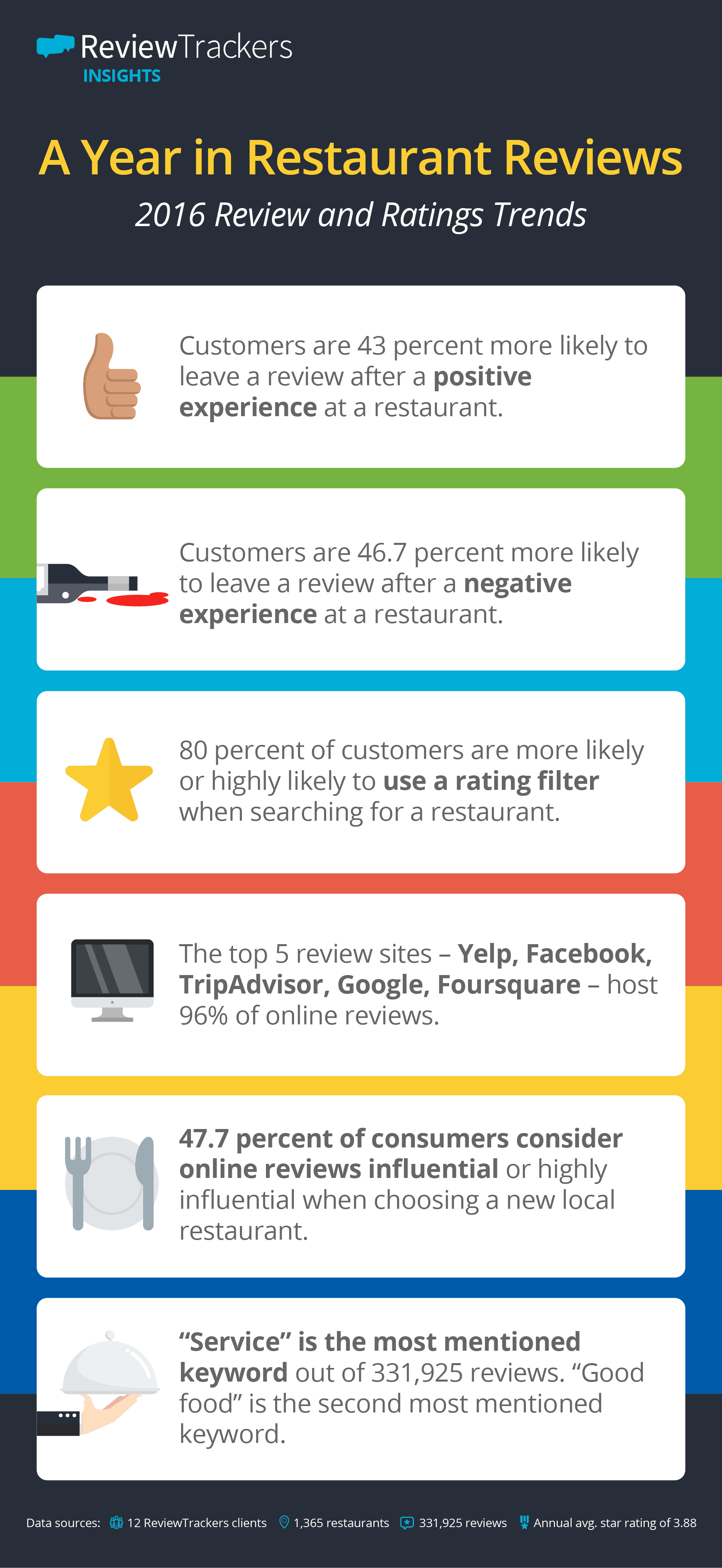 Key Business Takeaway: Develop a Review Management and Review Request Program
These statistics highlight the need for restaurant companies to develop an effective program for managing online reviews. Restaurants should also develop a review request program to increase the amount of reviews posted on their business pages, especially those on the top online review sites for restaurants, including Facebook, Yelp, Google, TripAdvisor, and Foursquare. (These top 5 websites host 96 percent of restaurant reviews.) More and better reviews = higher search rankings = better online reputation.
"Today, word of mouth is more pervasive and powerful than ever due to the increasing popularity of online reviews and social media," stated Restaurant.org in a report. "Customers air their opinions for all to see online. Whether a guest raves or rants about your service, it's not just a passing comment to a friend or two. Reviews may remain online for years, influencing countless potential customers. Plus, the dramatic increase in smartphones puts reviews literally in the hands of millions of Americans and international travelers as they're deciding where to dine out.
"Simply put: Online reviews can help make or break your business."