See customer feedback from over 100 review sites in one place
Request a demo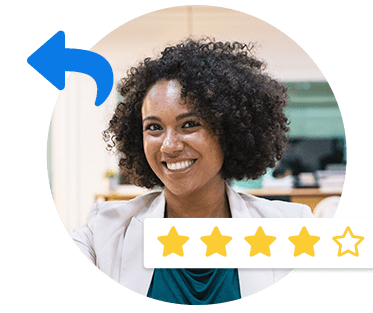 Franchise reputation management should be an integral part of your marketing strategy, but many executives are up against unique challenges.
For instance, the nature of a franchise business is different from that of other business categories. Leaders and decision-makers have to deal with marketing on the corporate level, while also supporting the needs and opportunities of franchisees, who may have their own local reputation issues, ideas, and goals. 
In this post, we'll walk through a number of franchise reputation management tactics that you can apply to each of your locations as well as on a broader corporate or franchisor level.
Franchise Reputation Management: Getting Started 
For a franchise brand, the following steps will take up plenty of time and effort, but it is necessary. You need it to gain online visibility, attract search traffic, and build your franchise brand's reputation.
Claim and Update your Business Listings
Among the first steps to successfully managing (and protecting) your franchise reputation: claiming your business listings. 
Think of this as planting your flags on digital properties where customers are already talking about you or consuming information about your franchise brand or locations. These include social media and online review websites, local business directories, online yellow pages, and even mobile apps and services with a business discovery feature.
By claiming your business listings, updating your information, and maintaining an active presence across multiple sites, you can easily manage your franchise reputation at both local and corporate levels. Doing so also gives your marketing leaders and your franchisees a chance to respond to customer feedback and respond to any negative reviews. 
Create Franchise Location Pages
Think of these pages as individual websites for each of your franchisees or chain locations. 
According to Ron Holt, CEO and founder of Two Maids & A Mop, these pages "allow you to create unique content, build a personal brand, and also leverage the sister sites within [your franchise's] network."
Not only do these pages improve your SEO (search engine performance) performance; they also benefit your franchise reputation and support the marketing efforts of your franchisees. 
Here are some best practices to follow when creating your franchise location pages. 
Respond to Online Reviews
Your franchisees are obviously not going to be too happy reading a one-star review or a negative social media comment. This is why you have to make it part of your franchise reputation management strategy to respond to these reviews and thank customers for their feedback.
Train your franchisees and location managers to respond to reviews proactively and with care. This helps customers gain more trust in your business.
According to the Online Reviews Survey, 53 percent of customers expect businesses to respond to negative reviews within a week, but 63 percent say that a business has never responded to their review. Meet these expectations and your franchise reputation will immediately improve.  
Here are a few more stats demonstrating the power of responding to reviews:
80 percent of consumers believe that a business cares more about them when its management responds to their reviews. 

A Harvard Business Review study

found

that overall ratings increase by 0.12 stars when businesses start responding to reviews. They also begin to receive 12 percent more reviews.

In a Cornell University

study

, revenue levels increased as management responses to reviews increased.
It's worth responding to positive reviews and high ratings as well even if this means just saying thank you. By letting customers know you appreciate their feedback, you can strengthen your franchise reputation and reinforce positive customer experiences. 
Embrace Feedback and Recover Critics
What customers say about you can shape your franchise reputation. This is not a problem if the customer is happy. If they aren't happy, you must find ways to turn the conversation around and recover your critics.
Embrace feedback from critics and appreciate the ways this can benefit your franchise.  After all, genuine customer feedback — even if it's negative — serves as a great source of information and insight essential to improving your franchise business. 
Do the staff members in your newest franchise location need more training? Are diners really happy with the new menu you rolled out recently across your chains? What are the most common complaints about your product, and is your customer service team coming through? 
Opinions and experiences shared online by your most vocal customers and even your critics may help you see growth opportunities in your franchise, leading the way to a stronger reputation and better customer experiences. 
Foster Customer Loyalty
One of the most effective franchise reputation management strategies is to let your happiest customers build buzz around your brand. To keep these promoters, you'll need to employ a few strategies to keep them happy and make them loyal.
Customer loyalty programs and rewards and referral programs tend to work well for franchise brands. They bring people to your locations on a recurring basis and drive positive word of mouth for your franchise, which in turn can improve franchise reputation and inspire shopper confidence.
Make the Customer-First Transformation
It's difficult for multi-location franchises to listen and respond to customers. This can then affect franchise reputation, as well as sales, search rankings, and the franchise's ability to truly understand customers.
Sure, a franchisee may have a dedicated customer service team in-store. Or the franchisor may have signed up to work with a call center for resolving customer issues and concerns. 
But in the age of Facebook and Yelp, more consumers than ever are making their voices heard on digital channels such as social media and online review sites. 
Not only do these channels influence the behavior of consumers who are eager to validate their purchase decisions by conducting online research; they can also offer penetrating insight into what your franchise's customers really need and want and think and feel. 
Unfortunately, not all franchises have the structure, the process, the technology, or even the commitment to tune in, which then doesn't reflect well on specific franchise locations and the franchise brand as a whole. 
It's high time for your franchise to make the customer-first transformation. Wherever your customers are talking, listen in and join the conversation.