See customer feedback from over 100 review sites in one place
Request a demo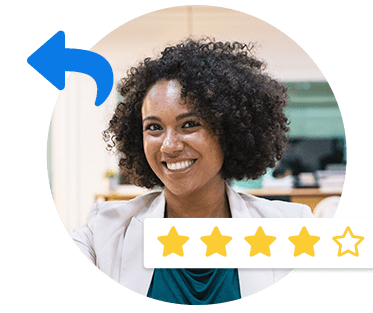 Franchise marketing in today's digital world can be challenging and complex.
Because of the nature of their business, franchise marketing executives have to deal with campaigns and efforts on the corporate level, while also having to support the marketing needs and opportunities of franchisees, who may have their own local issues and ideas and goals.
In this post, we'll walk you through a few digital marketing strategies and tactics for each of your franchise locations, all of which can and ideally should be aligned with a broader corporate or franchisor-level strategy.
1. Build Out Your Local Listings
For a franchise brand, claiming and managing the local listings and business pages of each franchise location can be painstaking work. But it is necessary. You need it to gain online visibility, drive traffic, and build your franchise brand's reputation.
By having accurate and up-to-date business listings and profiles, franchisees can appear in all the right search results, improve search engine performance, and show up across search engines and even in Google Maps Packs.
Here is a list of business directories, social media channels, review websites, and listings platforms that your franchise marketing team can refer to when planting your franchisees' flags on multiple digital properties.
2. Manage Your Online Reviews
Managing online reviews should be an integral part of your franchise's marketing strategy.
While the thought of having to regularly monitor online review sites like Google, Yelp, Facebook, and TripAdvisor may leave you feeling overwhelmed — especially if you're running dozens or hundreds of franchise locations — online reviews, like it or not, matter to your business. And how you handle them is crucial to driving revenue.
According to the

2018 online reviews survey

, negative reviews and low ratings convince 94 percent of consumers to avoid a business. And 80 percent don't really trust businesses with lower than 4-star ratings.
Forrester Research also found that consumer-written online reviews were perceived by consumers as more trustworthy than natural search engine results and branded content on social media.
At a time when your franchisees' customers can quickly become online critics, you can't let reviews crush the credibility and reputation of your entire franchise.
Respond to reviews. No matter your star rating, Internet messages are a blunt tool, and it hurts to receive a one-star review or a negative social media comment. But don't let this get in the way of delivering a professional, solution-oriented response. Train your franchisees and managers to respond to reviews proactively and with care.
3. Proactively Capture and Collect Customer Feedback
Reaching out to your customers and proactively asking for their feedback can work wonders for your franchise marketing strategy.
You can capture and collect customer feedback through surveys, email campaigns, social media posts, or even a form on your website.
Not only can this generate a wave of online activity that can potentially enhance your online visibility; asking for feedback demonstrates your franchise's commitment to customers while, at the same time, generating insights essential to improving the customer experience at your franchise locations.
4. Create Location Pages on Your Website
Think of location pages as individual websites for each of your franchisees.
According to Ron Holt, CEO and founder of Two Maids & A Mop, these pages "allow you to create unique content, build a personal brand, and also leverage the sister sites within (your franchise's) network."
Here are some best practices to follow when creating your location pages:
Choose a simple, effective URL. Let's say your website URL is businessname.com. The URL of your location pages can be as simple as businessname.com/city.
Ensure the presence of NAP. NAP stands for business Name, Address, and Phone number. This information must be present on each of your location pages and correspond to each individual franchise location.
Add unique and relevant local content. Apart from entering your franchisees' NAP to your location pages, you can also provide unique store descriptions, operating hours, an "About Us" section, local news, deals, and promotions, information about the team or staff, customer reviews and testimonials specific to the location, case studies, and other types of information that you think will be relevant to your page visitors.
Include a Google Map. This allows users and potential customers to immediately see the franchise location (relevant to where they are located) and get directions.
Optimize the pages. To boost the location signals on your location pages, apply optimization techniques like title tags, meta descriptions, schema markup, and first-party reviews.
Read more about creating location pages as part of franchise marketing.
6. Develop Programs to Foster Customer Loyalty
One of the most powerful ways to market your franchise is to let your happiest customers do it for you. Of course, you've got to do what it takes to keep them happy and make them loyal.
Customer loyalty programs and rewards and referral programs tend to work well for franchise brands. They do more than just bring people to your locations on a recurring basis; they can also drive positive word of mouth for your franchise, which in turn can inspire shopper confidence.